When Will Stephen Curry Return from Injury for the Warriors?
Stephen Curry is targeting a return to the court on Friday (March 23) after a two-week absence due to injury.
Curry, the Golden State Warriors' point guard and star man, hasn't played since March 8, when he tweaked his ankle playing at home in the 110-107 victory over the San Antonio Spurs.
He has missed five games for the Warriors since then, with the team winning just twice in his absence. But according to ESPN, Curry is aiming to make his return in the upcoming game against the Atlanta Hawks.
He is due to have the right ankle assessed again on Tuesday, the report says, leaving the two-time MVP with a couple of full days training before the game at the Oracle Arena.
This was the fourth injury of the season for Curry, who remained in the Bay Area with the team's head of physiotherapy when the team was on the road.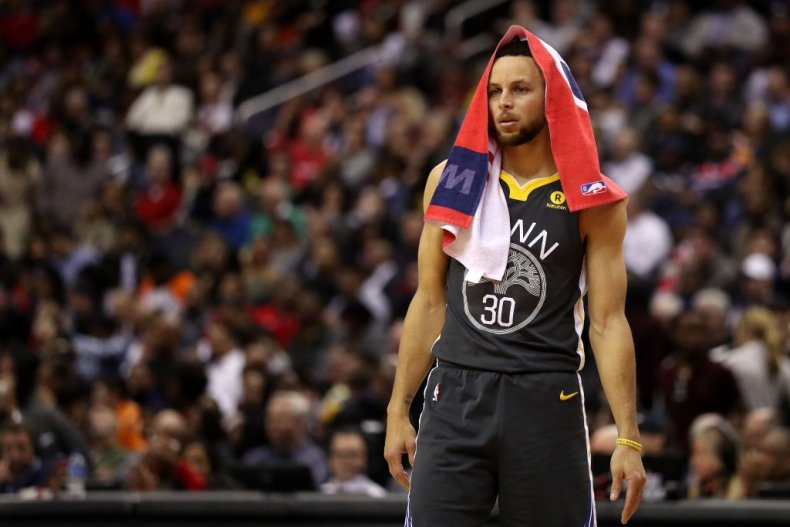 Warriors forward Kevin Durant, meanwhile, will miss at least two weeks of the season after an MRI on Friday revealed a fractured rib. This is the latest injury setback for the shorthanded defending champions.
The team said the reigning NBA Finals MVP "will be re-evaluated in two weeks," making it unclear exactly how long the squad will be without the sharpshooting small forward, who leads the team in scoring.
The Warriors have already been playing without All-Star guard Klay Thompson, who is out until at least Thursday with a fractured right thumb.
Without Curry, the Warriors are 13-8, but with him in the team they are 40-10. He is averaging 26.3 points, 6.2 assists and 5.1 rebounds so far this season.
The Warriors currently sit second in the Western Conference and are 53-18, 3.5 games back from the Houston Rockets in the race for top of the standings.