NBA Summer League 2019: How to Watch, Live Stream Playoff Games, Dates, Full Schedule
The NBA Summer League reaches its business end this weekend, with the winner to be determined over three days of basketball.
Of the 32 teams—the 30 NBA franchises plus the Croatian and Chinese national teams—that entered the tournament in Las Vegas, Nevada, eight have qualified for the playoffs.
The Boston Celtics are the number one seeds, followed by the Detroit Pistons, Minnesota Timberwolves, New Orleans Pelicans, Miami Heat, Dallas Mavericks, Brooklyn Nets and Memphis Grizzlies.
The Celtics, Pistons and Timberwolves are the only three teams to have won each of their four Summer League games so far, while the other five teams to have qualified for the playoffs have a 3-1 record.
The Los Angeles Clippers, Golden State Warriors and Oklahoma City Thunder also finished with a 3-1 record but missed out on a playoff spot by virtue of having a worse point differential than the teams tied with them.
The eight teams that have earned a playoff berth will contest a single-elimination tournament that begins on Saturday, July 13 at the Thomas & Mack Center on the campus of the University of Nevada Las Vegas.
The Celtics open proceedings against the Grizzlies on Saturday, followed by the Pelicans playing the Heat and Detroit taking on Brooklyn. The matchup between Western Conference rivals Minnesota and Dallas completes the picture on Saturday night.
The four winners will progress to the semifinals, which are scheduled for Sunday afternoon, while the final will be played on Monday.
Meanwhile, the 24 teams that missed out on the playoffs will each play a consolation of game, over Friday and Saturday.
Here's everything you need to know ahead of the Summer League playoffs.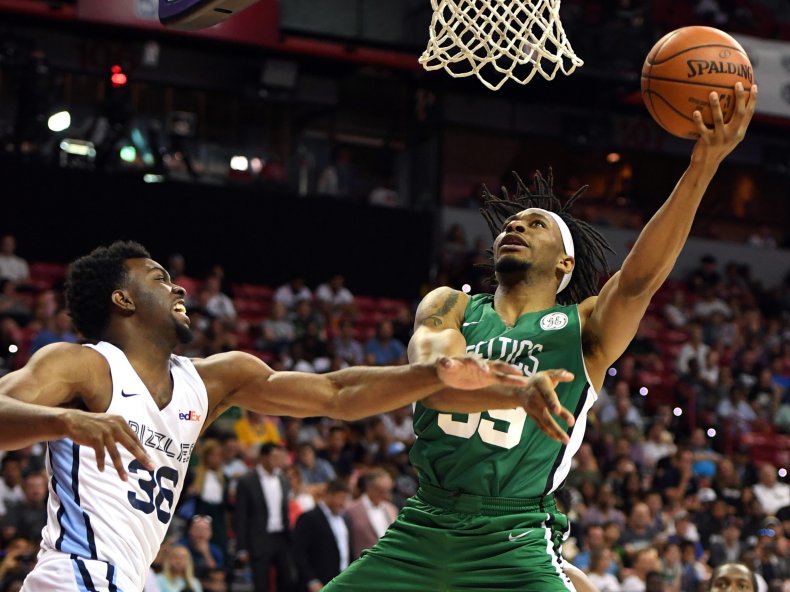 How are the teams seeded?
The seeds for the playoffs are the following:
Boston Celtics
Detroit Pistons
Minnesota Timberwolves
New Orleans Pelicans
Miami Heat
Dallas Mavericks
Brooklyn Nets
Memphis Grizzlies
TV coverage
The NBA Summer League is broadcast on NBA TV and across ESPN channels.
Live stream
Live stream for the majority of matches over the final two days of the regular season will be available via NBA TV and ESPN digital platforms as well as fuboTV.
Schedule
Here's the full schedule for the Summer League playoffs (All times ET).
Saturday, July 13
Memphis Grizzlies (8) vs Boston Celtics (1)—1:30 p.m., ESPN
Miami Heat (5) vs New Orleans Pelicans (4)—3:30 p.m., ESPN
Brooklyn Nets (7) vs Detroit Pistons (2)—5:30 p.m., ESPN
Dallas Mavericks (6) vs Minnesota Timberwolves (3)—7:30 p.m., ESPN2
Sunday, July 14
Semifinal 1—3 p.m., ESPN2
Semifinal 2—5 p.m., ESPN2
Monday, July 15
Championship game—6 p.m., ESPN2