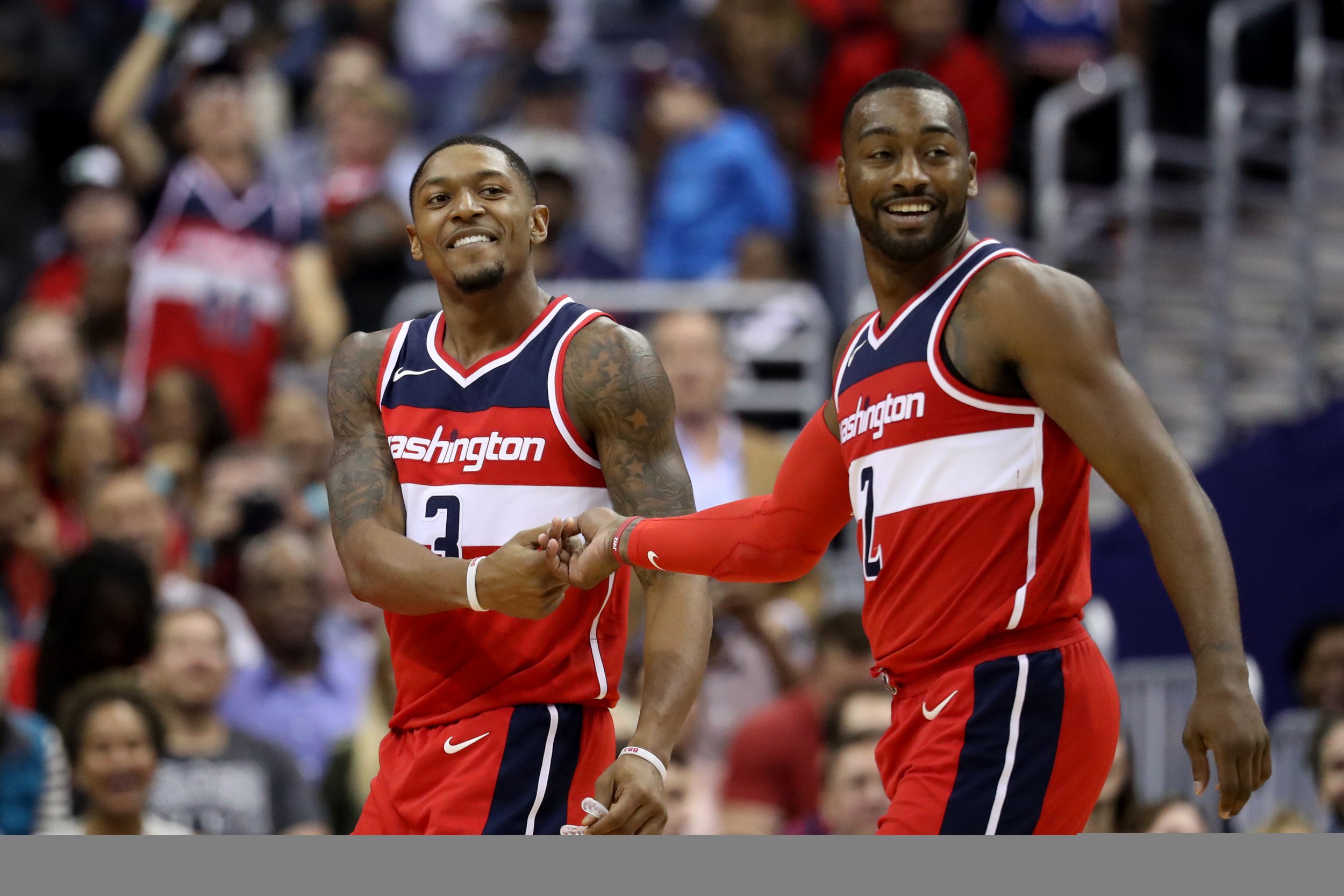 The Washington Wizards could be open to moving one their two star guards—John Wall and Bradley Beal—in what would certainly prove to be a blockbuster trade, according to a report from ESPN's Adrian Wojnarowski on Monday.
The Wizards have long been defined by the star duo, but things have sort of come undone in 2018—Washington is 5-11 thus far, good for 11th place in the Eastern Conference.
Wojnarowski wrote that every player on the roster could be available in a trade, including Beal and Wall. But it also sounds like the price to land one of the guards—at this point, it's likely Beal would command more—would prove to be pretty steep.
Citing league sources, Wojnarowski wrote, "Washington's preference remains to reshape the team around Wall and Beal, but poor play among key teammates is limiting their trade value and paralyzing the Wizards' efforts to make meaningful changes to a roster that no longer appears functional together"
Should the Wizards decide to ship-off a star, Wall might be hard to off-load. He's older than Beal and is signed to a massive contract other franchises might be hesitant to take on. Beal, meanwhile, is a 25-year-old shooter who could be plugged into nearly any lineup across the NBA.
Washington lost to the Portland Trailblazer in their latest game on Sunday by a score of 119-109. It marked their second-straight loss after a mini, three-game winning streak. After the Blazers loss, 28-year-old Wall—a five-time All Star—seemed a little fed up with Washington's woes.
"You can't teach effort. You can't teach heart," Wall said, via the Associated Press.
If the Wizards trade rumors persist, it'll be interesting to see what suitors Wall or Beal attract. It can be difficult to predict where stars land. Take, for instance, Jimmy Butler's recent trade from Minnesota to Philly, a team that hadn't seem all that interested in the All Star. The Sixers have been connected to nearly every big name that has become available over the last couple of years, but it had previously seemed Butler was destined to end up Miami.
It stands to reason, then, that soon enough Wall or Beal could be playing for a team very few saw coming.
Uncommon Knowledge
Newsweek is committed to challenging conventional wisdom and finding connections in the search for common ground.
Newsweek is committed to challenging conventional wisdom and finding connections in the search for common ground.
About the writer
Reporter, covering a bit of everything.