NBA vs. China: The League Is Bravely Defending Free Speech—And That's a Game Changer | Opinion
It was a tweet heard around the world.
Earlier this week, Houston Rockets General Manager Daryl Morey unwittingly ignited a firestorm when he shared a since-deleted tweet, "Fight for freedom, stand with Hong Kong," in response to pro-justice protests that have been taking place in the region since June.
The backlash in China—where roughly 800 million people are reported to have consumed NBA content during the 2018-19 season—has been swift and significant. Chinese broadcast partners are refusing to air NBA games, Rockets merchandise has been pulled off shelves and league community events in the country have been canceled.
The incident also reignited an important discussion here in the United States about free speech and the role and power of leaders in sports to shape the discussion around important social issues in our country and around the world.
After initially acknowledging the complexity of the situation and expressing regret to those who were offended, NBA Commissioner Adam Silver said in a statement that "the NBA will not put itself in a position of regulating what players, employees and team owners say or will not say on these issues."
Silver understands the potential financial implications of taking this position, but he added that "if that's the consequence of us adhering to our values, we still feel it's critically important to adhere to those values."
This moment could mark an evolution in the development of sports advocacy. While athletes and leaders in sports have often put themselves on the front lines of advocacy, they have frequently done so without the support of their organizing bodies. Silver's remarks show that times are changing.
Last month, the U.S. Olympic and Paralympic Committee announced that it would induct Tommie Smith and John Carlos into its hall of fame, in part for how they "courageously stood up for racial equality during the civil rights movement." That announcement came nearly 51 years after the organization expelled the Olympic champions for protesting racism during the medal ceremony at the 1968 Games in Mexico City.
This evolution demonstrates a new respect for the diverse makeup of the sports community and acknowledges their right to share their perspectives publicly and advocate for the causes they care most about.
Athletes have a remarkable ability to transcend societal differences and act as leaders on issues off the playing field. In many ways they reflect the breadth of ideas and perspectives that make up American society and can challenge each of us to make it better.
But it takes more than having a platform to effectively use it.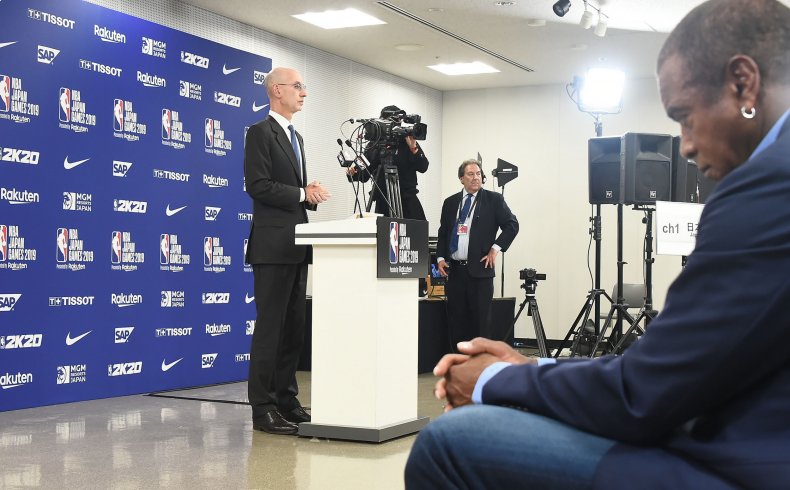 At RISE, we educate and empower the sports community at all levels to be leaders in addressing racism, championing social justice and improving race relations. Our vision is bold: to create a nation unified through sports committed to racial equity and social justice. We implement a uniquely designed curriculum for athletes, coaches and executives at all levels of sport to increase an understanding of racial equity and build cultural competence. We equip them with the tools to address racism, prejudice, diversity and inclusion, helping them to become effective advocates and community leaders in this space.
While our cause is addressing racism, a seemingly universal issue for the sports community to get behind, it would be unfair of us to ask people who don't feel compelled by that topic to use their platform to discuss it. Climate change, social justice, equal pay, LGBTQ+ rights, education equity and, yes, international human rights, are all causes that are in-bounds for the sports community to take on and influence. Whether they decide to speak out or not, it's important that they and their governing bodies realize the power they possess to make a difference.
When asked earlier this week about the situation in Hong Kong, it was perfectly acceptable and responsible for Steve Kerr and Stephen Curry to say that they are still trying to learn more about the issues at hand before commenting. It's reasonable that Kerr and Curry would be more versed and passionate about domestic issues than those in Hong Kong and China, and thus more eager to speak out about issues at home than those abroad. It is just as reasonable for Morey to exercise his right to share his views on China to effect real change. What's important is that the foundation for free expression is laid and athletes and the entire sports community feel comfortable choosing the path of informed activism and advocacy.
Because when they do, it's clear they can change the world.
Diahann Billings-Burford is CEO of RISE, a nonprofit organization that works to create a nation unified through sports that is committed to racial equity and social justice. RISE educates and empowers the sports community to eliminate racial discrimination, champion social justice and improve race relations.
The views expressed in this article are the writer's own.