The NBA's Great Golden State Recalibration: How the Warriors Made the Entire NBA Rethink the Future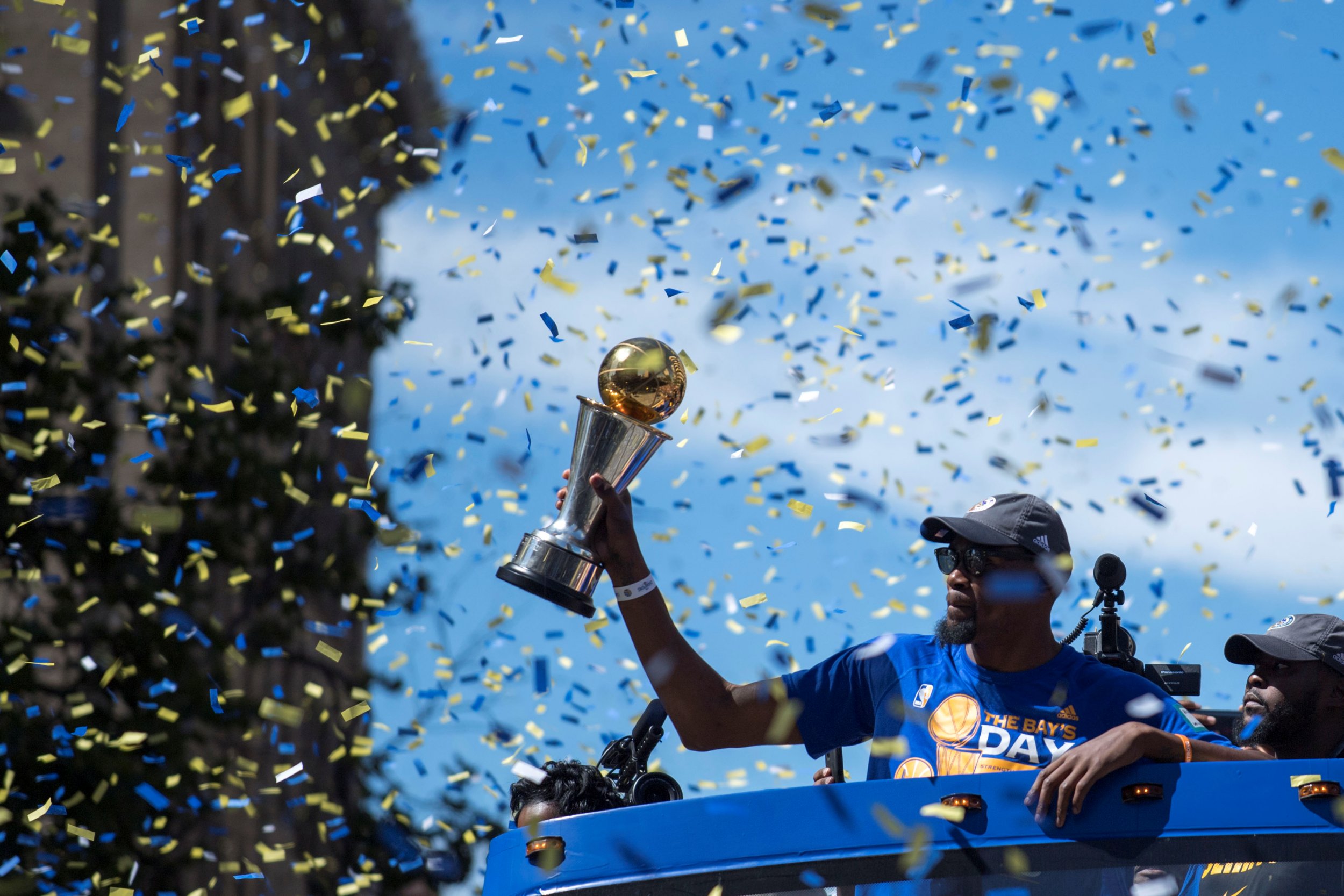 There's a famous scene in the show Breaking Bad in which Mike Ehrmentraut—a grizzled former cop turned enforcer for a drug dealer—regrets merely threatening to kill a wife-abusing murderer instead of following through with the act.
"I chose a half measure when I should've gone all the way. I'll never make that mistake again," he says. "No more half measures."
Advocacy for killing aside, there's a lesson here—and it's playing out in the NBA. Presented with a problem with no easy answer, the best response is to fully commit to a solution, one way or the other.
There are no easy answers for the elegant problem that is the Golden State Warriors. This is a team that won a record 73 games, then added a top-3 talent in Kevin Durant and predictably bulldozed their way to a championship, dropping just a single game in the playoffs. Last offseason, the NBA kind of waited things out—maybe the Warriors won't be THAT good—as top franchises like the Cleveland Cavaliers, Los Angeles Clippers, Houston Rockets and San Antonio Spurs mostly left their rosters intact.
This offseason already has been nothing but fireworks, and it is rife with rumors of bigger, splashier moves to come. And much of that can chalked up to a great recalibration of sorts from NBA franchises tasked with facing the reality that Golden State sits on a plane of existence entirely separate from the rest of the league.
On Wednesday, the Houston Rockets ostensibly emptied their coffers to trade for the Los Angeles Clippers' Chris Paul, a generational talent to pair with last year's MVP runner-up, James Harden. It's a backcourt of incredibly talented ball-dominant guards who might not work well together—but who could also reinvent the franchise. As Chris Ryan of The Ringer pointed out in a story earlier this month improbably predicting the blockbuster move, Rockets GM Darryl Morey specifically cited the Warriors as the spark behind his plans for a big splash, the impetuous for a seismic change in direction. The Rockets were good last year and fun to watch, but the same old thing ain't working for anyone—so time to crank up the variance and hope something new strikes gold.
"We are used to long odds," Morey told ESPN's Zach Lowe earlier this month. "If Golden State makes the odds longer, we might up our risk profile and get even more aggressive. We have something up our sleeve."
In other words: It's entirely unclear if the Paul experiment in Houston will work, but it was entirely clear the Harden-plus-cast-of-characters method wasn't going to cut it with Golden State looming. Keeping things as they were, or just adding a role player, would have been half measures.
Guided by new, legendary adviser Jerry West, the Los Angeles Clippers, meanwhile, took a full measure in the opposite direction by trading Paul. Plagued by injury, playoff chokes and plain bad luck, L.A. got out while the getting was good. If Paul was set to leave, the sign-and-trade move—one that allowed the Clippers to land guards Patrick Beverley and Lou Williams, forwards Sam Dekker and Montrezl Harrell as well as a 2018 first-round pick—signaled a strong shift toward trying something fresh, albeit something probably not as promising in the short term.
Ramona Shelburne, an ESPN reporter who's especially plugged-in with basketball in L.A., retweeted a post that said the Warriors have the rest of the NBA feeling so nervous that "teams need to make drastic moves to get ahead." Bay Area columnist Marcus Thompson said effectively the same thing last week, citing "massive desperation across the league."
In that vein, nearly every top-level team in the NBA is being tied to Indiana Pacers star Paul George, who has made it clear he wants out. The Cleveland Cavaliers could ship Kevin Love, an all-star who helped them win a championship before Golden State landed Durant. Not satisfied with just Paul, the Rockets are looking to land George as well, to form a Big 3, Shelburne reported. Meanwhile, the Boston Celtics, blessed with myriad assets (expendable solid players and an avalanche of draft picks) are reportedly holding off on their effort for George so they can first sign free agent all-star Gordon Hayward. That would help ease salary cap pressure before, they hope, getting George via a trade. The Los Angeles Lakers, always cited as George's preferred landing spot, have cleared enough cap space to pursue both the Pacers star as well as superstar LeBron James when he becomes a free agent next summer. (This is not even mentioning the fact that Chicago's Jimmy Butler was traded to Minnesota, New York Knick Carmelo Anthony could be on his way out and that fellow Knick Kristaps Porzingis was briefly rumored to be available, leading teams to reportedly offer wheelbarrows full of assets.)
These are all pretty drastic moves that would reshape the league's landscape. With the Durant-led Warriors waltzing to a championship, things that had long been suggested—a Clippers shakeup or a Love trade—took on new life. Even the San Antonio Spurs, as solid and stable a team as there ever was, reportedly offered up their star forward LaMarcus Aldridge for a top draft pick.
Nowadays it's not enough to make a trade—you've gotta blow the doors off. It's not enough to sign a free agent—you've gotta get two. Think of it this way: Adding just Hayward or George likely gets the Celtics, at best, an early exit in the NBA Finals. Add both, and, well, at least now we're talking. By any standard Cleveland this year was a super team, with three all-stars and perhaps the greatest player of all time in James. They got shellacked in the Finals. The Warriors are that good. If you want a shot at a ring in today's NBA, a super team is the floor.
The offseason has been insane because it has to be—anything else would be the rest of the NBA taking half measures.