NBC Host Confronts NATO Leader on Ukraine Response as Civilians Targeted
NBC host Chuck Todd pressed NATO Secretary General Jens Stoltenberg on Sunday over the organization's response to Russia's invasion of Ukraine as Russian forces have been accused of targeting civilians in recent days.
"We've seen an increased targeting of civilians Mr. Secretary General in Ukraine. How long can NATO stand by and watch Russia target civilians without finding a way to help more when it comes to the Ukrainian resistance?" Todd asked Stoltenberg on NBC's Meet the Press.
"NATO allies are stepping up their support to Ukraine, partly by delivering military support, humanitarian support and billions of billions of financial support to Ukraine," Stoltenberg responded. "We also imposed unprecedented sanctions on Russia to ensure that they are paying, President Putin is paying, a high price for this totally unjustified, senseless war against an independent, sovereign nation."
He also added that NATO allies have been training and supporting Ukraine's military for years.
"These troops are on the frontline fighting against the invading Russian troops. So the support allies have provided over many years proves now to have been extremely important," the NATO secretary general said.
Earlier this month, Vice President Kamala Harris said that Russia's bombing of a maternity and children's hospital in the city of Mariupol, which killed 17 people, should be investigated as a war crime. Recently, President Joe Biden said "it's clear" that Russian troops are targeting civilians in Ukraine, though he declined to say whether or not Russia was committing war crimes. However, on Wednesday the president said that Putin is a "war criminal."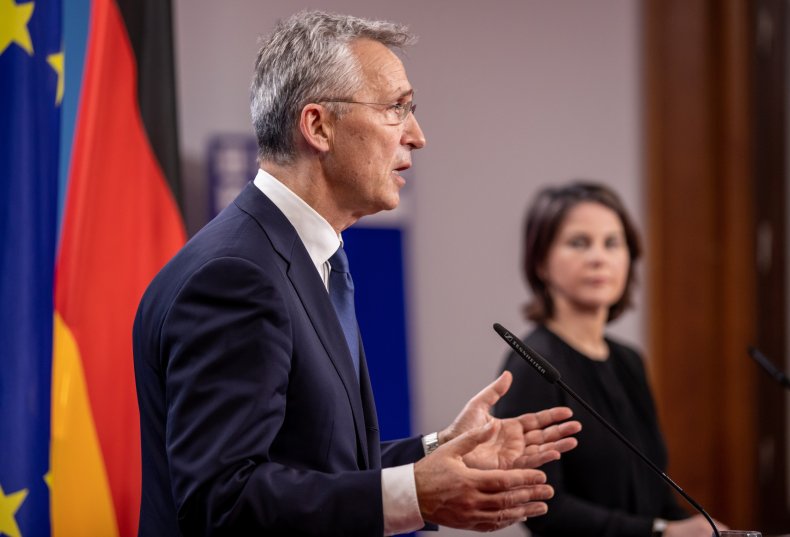 At the beginning of March, Kyiv's government accused Russia of targeting civilians with missile strikes in the center of the city of Kharkiv.
The United Nations' Office of the High Commissioner for Human Rights (OHCHR) recorded 1,900 civilian casualties in Ukraine between February 24 and March 15, which included 726 deaths.
In a news release on Thursday, the U.N. wrote that staff in Donetsk "are following developments around a 14 March incident in which 20 civilians were reportedly killed by a Soviet-era Tochka-U ballistic missile that may have contained cluster munitions."
The U.N. also noted the situation in Mariupol, where a theater sheltering civilians, was hit by a Russian air strike on Wednesday.
"A strike on the Mariupol theatre yesterday, which reportedly served as a bomb shelter for displaced civilians, adds to the list of attacks against civilian structures," the U.N. wrote on Thursday.