NBC News Host Confronts GOP Lawmaker on Why Party Hasn't Left Trump Behind
A GOP lawmaker said Sunday that Republicans haven't turned away from former President Donald Trump because there's "no other option" in the party.
Michigan Representative Peter Meijer made the comment during an interview on NBC News' Meet the Press Sunday.
Host Chuck Todd referenced comments made by Senator Lindsey Graham after the Capitol riot on January 6.
"In the words of Lindsey Graham: 'Enough is enough, I'm out of here, I'm done with this, the party's going to move on, Trump's going to be left behind'" Todd said. "Boy did that not happen. Why do you think that didn't happen?"
Meijer replied that there was "no alternative" and "no other path."
"And given how President Biden, when he was elected into office, said he would be moderate and look for bipartisan solutions, but then after—and frankly, I blame the former president for this—after we lost the two Senate seats in Georgia and the Senate flipped, it became an exercise in trying to be an LBJ- or FDR-style presidency and enact transformational change in the absence of any compelling mandate from the American people to do so," said Meijer, who voted to impeach Trump.
"So that gave the rallying signal. That created a very steep divide, and at the end of the day there's no other option right now in the Republican party," he added.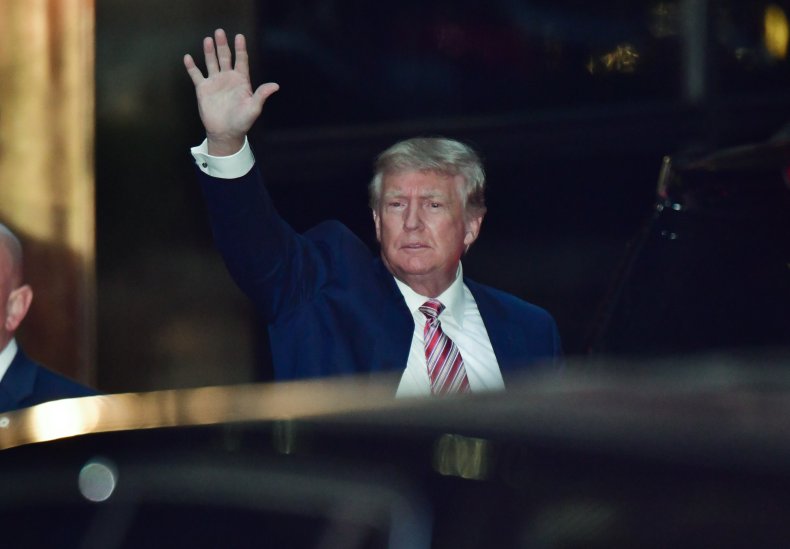 Todd pressed Meijer on why he thinks it's "on President Biden that the Republican party can't seem to kick their Trump habit."
"I mean why isn't it on Kevin McCarthy, Mitch McConnell and yourself?" Todd asked.
"We have a two-party system, and in the best-case scenario each party challenges the other to do better," Meijer responded. "Instead, if you have one party plumbing the depths and the other just uses that as an excuse to go further, to go more to an extreme to go more away from any sort of governing consensus and towards trying to enact whatever the will of the most extreme constituency they have is. That is a recipe for both parties to drive further away from anything that resembles serving the American people as a whole."
Trump has strongly suggested that he will run for president again in 2024, and he has been wading into elections throughout the U.S. He has thrown his support behind candidates who support his claims of election fraud during the 2020 presidential election despite any evidence.
In a Reuters/Ipsos poll released this week, over half of Republican voters said they would back Trump as the party's nominee for the next presidential election. Florida Governor Ron DeSantis ranked a distant second with 11 percent.
Meanwhile in polling about a hypothetical 2024 matchup, Trump leads Biden by nearly 5 points, according to an average of recent polls.