NBC News Remains Silent On Whether Trump Will Be Fact Checked During Town Hall Event
NBC News' town hall event with President Donald Trump, which will air at the same time as Democratic presidential nominee Joe Biden's own town hall, has drawn widespread criticism. With concerns rising over how the network will address fact checking the president, NBC News has not released any plan ahead of Thursday's broadcast.
Despite numerous requests for comment from Newsweek, NBC News did not respond before publication as to whether there will be a fact-checking plan in place for the competing town hall event.
The conversation between Trump and a group of Florida voters is set to be moderated by Today co-host Savannah Guthrie, who critics have argued has not been tough enough on her interview subjects.
Guthrie was under scrutiny in 2019 from viewers after she interviewed MAGA hat-wearing teen Nick Sandmann, not pressing him on his shifting account of a confrontation at the Lincoln Memorial between himself and a Native American activist.
Both Guthrie and NBC News faced backlash for the scheduling decision over the president's town hall. Although no one from the news division has publicly criticized the move, former executives and stars from NBC's entertainment arm have spoken out against the broadcast.
"Having dueling town halls is bad for democracy," former Today host Katie Couric tweeted Wednesday. "Voters should be able to watch both and I don't think many will. This will be good for Trump because people like to watch his unpredictability. This is a bad decision."
Some have questioned whether NBC News will fact check Trump, who is known to disseminate misleading or false information over social media and in person.
Facebook and Twitter have both taken action against some of the president's posts, particularly messages that spread misinformation about COVID-19. On Wednesday, the social media giants moved quickly to restrict the reach of a story from The New York Post claiming to report emails between Hunter Biden and an adviser to Ukrainian energy company Burisma.
Many are calling on Guthrie to bring up the disputed emails and fact check the president during Thursday's live event.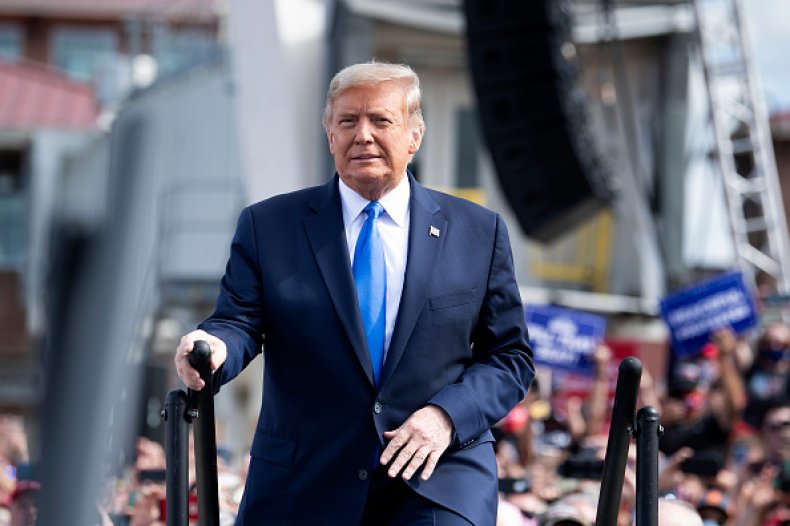 NBC News said it agreed to set up the broadcast after receiving a statement from Dr. Clifford Lane, clinical director at the National Institutes of Health, in which he concluded "with a high degree of confidence" that Trump was "not shedding infectious virus."
Trump refused to participate in the second presidential debate after organizers announced it would be moved to a virtual format.
The question as to whether moderators of presidential debates should fact check candidates also came up during the first debate. Frank Fahrenkophf Jr., co-chair of the Commission on Presidential Debates, defended moderator Chris Wallace's stance to not fact check the candidates during that event.
"When we choose moderators, we make very clear to them that there's a vast difference between being a moderator in a debate and being a reporter who is interviewing someone," Fahrenkophf said on September 27.