NBC's 'Superstore' Understands Middle America Better Than Trump
As the results of red states rolled in on the night of the 2016 presidential election—Michigan, Wisconsin and finally Pennsylvania—east coast liberals had a sinking realization: We no longer understand working-class Middle America. That night's winner, Donald Trump, an east coast billionaire, certainly claims to understand the people he calls "ignored, neglected and abandoned." But neither his party, or Democrats, really has a clue. As they fight to crack this essential demographic before the 2020 election, they might consider tuning into the NBC sitcom quietly nailing Middle America's story every Thursday night.
Superstore, created by Justin Spitzer, and starring America Ferrera and Ben Feldman, is a blue-collar version of the modern workplace comedy. Set smack in the middle of the country, in St. Louis, Missouri, the show, now in its third season, follows the employees of Cloud 9, a fictional Walmart-style store. The staff includes your typical workplace sitcom characters—the goofy-yet-lovable boss, the will-they-won't-they couple (Ferrera and Feldman)—while offering a diverse, nuanced American heartland rarely seen, and certainly never discussed, in political rhetoric. "I specifically wanted an area of the country with as much representation as possible," Spitzer told Newsweek. "Conservatives, liberals, young, old—I wanted a variety of people because that's always more interesting."
Superstore brings an understanding of the modern working class that American television hasn't seen since the ABC comedy Roseanne, which ran from 1988 to 1997 (20 years ago!). And it tackles relevant, timely issues, like medical insurance (in this week's episode, "Health Fund," Jonah creates an employee-funded insurance plan that's more complicated than anticipated) without taking a political stance.
The narrative that Middle America is filled with conservative white people "only benefits those in power," said Ferrera in a separate interview. "It makes struggling Americans feel there is more dividing them than uniting them, and that's just not true."
Here's how the characters on Superstore fight the stereotypes.
Glenn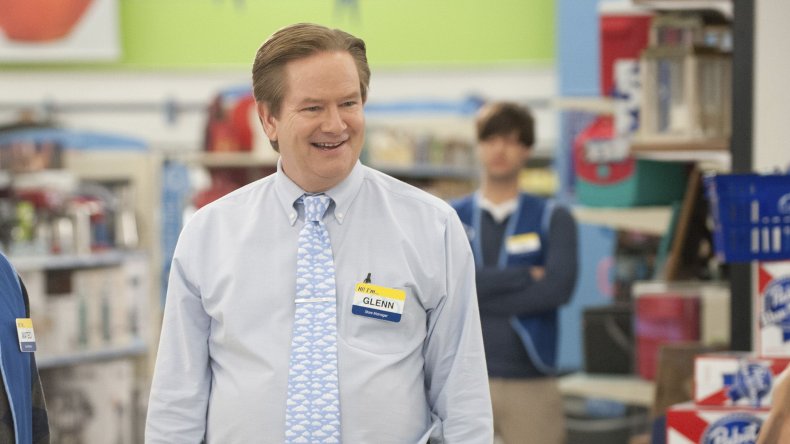 You can't leave faith out of a show about an Ozarks big box store, even if religion is a topic network shows prefer to avoid. Cloud 9's manager Glenn Sturgis (Mark McKinney) is an evangelical Christian, and that's a significant part of his identity. He's also a conservative and a dedicated patriot, but many things you might not expect, too. "I think there's an image of the conservative evangelical Christian as someone whose politics and actions are self-serving," said Spitzer. "I don't think that is accurate for most Christians."
Glenn, a big-hearted, bumbling boss, also happens to be Superstore's kindest character. There's been the occasional attempt to impose his faith on others (like buying out Cloud 9's supply of morning-after pills), but McKinney's high-pitched, just-ridiculous-enough-that-it-works voice rescues the character from overbearing dogmatism. "That voice seemed to bring it all together," McKinney said. "It's a childlike quality."
Statistically speaking, Glenn is probably a Trump supporter, but the president is the one subject Superstore avoids. "We had a discussion at one point about who each of our characters might have voted for," Spitzer said."Evangelicals voted heavily for Trump, so Glenn might have. In the end, we never found an interesting story that didn't require the writers to inject their personal politics, so we moved on."
So the "Election Day" episode last year focused on local nominees, and Glenn doesn't make his political position known. "Maybe went to the soup kitchen," McKinney said.
Amy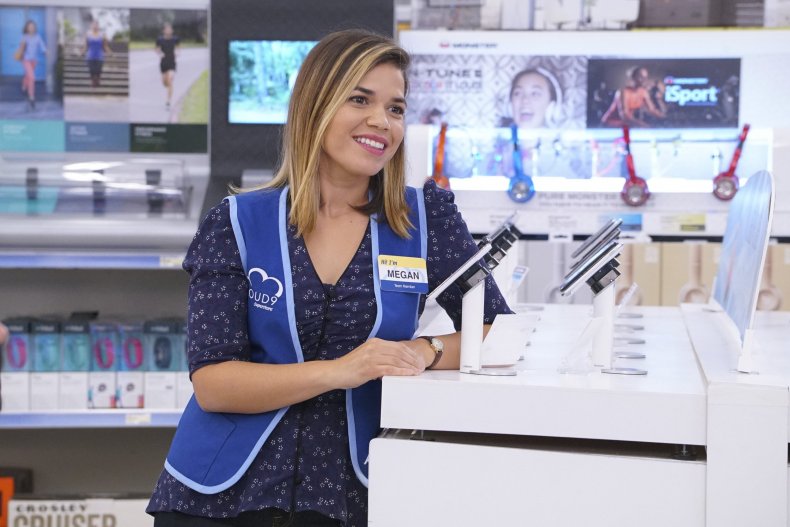 From the very first episode of the show, it's been clear that Amy, a floor supervisor for 11 years, knows she could be doing much more. Unfortunately, she doesn't really have that choice; a teenage mother, she never went to college. "I felt drawn to Amy because that's where I came from," said Ferrera, who joined the show after starring on ABC's critically acclaimed Ugly Betty. She appreciated the working class stories, having grown up in Los Angeles, the daughter of Honduran immigrants; her mom worked at a Hilton Hotel, which ended up being Ferrera's first job as well. "There was pride in that average identity," said the actress. "But more and more, TV shows have shifted focus to extreme and aspirational characters. I love that Amy's average."
"Of course there are stories of young mothers who also have amazing careers," Ferrera said of Amy's inability to move beyond a minimum wage job. "But on average there are huge limitations on women who become mothers at a young age. I appreciate that that's a reality for Amy. She's still someone with pride, intelligence and humor. She's not depicted as inferior."
Jonah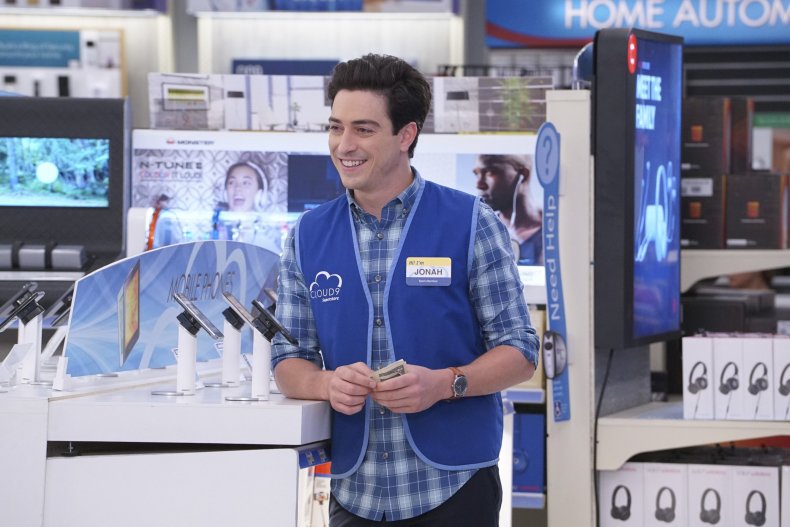 "I know, I don't seem like the type of person who would work here," Feldman's Jonah, the new sales associate, tells Amy in the pilot. (She gets him back for that casual elitism later.) He's a business school dropout, and though his financial situation hasn't been made explicit yet, it's clear he's new to minimum wage. He doesn't like guns, he supports workers' unions and he insists on pronouncing Cuba, "Coo-ba." Essentially, he represents the liberal, upper-middle-class viewer.
"Jonah is pretty similar to me," admitted Feldman. "At Cloud9, he gets to experience problems through others' eyes—things he's been sheltered from: single mothers, disabled people, religious people, undocumented people. As the show progresses, he gains a richer worldview, and so does anyone who chooses to grow with Jonah. It's the American responsibility to learn that."
Feldman noted that the atmosphere on set is quite different from his previous role on Mad Men (he played Michael Ginsberg, the unstable copy editor in Season 5). "I wasn't getting pulled into conversations about middles class values on that set," said Feldman. "But on Superstore we're talking about race and class and gender all the time."
Dina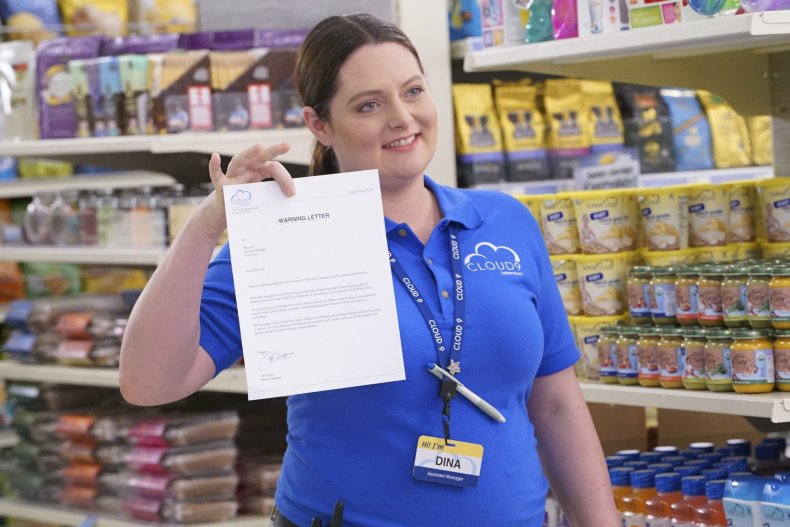 Anybody who's worked a low stakes-low wage job knows a Dina, Cloud 9's assistant manager, played by Lauren Ash. She takes her job very seriously. Like Glenn, Dina is a Christian, but unlike Glenn, she would never dream of bringing her religion into the workplace; that would be against the employee code of conduct. Dina expects perfection from everyone and yells indiscriminately. "If Dina doesn't take it seriously, what's the point?" Ash said. "It's too difficult for her to question whether that's what she really wants, or if she could have something better."
Ash, who worked at a Canadian chain store in high school, understands why so many are connecting to her character. "People reach out to me on social media and say, 'We all work with a Dina at our job.' And in this political climate, it's more important than ever for people to feel represented and important."
Garrett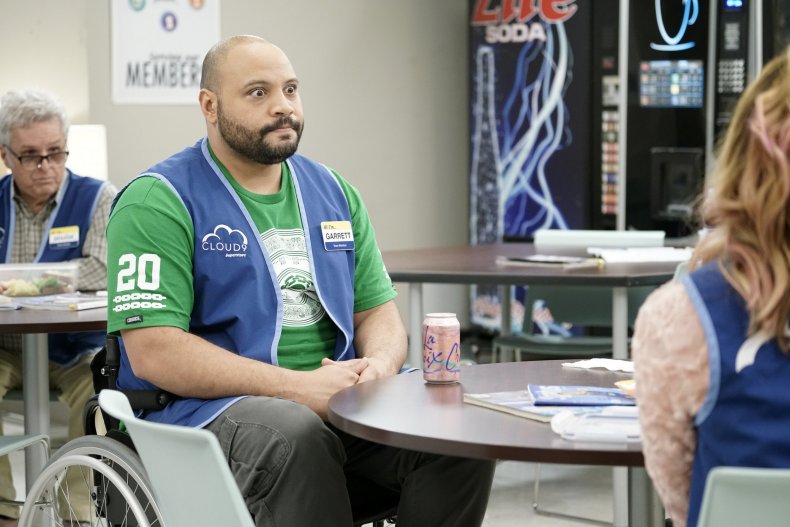 Meet the exact opposite of Dina. The store announcer doesn't take his job seriously at all, frequently makes sarcastic remarks and openly admits to doing the least amount of work possible. Actor Colton Dunn gets it. "My life was very similar to Garrett's for a couple of years," Dunn said. "I worked at a video store in Minnesota where I would watch videos in the back room to avoid customers."
It's not laziness so much as frustration over, objectively, an exhausting, thankless, dead-end job. "You get tired of answering the same questions," Dunn said. "There's no stupid questions unless you work in retail, then there's a lot of stupid questions."
Garrett is also in a wheelchair, for reasons yet to be explained. "When I first started on the show, we discussed whether we wanted to keep Garrett in the chair," says the actor, who is not in a wheelchair himself. "We decided people with disabilities have jobs, and it's important to represent them in the workforce. I take it very seriously."
Mateo
Mateo, a sales associate hired the same day as Jonah, was originally supposed to be Latino, but actor Nico Santos came in and made the character his own: an openly gay Filipino immigrant. "There are very, very few queer Filipino characters on TV. But I'm out there, I exist," said Santos. "We are a part of the workforce and you will find us in the midwest, I promise!"
Mateo is ambitious, competitive and generally rude. ("No offense, but you're my competition, so I'm rooting for you to fail," he tells Jonah in the pilot.) He's also undocumented. "Every Filipino family who moved here knows somebody who is undocumented," said Santos, who arrived in a small town in Oregon, from Manila, when he was 16. (Santos is now a legal US citizen.) Trump has made it clear that the "neglected and abandoned" portion of Middle America he's interested in is not undocumented immigrants, but Superstore reminds viewers that he should be interested. "People tend to forget those populations are spread out everywhere in this country," Santos said. "And like many people here, Filipinos live for the American dream. That's what Mateo wants."
Cheyenne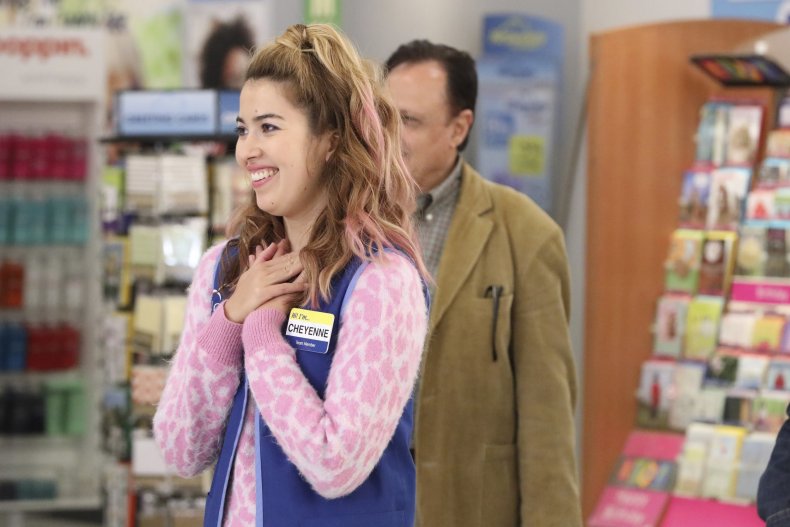 Like Amy, Cheyenne (played by Nichole Bloom), a makeup sales associate, got pregnant as a teenager. But unlike Amy, she's not frustrated by her situation. She gives birth at the end of the first season and seems relatively happy with her husband, Bo (who married her because his dad said he had to). "I don't think Cheyenne and Bo think about how they are working class," said Bloom, who grew up in a suburb of Los Angeles. "You take certain things for granted. Even when you're poor, you don't realize that when you're young."
Also like Amy, Cheyenne is not white. "I genuinely didn't think anyone would be so open-minded about casting a half Japanese girl to play a pregnant teenager," said Bloom.