NC Attorneys Ask Governor to Remove Confederate Monuments From Capitol
Over 60 attorneys and law professors in North Carolina said on Wednesday that the state's public Confederate monuments were not in line with the North Carolina Constitution. In a letter, they asked Governor Roy Cooper to have the statues removed.
Monuments to Confederate leaders have become targets for protesters against racism and police brutality in the wake of the death of George Floyd, a black man who died while in the custody of Minneapolis police officers. While some cities in North Carolina have voted to place Confederate monuments in storage to prevent them from being destroyed or defaced, a state law enacted in 2015 prohibits their removal. In their Wednesday letter, members of the North Carolina legal community cited the monuments stand in conflict with the Constitution.
"Confederate monuments in important civic spaces in North Carolina, including at the State Capitol, offend guarantees in our state and federal Constitutions," the letter said. "These displays are inextricably tied to secession, slavery, and white supremacy. We urge their immediate removal."
According to the letter, the Confederate monuments go against wording in the state constitution that "all persons are created equal" and that slavery is "forever prohibited."
"These guiding principles simply cannot be squared with the maintenance of Confederate monuments at prominent government sites," the letter read.
Since the U.S. Supreme Court declared that public monuments equate to examples of government speech in 2009, the letter says the Confederate monuments themselves can be perceived as "an affront to the commitment to racial equality embodied in the post-Civil War amendments."
The letter also said the law prohibiting the removal of Confederate memorials "should be repealed and we urge the General Assembly to do so."
Newsweek reached out to the office of Governor Cooper for comment. This story will be updated with any response.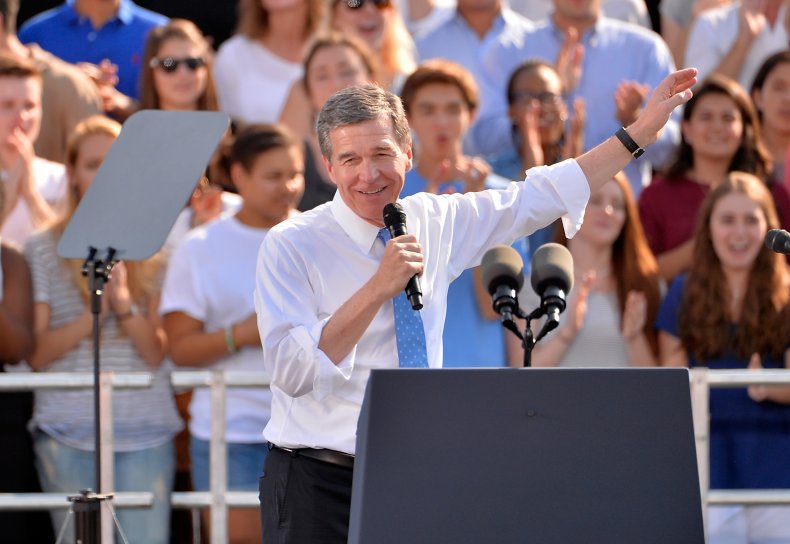 Known as the Monuments Law, the decree protecting the Confederate memorials was signed in 2015 by then-Governor Pat McCrory. "I remain committed to ensuring that our past, present and future state monuments tell the complete story of North Carolina," McCrory said in a statement at the time.
Cooper stated his desire to remove the statues in August 2017 after an anti-racism demonstration which resulted in the deaths of three people in Charlottesville, Virginia. "We cannot continue to glorify a war against the United States of America fought in the defense of slavery," Cooper wrote at the time. "These monuments should come down."
Only memorials owned by the state or the city are subject to the Monuments Law, meaning Confederate monuments that are owned by private organizations may be exempt. An agreement must be reached between local government officials and the entity that owns the monument concerning removal or relocation.