NC Republican Madison Cawthorn Says 'Cry More, Lib' After Becoming Youngest Member of House
North Carolina Republican Madison Cawthorn criticized liberals after winning the state's House of Representatives race, becoming the youngest member of Congress.
"Cry more, lib," Cawthorn wrote in a tweet after the state's 11th Congressional District was called on Tuesday night by the Associated Press at 9:20 p.m. ET.
Cawthorn's projected victory on Tuesday came over Democrat Moe Davis, a 62-year-old retired Air Force colonel and former Guantánamo Bay prosecutor.
Newsweek reached out to Davis for comment.
North Carolina's 11th Congressional District was previously represented by Republican Mark Meadows, who left the House to take on the role as White House chief of staff.
On January 25, 2021, when Cawthorn is sworn into his seat, he will be the youngest member in Congress at 25 years old—a distinction that is currently held by New York Democratic Congresswoman Alexandria Ocasio-Cortez, who is 31 years old.
The youngest current U.S. senator is Josh Hawley, a 40-year-old Republican from Missouri.
After winning the election, Cawthorn released a statement that read: "The days of AOC and the far left misleading the next generation of Americans are numbered.
Tonight, the voters of Western North Carolina chose to stand for freedom and a new generation of leadership in Washington."
"To my fellow Republicans I say this: We don't just need a bigger tent. We need a brighter and bolder tent. We need a tent that attracts Americans with real solutions and a tent that produces principled fighters who will be fearless in the face of tyranny," his statement said. "Tonight, the voters of Western North Carolina said it's time for a new generation of leadership to apply those timeless truths and principles to today's challenges. As a nation, we know how to overcome adversity and persevere."
Prior to securing a victory on Tuesday night, Cawthorn rose to fame after defeating Lynda Bennett in the GOP primary. Bennett was endorsed by both Meadows and President Donald Trump.
Cawthorn, a paraplegic survivor of a near-deadly car crash, previously spoke at the Republican National Convention, but has been critical of the Republican Party.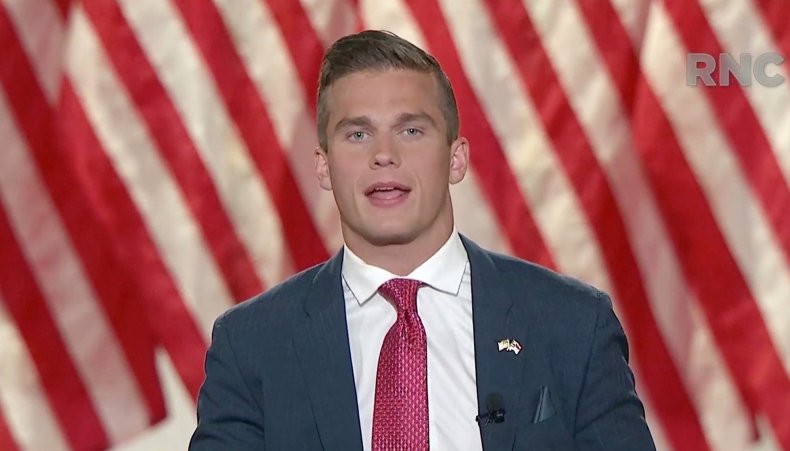 "I definitely am running against the Republican Party," Cawthorn said in a recent interview, according to Politico, while also referring to the GOP party as "timid."
"They're a party that doesn't try to tackle real issues. They are a party that always says no to things," he added.
Cawthorn and his campaign have faced backlash in recent months, following several controversial incidents.
In August, Cawthorn deleted an Instagram post that featured photos taken during his 2017 trip to to the Eagle's Nest, a remote Nazi retreat site.
He also recently faced criticism after he released an attack website against Davis, saying that the Democratic candidate worked with people like New Jersey Democratic Senator Cory Booker who want to "ruin white males running for office."
Cawthorn said that the website's wording was caused by a "syntax error," but he was met with criticism from Booker.
"It just really personally saddens me that somebody who is so clearly racist is a nominee of a major party, and I think it's a disrespect of the entire community," Booker said in response to Cawthorn's attack website, during an interview with HuffPost. "It's really unfortunate."
Newsweek was directed to the statement Cawthorn released after reaching out for comment.
Updated 11:00 p.m. ET, to include a statement from Cawthorn.