NC State Kicked Out of College World Series for COVID, Vanderbilt Advances to Championship
As it turned out, the defending college baseball national champions didn't have to beat the same team twice to advance to the College World Series final series. They got some help from COVID.
The NCAA announced early Saturday morning that the North Carolina State baseball team was disqualified from a winner-move-on game against Vanderbilt later that day was ruled a "no-contest," and N.C. State is done for the year after making the national semifinals during an unbelievable playoff run.
N.C. State, which was a Cinderella team in the playoffs, went 2-0 through its first two games in Omaha, Nebraska, putting the Wolfpack in the sport's final four. Prior to Friday afternoon's game against Vanderbilt, the Wolfpack had to sideline 14 players for COVID tracing. One player tested positive, and his roommate in Omaha was linked to other players in tracing.
"This decision was made based on the recommendation of the Championship Medical Team and the Douglas County Health Department," the NCAA stated. "As a result, Vanderbilt will advance to the CWS Finals.
"The NCAA and the committee regret that NC State's student-athletes and coaching staff will not be able to continue in the championship in which they earned the right to participate. Because of privacy issues, we cannot provide further details."
N.C. State's game against Vanderbilt on Friday was delayed because of extensive testing on players and staff. After the game, Wolfpack coach Elliott Avent was clearly agitated when asked about testing his players.
"My job is to teach them baseball, make sure they get an education and keep them on the right track forward," Avent said in frustration. "But I don't try to indoctrinate my kids with my values or my opinions. Obviously, we talk about a lot of things. But these are young men that can make their own decisions and that's what they did."
The Wolfpack could have forfeited Friday's game against Vanderbilt, which needed to beat N.C. State twice, but they pushed forward. N.C. State played the game with only nine position players and four pitchers on the roster. Vanderbilt won Friday's game, 3-1, setting up a game Saturday, with the winner moving on to the finals to face either Mississippi State or Texas. Texas defeated Mississippi State late Friday (early Saturday) in a rain-delayed game that sets up a winner-move-on game Saturday night.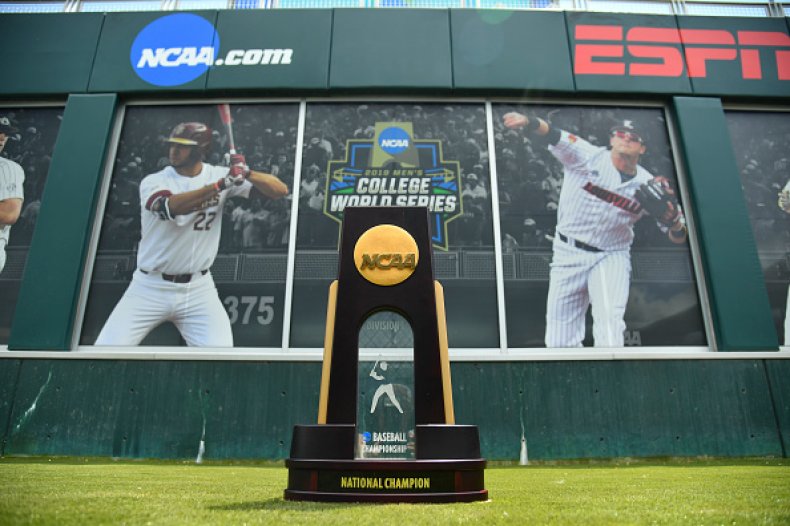 Vanderbilt is the defending national champion after the Commodores' 2019 win over Michigan. There was no tournament played in 2020 after the COVID-19 global pandemic sidelined all college championships for winter and spring sports.