NCAA Cancels Basketball Tournaments, All Winter and Spring Championships Because of Coronavirus
The NCAA president and its board of directors announced Thursday it has canceled all winter and spring championships because of the spread of COVID-19, also known as coronavirus. This includes the highly-popular men's basketball tournament—March Madness.
The decision comes one day after NCAA president Mark Emmert announced that the men's and women's basketball tournaments would still be played, but with "only essential staff and limited family attendance."
That changed after an hours-long meeting, and the following statement:
"This decision is based on the evolving COVID-19 public health threat, our ability to ensure the events do not contribute to spread of the pandemic, and the impracticality of hosting such events at any time during this academic year given ongoing decisions by other entities."
WInter championships include men's and women's basketball, which is the NCAA's centerpiece event, and lucrative enough that the three-week event brings in nearly a billion dollars in revenue.
On Thursday, one by one, each basketball conference still playing their postseason tournaments canceled their events for both men's and women's games. The Big Ten was the first major conference to cancel, followed by the SEC, Big 12, Conference USA, MAC, WAC, AAC, ACC and the Pac-12. The last conference to cancel was the Sun Belt.
In all, 14 conferences canceled their annual basketball tournaments on Thursday, some even pulling players off the court during warmups for their quarterfinal matchups on Thursday morning. The Big East waited until halftime of its first game Thursday to cancel it tournament in its entirety.
The cancellation is not just basketball, though. Other winter sports include swimming and diving, wrestling and indoor track and field. Spring championships include baseball, softball, golf, tennis, track and field and water polo—among plenty of other NCAA sports.
The coronavirus was first detected in Wuhan City, which is in the Hubei Province of China. The virus has affected more than 120,000 people worldwide and is responsible for more than 4,200 deaths worldwide, mostly in China. The virus is starting to spread more rapidly within the United States, with more than 1,000 cases being reported, and 33 deaths in the United States, according to research by Johns Hopkins University. The virus has led to less people traveling through airports, or aspiring to be among large crowds.
At least one player on the NBA's Utah Jazz has been diagnosed with coronavirus, and on Wednesday night, The National Basketball Association (NBA) suspended its season until further notice because of coronavirus.
"The NBA is suspending game play following the conclusion of Wednesday's schedule of games until further notice. The NBA will use this hiatus to determine next steps for moving forward in regard to the coronavirus pandemic," the NBA stated on its website.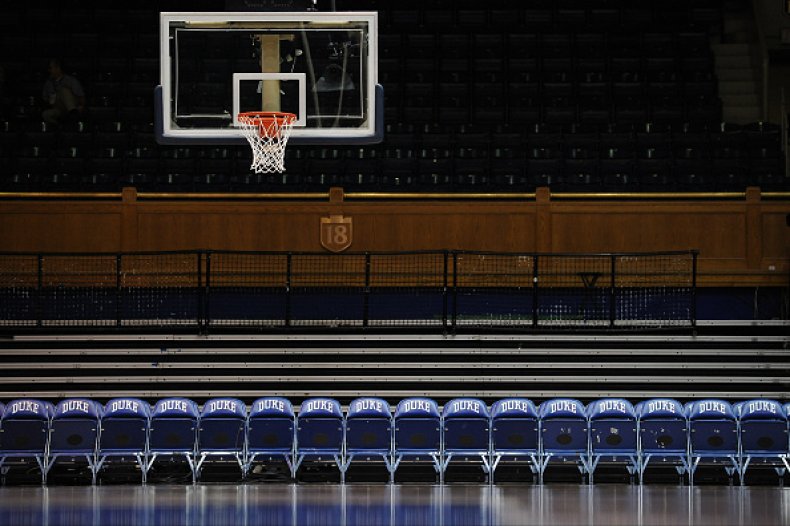 NCAA Cancels Basketball Tournaments, All Winter and Spring Championships Because of Coronavirus | Sports