NCAA Champ University of Virginia Men's Basketball Team Politely Declines Trump White House Invitation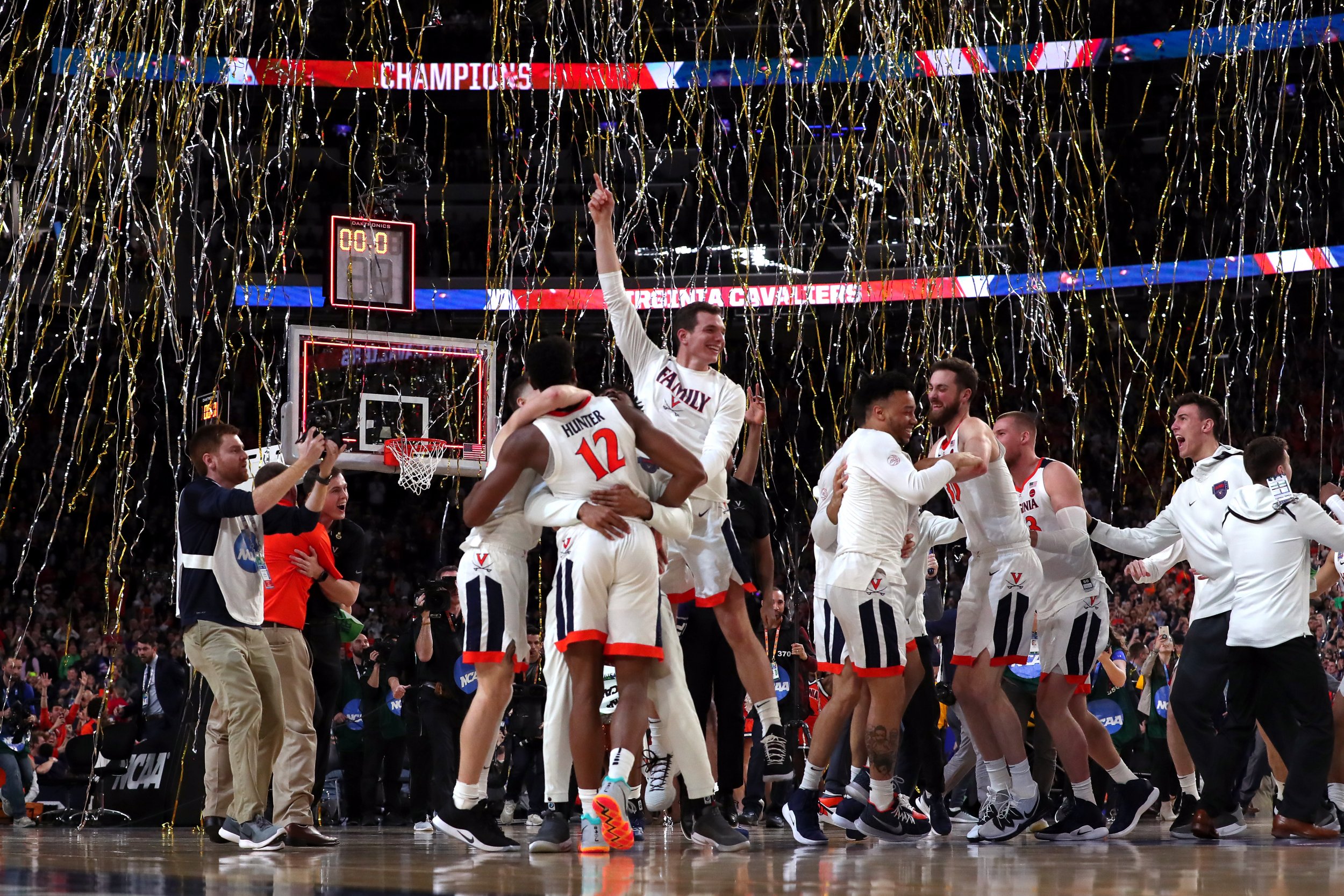 The coach for University of Virginia's national championship men's basketball team said Friday his squad will not be attending the White House to celebrate the school's first-ever victory in the NCAA tournament.
In a statement posted to Twitter, coach Tony Bennett made no reference to politics in the team's decision to decline an invitation to the White House. Rather, said the coach, it was a matter of logistics.
"We have received inquiries about a visit to the White House. With several players either pursuing pro opportunities or moving on from UVA, it would be difficult, if not impossible to get everyone back together. We would have to respectfully decline an invitation," wrote Bennett.
Several of Virginia's key players from their championship run — including De'Andre Hunter, Kyle Guy and Ty Jerome — declared themselves eligible for the upcoming National Basketball Association draft.
In January, amid a prolonged federal government shutdown, President Donald Trump had members of the national champsionship Clemson football team over for a dinner at the White House, where they were treated to platters of fast food hamburgers, french fries, and chicken.
Though Bennett's Tweet does not mention politics or Trump, UVA's hometown of Charlottesville, Virginia, has been at the center of heated political and cultural debates in recent years, most notably in the wake of the August 2017 white supremacist Unite the Right rally.
That two-day event, ostensibly sparked by the city's plan to remove a statue of Confederate General Robert E. Lee, included a torch-lit march on the grounds of the university, where marchers were heard chanting phrases like, "Jews will not replace us."
The rally spread outward into the city of Charlottesville on its second day, resulting in skirmishes between far-right attendees and anti-fascist protesters. The event reached a tragic peak when a man named James Field, Jr. intentionally drove his car into a narrow side street filled with protesters, injuring several and killing 32-year-old paralegal Heather Heyer. Field was found guilty of first-degree murder in state court in 2018 and pleaded guilty to more than two dozen federal charges earlier this year.
Following those events in Charlottesville, Trump was heavily criticized for claiming there were "very fine people" on both sides, a statement that many saw as failing to denounce white nationalists.
Presidential candidate Joe Biden seized on those comments earlier this week in his campaign launch video, which included a photo of Heyer and called out Trump for his "both sides" remark.
Trump on Friday defended his previous statements, saying he "was talking about people that went because they felt very strongly about the monument to Robert E. Lee, a great general."
While its team might not make it to the White House this year, the University of Virginia has a direct connection to presidential history. The school was founded in 1819 by Thomas Jefferson, the primary author of the Declaration of Independence and third President of the United States.