NCAA Files Federal Trademark on 'Mask Madness' to Mimic March Madness
The National Collegiate Athletic Association last week filed a federal trademark application for the term "Mask Madness." If approved, then the NCAA could brand the term and sell merchandise with that slogan. It would also prevent outside people or organizations from profiting off the slogan without the NCAA's permission.
The term "Mask Madness" is an obvious play on "March Madness," which is the vastly-popular, wildly-entertaining and highly-profitable men's college basketball tournament that's mostly played, well, in March.
The men's and women's NCAA Division I basketball tournaments both ultimately got canceled last spring because of the sudden COVID-19 pandemic that reached the shores of the U.S. in full force.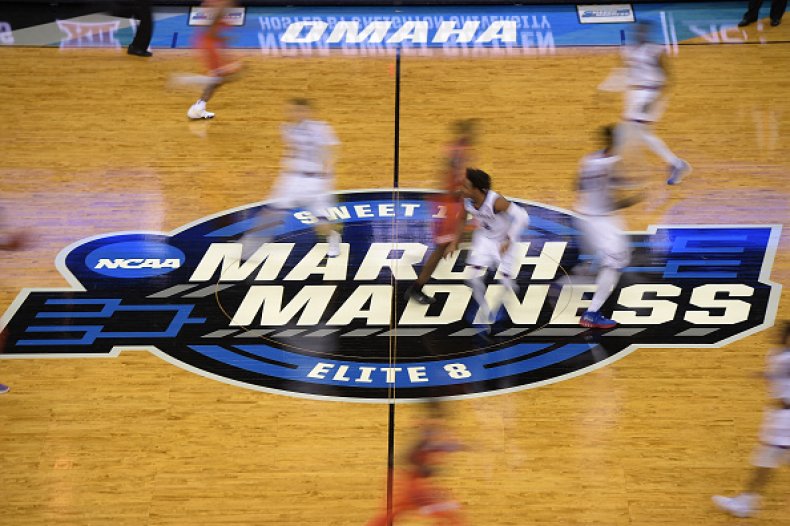 The NCAA typically scores about $1 billion in revenue from the 68-team men's basketball tournament that takes three weeks to play—all on national TV. The sudden cancellation of the men's and women's tournaments last March cost the NCAA approximately $375 million.
Football and men's basketball are typically the only money-making sports at most universities, and that revenue generally helps fund other non-revenue sports like golf, swimming, soccer and others.
"We're going to take some hits there," Big 12 Commissioner Bob Bowlsby said last spring.
Other beneficiaries from the NCAA's mammoth Division basketball tournaments are the schools at the NCAA Division II and III levels, which don't have giant money coffers like many Div. I schools.
"Mask Madness" wouldn't be just a way to sell stuff, it would also be a way to promote wearing a mask during the ongoing pandemic.
Josh Gerben, the founder of the trademark law firm Gerben Intellectual Property, posted the news on his Twitter account Monday.
The NCAA has a long list of phrases that have registered trademarks and logos. Some of the more notable NCAA trademarks include:
March Madness
March to the Madness
First Four
NCAA Sweet Sixteen
NCAA Sweet 16
Elite Eight (and Elite 8)
Final Four
Road to the Final Four
The Road to Atlanta (and to other cities)
College World Series
Frozen Four
NCAA Championships
Selection Sunday
The Big Dance
The NCAA has more than 70 trademarks listed on its website, and adding Mask Madness wouldn't fall out of line with some of their non-sports initiatives that include: Beyond the Baseline, NCAA After the Game, Pinnacle of Fitness and Read to the Final Four.
The collegiate sports league also has gender-specific trademarks for women's basketball (Women's Final Four, Women's Frozen Four, Women's College World Series, etc.).
The NCAA's website states that it must grant approval of the use of any trademark or logo.