NCAA Final Four: Where to Watch and Free Online Live Stream
March Madness has lived up to its name so far but the NCAA Tournament is now down to the Final Four.
Michigan, Loyola-Chicago, Villanova and Kansas all arrive in San Antonio hoping to succeed the North Carolina Tar Heels as the NCAA champions.
Third-ranked Michigan takes on number 11 seed Loyola-Chicago at 6:09 p.m. EDT on Saturday, with the game available on TBS and at NCAA.com or via the March Madness app.
The same broadcasting arrangements apply to Villanova and Kansas, who will go head-to-head at 08:49 p.m. EDT on Saturday, and to the National Championship game, which is set for Monday at 9:20 p.m. EDT.
Which two teams will make it that far remains to be seen, given this year's NCAA Tournament has been one of the most unpredictable in years.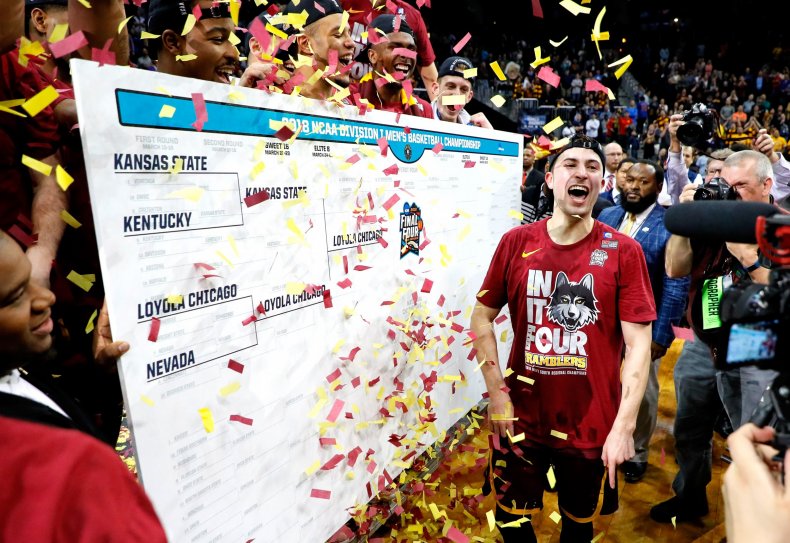 Loyola-Chicago is the ultimate Cinderella story. The Ramblers are the lowest-seeded team to ever reach the Final Four, have won their first three rounds by a combined seven points including two buzzer beaters and have turned 98-year-old Sister Jean into a celebrity.
Michigan, on the other hand, had a relatively low-profile run to San Antonio, beating Montana, Houston, Texas A&M and Florida State en route. The Wolverines are the third best team in the country in terms of defensive efficiency and have kept their opponents below 1.0 points per possession throughout the tournament so far.
On the other side of the bracket, Kansas and Villanova have ensured a degree of normality has been retained in a tournament packed with upsets. After disposing of Penn State 76-60 in the first round, the Jayhawks have won their next three games all by four points, including a 85-81 win over number two seed Duke in the Elite Eight.
Kansas' offense is among the top five in the country and with Devonte Graham and Malik Newman shooting so well, a first National Championship appearance since 2012 could be on the cards.
Villanova, meanwhile, is arguably the favorite going into the Final Four. The Wildcats have swept aside every team that's crossed their path on the way to San Antonio and the likes of Mikal Bridges, Donte DiVincenzo and Jalen Brunson could prove impossible to stop.