'Civil Rights Crisis': Senator Chris Murphy Calls Out Colleges for Failing to Educate Student-Athletes
Senator Chris Murphy called out colleges and universities for failing to properly educate student-athletes, calling the current situation a "civil rights crisis."
On Thursday, Murphy released his second "Madness, Inc," report criticizing colleges and universities for offering valuable scholarships but treating student-athletes as athletes first and students second. With many athletes either not graduating at all or leaving school with a less-valuable education than their peers, Murphy equated it to schools defrauding these young adults.
Murphy is not the only politician who has targeted schools for how they treat student-athletes. A bill has been working its way through the California state legislature that would allow student-athletes to sign endorsement deals, a practice long prohibited by the NCAA.
Critics like Murphy have argued that at the elite college sports programs, where teams — through ticket sales, merchandise, broadcast rights, booster contributions and more — bring in many millions of dollars in revenue for schools, it was time for student-athletes to get a return on their investment.
"When student-athletes are being used as commodities to make money for adults, and not being compensated or rewarded for the work that they do, that's a fairness issue," Murphy said on Thursday. "That's a civil rights issue."
The Connecticut senator added that it's an "even more serious" civil rights issue because the majority of football and basketball players at these top tier programs were black while the majority of adults making money off these same athletes were white. While people are making huge sums of money off college sports, Murphy said students are potentially sacrificing their life-long health and receiving very little in return.
During his comments, the senator largely focused his attention on the "Power Five" programs, those higher education institutions in the Atlantic Coast, Big Ten, Big 12, Pac-12 and Southeastern conferences.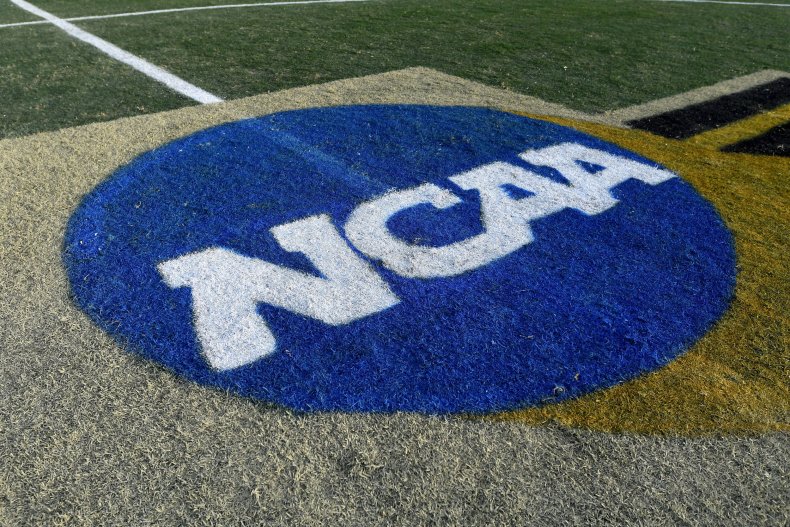 Murphy criticized the disparity of coaches' salaries and scholarship amounts, but the report largely focused on the gap between the education athletes are promised and what they receive.
"Unfortunately, the NCAA and many of its member schools too often care more about the appearance of educating athletes than they do about actually educating them," the report said, adding the accusation that the NCAA's graduation rate numbers were "incomplete and misleading."
Murphy's report claimed the NCAA's method of calculating graduation rates counted students, who did not graduate, as if they did, "painting an inflated picture of academic success." Newsweek reached out to the NCAA but did not receive a response in time for publication.
Along with poor graduation rates, the report targeted college athletic programs for allegedly undermining the education athletes do receive. In some instances, this could mean "outright academic fraud," including tutors completing assignments and fabricating test scores to keep student-athletes eligible to play. Given the extensive time it takes to complete a degree and participate in a high-stakes college athletic program, the report noted athletes may also pursue easy majors that were not relevant to a desirable post-sports career.
"The frequency of this phenomenon proves a broad lack of academic integrity across college sports, and more importantly, a disregard for fulfilling the promise of a scholarship," the report said. "If an athlete cannot pursue their academic interests, the central value of a college education is lost."
To help remedy this issue, the report made several recommendations, including complete transparency for academic data of student-athletes and prioritizing education opportunities rather than sports. The report also advised issuing guaranteed four-year scholarships instead of awarding them based on athletic participation that could be stripped away because of matters outside the students' control.
These changes, the report said, would mean "giving athletes a fair shot at education" and practicing the values espoused by many colleges and universities.
For many student-athletes, Murphy said, speaking up about how they're being treated could mean getting in "hot water" with coaches and administrators and risking their scholarship. So, the senator explained, it's up to "us to raise a voice" for a group that's largely voiceless.