The NCIS: Los Angeles team is in trouble and hurting in the Season 10 premiere, based on the storyline and photo CBS released Thursday.
"Gravely injured and unable to communicate with the team in the U.S., Callen, Sam and Kensi, with an unconscious Deeks in tow, search for a safe way home as a cartel boss places a 'dead or alive' bounty on their heads," reads the network's synopsis for "To Live and Die in Mexico." "Also, Mosley and retired Navy Admiral Hollace Kilbride (Gerald McRaney) beseech their contacts in Mexico and D.C. for assistance with their missing colleagues."
Callen (Chris O'Donnell), Sam (LL Cool J), Kensi (Daniela Ruah) and Deeks (Eric Christian Olsen) headed to Mexico in the Season 9 finale. They were on an off-the-books mission to rescue NCIS Executive Assistant Director Shay Mosley's (Nia Long) son, Derrick (Jalyn Hall). His father, Spencer Williams (Lamont Thompson), kidnapped him five years earlier.
The team was successful and Mosley left in a helicopter with her son while Kensi and Deeks went to meet up with Callen and Sam, who left Spencer's compound a different way. The arms dealer's men followed their truck and fired a missile at it, and the finale ended with the truck on its side and the four of them injured.
Whatever injury Sam sustains will be on top of an already injured leg. He was shot on the job in Los Angeles before the team left for Mexico. Callen, Sam and Kensi may be conscious in the premiere but they do look bloody and hurt in the following photo from the episode.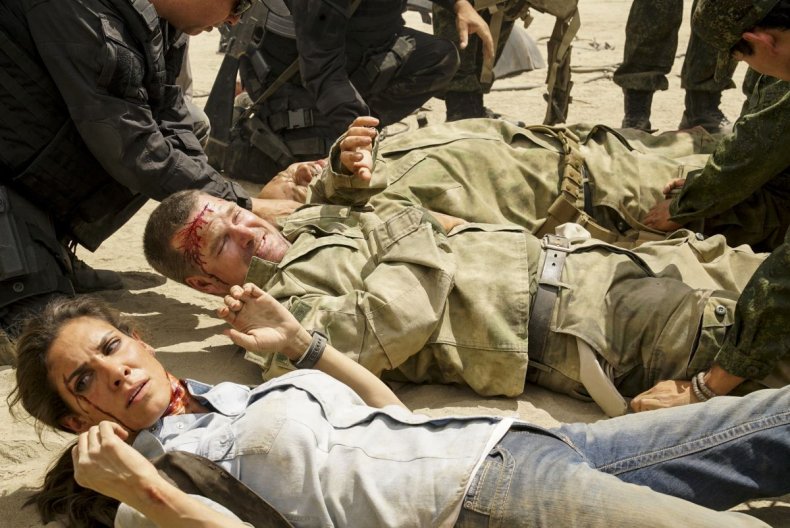 Callen, Sam, Kensi and Deeks weren't the only ones whose fates were up in the air when NCIS: LA Season 9 ended. Special Agent Harley Hidoko (Andrea Bordeaux), Mosley's assistant, traveled to Mexico separately to look for Derrick. When the team tracked her last location, it looked like the burned body they found could have been hers. Bordeaux isn't listed under the guest cast—she recurred in Season 9—of the press release for the premiere, suggesting that body could have been her character's. The actor's message thanking the fans on Instagram in May does as well.
"I just wanted to take a moment to say how grateful, humbled and honored I've been to be a part of this show," she wrote the day the Season 9 finale aired.
Several characters from the Season 9 finale are listed in the guest cast. Arlo Turk (Max Martini), who briefly helped the team, Spencer Williams, General Arturo Vasquez (Ariel Llinas), who works for Spencer, and Derrick are all returning.
NCIS: Los Angeles Season 10 premieres Sunday, September 30 at 9:30 p.m. ET on CBS. It moves to its regular time period, 9 p.m., on October 7.