'NCIS: Los Angeles' Season 10 Premiere Trailer: Will the Entire Team Survive the Mission in Mexico?
The team is injured and has to fight to survive in the NCIS: Los Angeles Season 10 premiere trailer released by CBS Saturday.
"Gravely injured and unable to communicate with the team in the U.S., Callen, Sam and Kensi, with an unconscious Deeks in tow, search for a safe way home as a cartel boss places a 'dead or alive' bounty on their heads," reads the official synopsis for "To Live and Die in Mexico." "Also, Mosley and retired Navy Admiral Hollace Kilbride (Gerald McRaney) beseech their contacts in Mexico and D.C. for assistance with their missing colleagues."
The trailer (above) begins by reminding fans of the Season 9 finale cliffhanger. The team traveled to Mexico to rescue the son of Executive Assistant Director Shay Mosley (Nia Long). Spencer Williams (Lamont Thompson), his father, had kidnapped him five years earlier.
Though mother and son were reunited, the team was unable to escape. Spencer's men fired a rocket into the agents' vehicle. The season ended with the truck on its side and the team unconscious and injured.
Kensi (Daniela Ruah) and Deeks (Eric Christian Olsen) look to be separated from Sam (LL Cool J) and Callen (Chris O'Donnell) in the premiere. "Something's not right," Deeks says to someone, who may be Kensi. Is that Kensi dragging Deeks behind her on a stretcher in the promo? A photo (below) from the premiere suggests it is.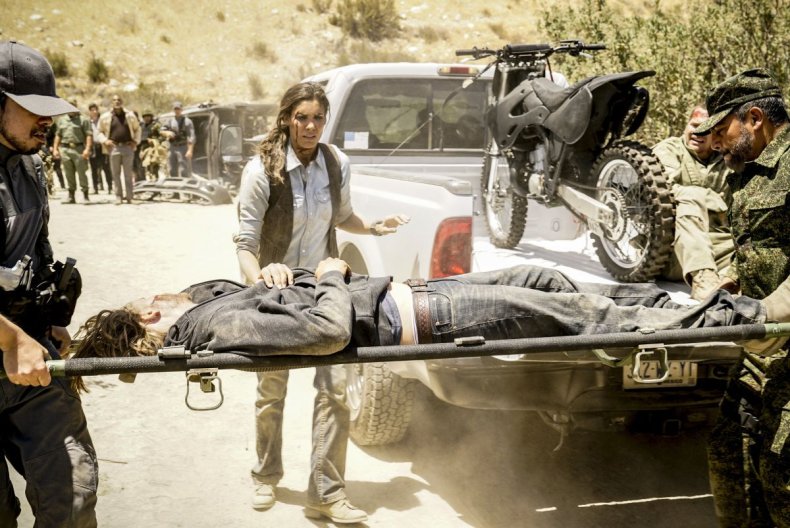 Despite how grim it looks for Deeks, fans know he survives. His and Kensi's wedding is confirmed to finally be happening in Season 10. That hasn't kept Olsen from having fun with the cliffhanger on Instagram. He captioned a photo from "To Live and Die in Mexico" with the hashtag, "despite proof of the contrary, I'm sticking with Deeks being dead," Thursday.
Sam and Callen appear to be in a different place than Kensi and Deeks in the premiere. The two men are having problems breathing, but at least Sam's off his injured leg. He was shot before the team left Los Angeles.
Those not in Mexico are left wondering if the team survived and fearing the worst. Retired Navy Admiral Kilbride says they have "five dead agents," referring to the four members of the team and Mosley's assistant, Harley Hidoko (Andrea Bordeaux).
Hidoko traveled to Mexico separately to look for Mosley's son and the team found a burned body at her last location. It is unknown if the body was hers. Bordeaux isn't listed on the episode's press release, but her name could have been left off the cast list to keep her character's fate a surprise.
NCIS: Los Angeles Season 10 premieres Sunday, September 30 at 9:30 p.m. ET on CBS.