'NCIS: Los Angeles' Season 10 Spoilers: When Kensi and Deeks' Wedding Is Happening
It'll be almost three years since Deeks' first unofficial proposal, but NCIS: Los Angeles Season 10 is going to include Kensi and Deeks' wedding, Entertainment Weekly reported Monday.
"We are excited to finally see that happen this year, probably after Christmas," executive producer R. Scott Gemmill said to the publication. "A meme that developed between Kensi and Deeks, where he said she smells like sunshine and gunpowder. Their wedding will be a perfect example of that."
Gemmill's comment about "sunshine and gunpowder" is a callback to the Season 4 episode "Wanted," in which Kensi (Daniela Ruah) had Deeks (Eric Christian Olsen) take a "partners" survey. One of the questions asked him to describe how she smelled. "You smell like sunshine and gunpowder, two of my favorite things," he told her. They were only work partners at the time. Densi, as their fans call them, didn't become a couple until the Season 6 episode, "Humbug."
Before their wedding in Season 10, however, Kensi and Deeks have to talk about their fight in the two-part Season 9 finale. He wanted them to leave their jobs—they'd discussed how long they'd continue in their dangerous jobs earlier in the season (above)—but she wasn't ready and wasn't even sure if children were in their future. He wasn't sure if they should be getting married, and they didn't have the chance to speak about their relationship after that.
Though the team successfully rescued Executive Assistant Director Shay Mosley (Nia Long)'s son from his father, Spencer Williams' (Lamont Thompson), the arms dealer's men fired a missile into their truck. The finale ended with the truck on its side and the team injured. When Season 10 begins, the team is "gravely injured" and Deeks is unconscious, according to CBS' synopsis for "To Live and Die in Mexico."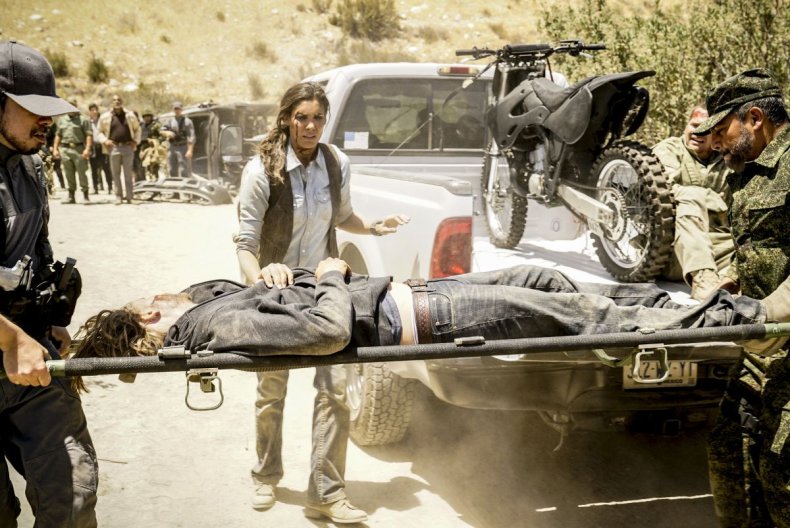 Could the events of the NCIS: LA finale and the premiere lead to Kensi and Deeks talking about their relationship and possibly another proposal, to set up their wedding, once they're safely home? If so, it would technically be the fifth proposal.
Deeks proposed unofficially three times (including once while Kensi was in a coma following the helicopter crash in Season 8), and after the first in Season 7, they started discussing their hypothetical wedding. It wasn't until Kensi's proposal in the Season 8 finale they were officially engaged.
NCIS: Los Angeles Season 10 premieres Sunday, September 30 at 9:30 p.m. ET on CBS.