'NCIS: Los Angeles' Season 10 Spoilers: 'Life-threatening' Injuries in Mexico and 'Girl Trouble' for Callen
Contracts played a role in the NCIS: Los Angeles Season nine finale cliffhanger, TVLine reported Wednesday.
"I wasn't sure who was going to be back, so we figured we'd see where the chips will fall after contract negotiations," showrunner R. Scott Gemmill said to the publication.
The NCIS: LA team traveled to Mexico to rescue the son of their Executive Assistant Director Shay Mosley (Nia Long) from his father, Spencer Williams (Lamont Thompson). The off-the-books mission was a success, but before the team could get away, Spencer's men fired a rocket into the truck, leaving the four members injured and unconscious.
Sam (LL Cool J), Callen (Chris O'Donnell) and Kensi (Daniela Ruah) "suffer injuries that are certainly life-threatening," but it's Deeks (Eric Christian Olsen) who "is probably the worst off" with a traumatic brain injury (TBI), Gemmill told TVLine.
A TBI can be serious. Symptoms include a loss of consciousness, and the premiere's synopsis says Deeks is "unconscious." Moderate to severe TBIs can lead to seizures, infections, a stroke, blood clots, a coma or even brain death, according to the Mayo Clinic.
The cartel is still after them, and there's a "dead or alive" bounty on their heads, so none of the team will be getting medical treatment immediately.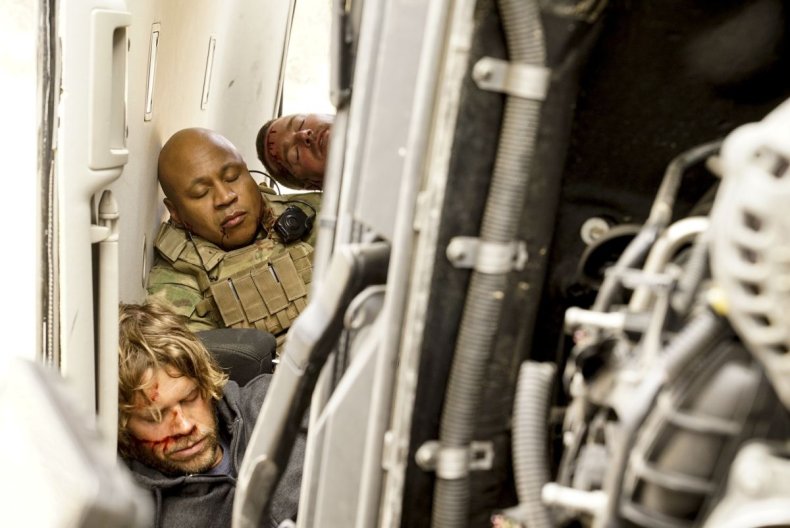 However the mission ends, "everybody is going to catch some heat," Gemmill said to TVLine. They went to Mexico to help Mosley, but she's not the only one who could be in trouble. The members of the team will have Esai Morales' character, Deputy Director Louis Ochoa on their side as they face questions from a Department of Defense prosecutor. Ochoa "will try to protect our people as much as possible," according to the showrunner.
While their professional lives are at the risk of imploding, things won't be much better for Callen personally. He "has a lot of girl trouble this season" with both Anna (Bar Paly) and Joelle (Elizabeth Bogush), Gemmill teased. Callen's relationship with Anna hit a bump after she shot Sokolov (Costas Mandylor) after he kidnapped her father, Arkady (Vyto Ruginis) in Season nine. The arms dealer had been unarmed at the time.
Callen's history with Joelle is complicated. He didn't know she was CIA until after they'd broken up and he found out she was part of the rogue group from the agency targeted the NCIS team in Season eight. She reappeared in his life when she needed help in her last appearance in Season nine. After investigating her claim that the rogue CIA group kidnapped her to bring her back in, the team learned that group was part of a larger organization, the Syndicate. Joelle planned to go after them.
NCIS: Los Angeles Season 10 premieres Sunday, September 30 at 9:30 p.m. ET on CBS.