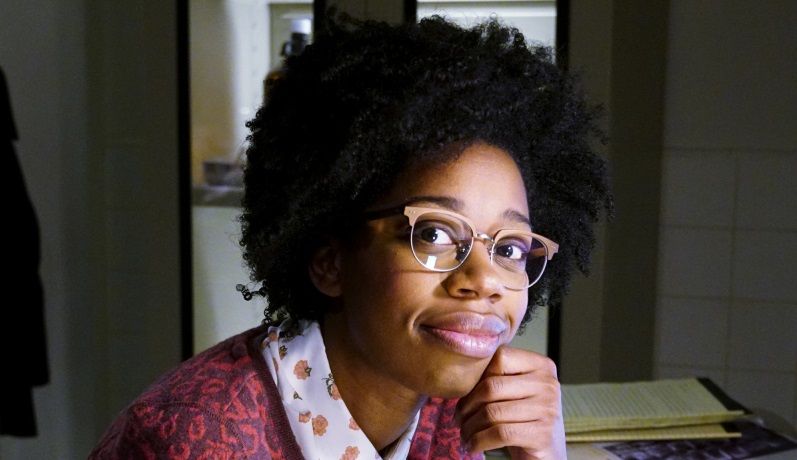 NCIS filled the empty spot in the lab left by Pauley Perrette's exit and promoted a guest star to be a series regular in Season 16, CBS announced Wednesday.
"Queue @DionaReasonover," the studio tweeted. "We are so excited to welcome you full-time to season 16 of #NCIS as the forensic scientist, Kasie Hines!"
The series follows a team of Naval Criminal Investigative Service (NCIS) special agents, led by Mark Harmon's Leroy Jethro Gibbs. They investigate crimes with a connection to the Navy or Marine Corps.
Reasonover (Clipped, Grace and Frankie) first appeared as Kasie Hines on the long-running and successful CBS procedural drama in Season 15's 17th episode, "One Man's Trash" in March. She was a graduate student of medical examiner Dr. Donald "Ducky" Mallard (David McCallum). He enlisted her to help him stay on track with his book.
NCIS appeared to be setting Kasie up to be the replacement for the team's forensic specialist, Abby Sciuto (Perrette), in her three appearances in Season 15. Kasie has a degree in forensic science, and she helped Abby process evidence for the case in episode 17.
Abby left the series and federal agency to honor a team member, Clayton Reeves (Duane Henry), who saved her life at the cost of his own in the 22nd episode. She planned to start the charity he wanted to in honor of his mother. After Abby's exit, Gibbs brought in Kasie to fill in as the team's forensic specialist.
Perrette was part of NCIS since the series first premiered in 2003. The actress announced her departure herself on Twitter in October 2017. "It is true that I am leaving NCIS after this season," she wrote. "It was a decision made last year. I hope everyone will love and enjoy EVERYTHING ABBY not only for the rest of this season but for everything she has given all of us for 16 years.… I love her as much as you do."
In other NCIS news, Wilmer Valderrama signed a new contract to return for Season 16 (and 17, if the series is renewed), Deadline reported in June. The upcoming season will mark his third on the series.
Brian Dietzen, who plays medical examiner, Dr. Jimmy Palmer, said he finished filming the first scene of the Season 16 premiere in a video posted to the show's official Twitter account on Monday. "It was great," he said of the scene.
NCIS Season 16 premieres Tuesday, September 25 at 8 p.m. ET on CBS.