'NCIS' Season 17: Why is NCIS Not On Tonight and When Will the Show Return?
NCIS is taking a break this week on CBS, with Season 17, Episode 6, not airing on Tuesdsay night. The series is just one of a number of shows taking a week off due to a unique quirk in how TV scheduling works in the U.S.
Why is NCIS not on tonight?
With the TV season running for 39 weeks a year, and most network shows having between 20 and 24 episodes, series have to take a number of breaks during the year. The longest of these is the midseason break, when shows take a number of weeks off during the holidays, traditionally a time when people watch much less TV.
However, shows also have to take a few more weeks off across the year so as to spread out episodes across the season. For example, NCIS Season 16 took breaks in November, December, January, March and April.
Traditionally, shows like NCIS choose these weeks based on a number of factors, including when people watch TV less, when major sporting events are on and around so-called "sweeps weeks"—which is when TV ratings company Nielsen does in-depth research about viewing habits and when networks like to air the episodes of shows most likely to gain large audiences.
As the first sweeps week of the 2019-20 television season begins in November and tonight sees Game 6 of the World Series air on Fox, CBS may have thought it was a good week for NCIS to take a break.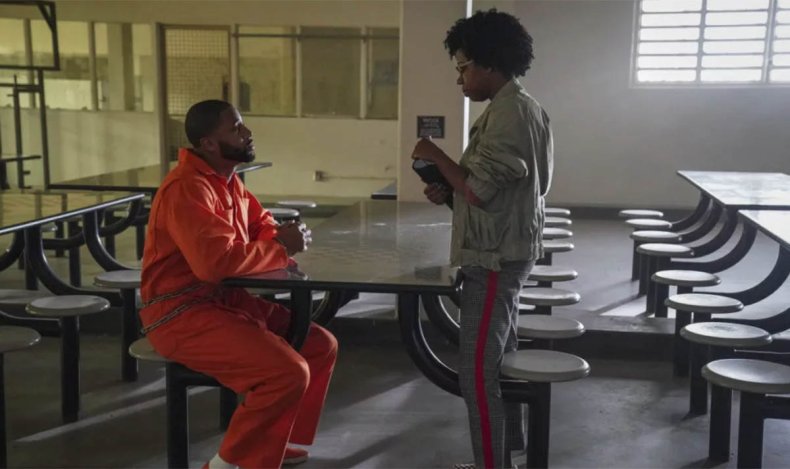 Instead of airing a new episode of NCIS this week, CBS will air Season 16, Episode 13, titled "She," the episode from last year that first suggested that Ziva David (played by Cote de Pablo) might still be alive⁠—a sign that the character might soon be returning for the second time in Season 17.
When will NCIS Season 17, Episode 6 air?
The air date for the next episode of NCIS, titled "Institutionalized," will be Tuesday, November 5 at 8 p.m. ET/7 p.m. CT, with the episode streaming on CBS All Access shortly after airing.
The synopsis for the episode reads: "When a Petty Officer's son is found murdered at his welcome home from prison party, evidence suggests that Kasie's lifelong best friend, Dante Brown, is the suspect."
CarterMatt said of the upcoming episode: "This is the biggest episode for Diona Reasonover this season, as you're going to see her step outside of the lab and into some other places within the world," with promo images showing her visiting her best friend in prison.
NCIS Season 17 returns to CBS on November 5 at 8 p.m. ET/7 p.m. CT.