'NCIS' Season 18: Why a New Episode Didn't Air This Week
NCIS Season 18 was meant to continue on CBS on Tuesday, April 20 with "Sangre," the first episode since Gibbs (played by Mark Harmon) spilled the details of his suspension to a journalist. Real journalism got in the way of the episode airing, however, with Episode 12 of the show's season postponed by the network.
Why NCIS Season 18, Episode 12 did not air this week
On April 20, CBS preempted their prime-time line-up, meaning that the planned episodes of NCIS, FBI and FBI: Most Wanted were replaced. NCIS and FBI were replaced with reruns, while Most Wanted was replaced by the CBS News special The Chauvin Verdict.
CBS came to its decision to change its scheduled programming after the jury returned with a guilty verdict in the Derek Chauvin trial just hours before the episodes were due to air.
ABC, NBC and Fox did not make any changes to their schedule in the wake of the Chauvin trial verdict. CBS was the only network airing crime shows (and shows based around the actions of law enforcement) on Tuesday.
NCIS' latest episode was replaced with "True Believer," the episode that saw Jack Sloane (Maria Bello) leave the show. The action of this episode mostly centers around the NCIS crew looking into a case in Afghanistan.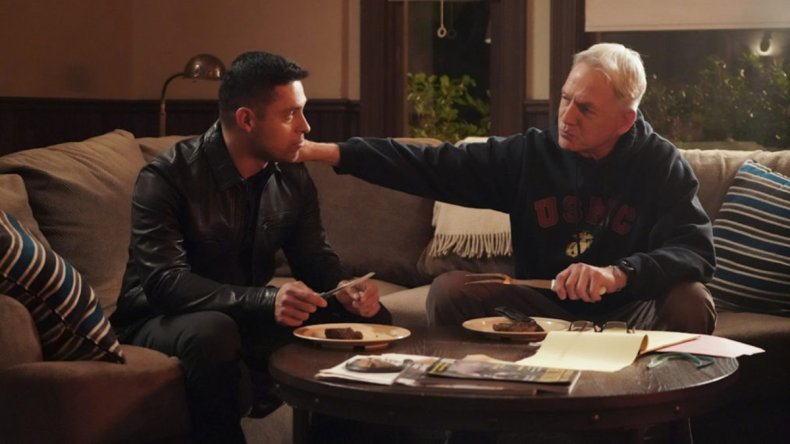 When will NCIS Season 18, Episode 12 air?
NCIS fans have one more week to wait for "Sangre." The episode will air on Tuesday, April 27, in the show's usual slot of 8 p.m. ET / 7 p.m. CT. It will then be available on the streaming service, Paramount+.
The official synopsis for the episode reads: "Evidence from the stabbing of a Marine Sergeant leads Torres [Wilmer Valderrama] to meet his father, Miguel (Steven Bauer), who left when he was a child."
The episode will also see the return of actor (and wife of Mark Harmon) Pam Dawber as investigative reporter Marcie Warren. This comes after the last episode saw Gibbs opening up to her following his suspension for assaulting an animal abuser.
Fans, however, should not expect romance between the two. Dawber told Entertainment Weekly: "I talked to the writers and the producers before I signed on and said, 'If this is a romantic interest, I'm not interested.' They said not at all, that's not where we're going with this."
Valderrama said of this Torres-focused episode to TV Line: "In this episode, we're going to unravel way more than Torres is going to be comfortable with!
"You are really going to understand why Torres has that chip on his shoulder, and where he got this idea that he can just not be emotionally attached to anyone."
NCIS has recently been renewed for Season 19, while the current shortened season will be just 16 episodes, meaning there are just five episodes left before the season ends.
NCIS Season 18 airs Tuesdays at 8 p.m. ET / 7 p.m. CT on CBS. All episodes so far are streaming now on Paramount+.