'NCIS' Season 18 Release Date: When to Expect the Next Season After CBS Renews the Show
CBS has now announced which of its shows are renewed for the 2020-2021 season. Among 23 shows which are getting another season are all three NCIS shows, with NCIS proper coming back for its 18th season, and Mark Harmon signed on for more episodes as series lead Leroy Jethro Gibbs.
CBS Entertainment President Kelly Kahl said in a statement: "Thanks to these exceptional shows, we're going to win the current season by 1 million viewers. Next year, we'll have these strong returning series as our foundation and Super Bowl LV too. It's a well-banded lineup across Entertainment, News and Sports that will put us in an incredibly stable position for 2020-2021."
NCIS will be joined next year by all of CBS biggest shows, including the NCIS spin-offs Los Angeles and New Orleans as well as Survivor, Blue Bloods and Young Sheldon.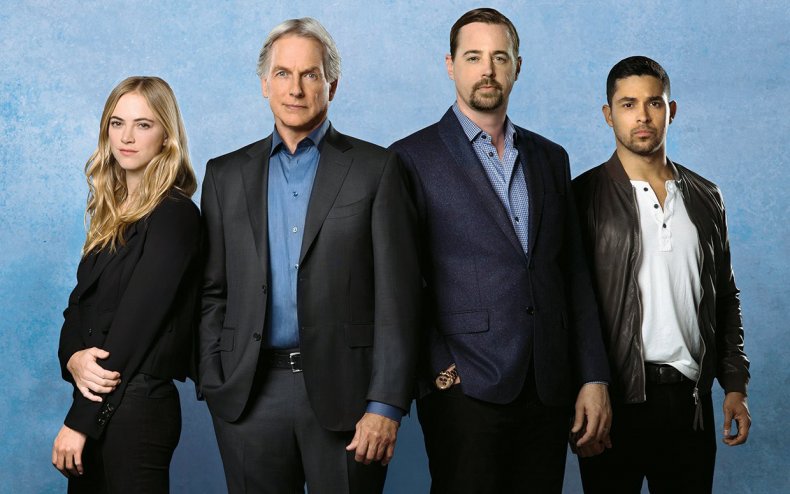 On May 6, Deadline reported that, "CBS TV Studios closed a new deal with Mark Harmon, who also exec produces NCIS: New Orleans, ahead of the renewal."
NCIS has to close production of Season 17 early, with shooting coming to an end in March. The current season was forced to end a few episode early, with Episode 20 bringing the show to an end in mid-April.
The unaired (and in some cases unfilmed) episodes of NCIS Season 17 are set to air as part of Season 18. Co-showrunner Frank Cardea told TVLine: "The envisioned season finale did not have a cliffhanger ending but was planned to have a very surprising ending. More of a reveal/development.
He added: "We do plan to go forward with that episode in the early part of Season 18, but will probably evaluate the ending when the time comes."
When those episodes air on CBS, however, will depend on when shooting can begin on the series. Filming on the last season was believed to have begun in August 2019, and the first episode aired on September 24.
Whether the show is able to return in fall 2020 will depend on when production is able to start again in Santa Clarita, California, where much of NCIS is filmed.
At time of writing, California is about to have an ease in restrictions that will allow retailers to open for curbside pickup. However, it remains to be seen when higher risk workplaces like studio sets will be able to reopen.
Speaking to The Los Angeles Times, Sony Pictures Chair Tom Rothman gave an idea of what it might take for the industry to return. He said: "I don't really imagine you're going to be doing giant scenes with thousands of extras right off the bat... But if there's reliable testing, and people can come to work and be given a decent amount of social distance, I believe protocols will evolve to create workplaces where crews, who are hungry to get back to work, will feel safe."
This means that fans might expect a delay before the next season (and the 400th episode) of NCIS airs, and that they should probably keep an eye on the development of testing to see when their favorite show can come back.
NCIS Season 18 is coming soon to CBS.