'NCIS' Season 18: Who Played Torres' Dad?
NCIS returned to CBS on Tuesday with Season 18, Episode 13, titled "Sangre." Nick Torres (played by Wilmer Valderrama) was the focus of the episode, which introduced his father Miguel, and revealed that everything Torres thought about him was wrong.
The CBS show revealed that rather than a deadbeat dad who had walked out on his family when Nick was a child, Miguel Torres claimed he has spent his whole life working super-dangerous undercover missions for various government agencies, including the CIA. Torres also learned his dad had been watching over him all this time, secretly providing money for the family.
Just as Torres thought his father was ready to make up for lost time and try and rebuild their relationship, Miguel stood him up, leading to Torres visiting his surrogate father, the still suspended Gibbs (Mark Harmon).
Who played Torres' dad on NCIS?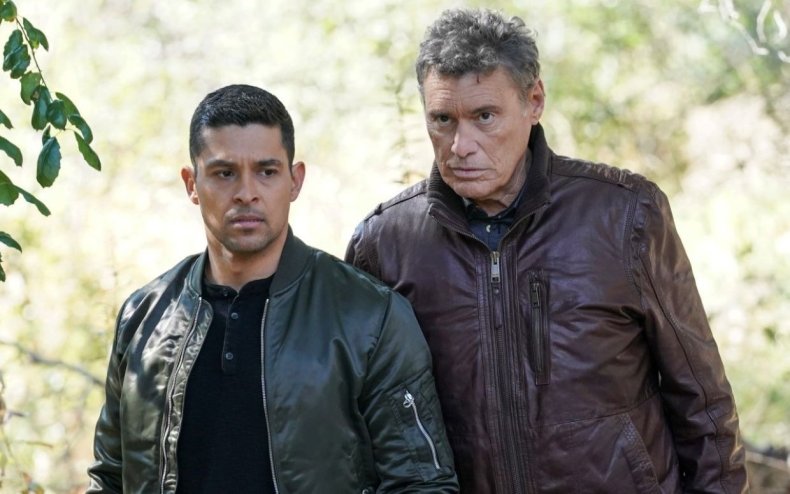 Miguel Torres was played on NCIS by Cuban-American actor Steven Bauer, in the latest of his nearly 200 credits as an actor.
Among his major TV roles is that of Avi, the ex-Mossad agent who was Ray Donovan's (Liev Schreiber) right-hand man in Showtime's Ray Donovan. He also played crime boss Don Eladio in both Breaking Bad and its spinoff, Better Call Saul. Other recent roles have included parts in Supergirl, Queen of the South and in two music videos for ex-One Direction member Zayn Malik.
The actor has been working in Hollywood since 1977, when he appeared in the U.S.'s first bilingual sitcom, ¿Qué pasa, U.S.A.?
Bauer has also appeared in many films. Most famously, he portrayed Tony Montana's (Al Pacino) best friend Manny Ribera in 1983's Scarface. He has also had roles in Traffic, Primal Fear and Raising Cain.
Speaking to PF Synth about working with Pacino, Bauer said: "It's true that we had perfect chemistry and affinity from the start as people and it translated to the filmmaking process where we just bounced off each other. It turned out to be a tremendous acting mentorship for me then and the rest of my career."
Asked by Entertainment Tonight how the storyline about Torres meeting his father developed, Wilmer Valderrama said: "We started thinking about people to come forward. I had done a pilot with Steven Bauer called Four Stars. It was about two four-star generals, and Bruce Greenwood and Steven Bauer played four-star generals. I played Steven Bauer's son in that pilot. That was the pilot that CBS used to basically offer me the NCIS invitation.
"I started thinking to myself, 'Man, this would be pretty awesome if we had Steven Bauer,' and everybody was like, 'Yeah, what about Steven Bauer?' He showed up and it was everything we needed it to be. I'm so thrilled with how it all came out."
The actor also hinted that his character's dad leaving again is going to have a massive effect on Torres in the last few episodes of Season 18 and in the upcoming NCIS Season 19. He told Parade: "I think that his father's departure again is going to, unfortunately, fracture what he has built in the last couple of years. You're going to see that play out in him and maybe in a fortunate or unfortunate way. We've got to see how we decide to evolve or what area we want to take it toward. That's something that I feel like is going to definitely play out."
NCIS Season 18 airs Tuesdays at 8 p.m. ET / 7 p.m. CT on CBS.