'NCIS' Spoilers: Diona Reasonover Says 'You'll See the Team in a New Light' As They Search for Vance
The team has a new forensic scientist to replace Pauley Perrette's Abby in the lab just as the agency's director is missing on NCIS—and Diona Reasonover and her character, Kasie Hines, are up for the challenge.
"Kasie is a great team player, and so she's in it," Reasonover told Newsweek. "When she sees all these people scrambling, all she's going to do is throw herself in there and say, 'How can I help?'"
Director Vance (Rocky Carroll) is still missing after a month—there will be a time jump in the Season 16 premiere—after he was taken by the same man, Nigel Hakim (Pej Vahdat), who tortured Special Agent Jack Sloane (Maria Bello) in Afghanistan 10 years earlier. Vance was the one to rescue Jack, and Nigel told him he remembered him killing his men to do so in the Season 15 finale.
"You'll see the team in a new light," Reasonover continued. "When one of their own is taken, I think it really kicks them into a new level of high gear."
Fans will also see a new side of Gibbs (Mark Harmon), who is the acting director in Vance's absence. "Gibbs is a real leader, and you'll get to see his leadership in a new way," Reasonover said. "Because Kasie is still pretty new here, she's still learning all the various sides of everybody, not just Gibbs, so for her, it might be a little bit like, 'Oh, maybe this is how it is.'"
Kasie recurred as a graduate student helping chief medical examiner Ducky (David McCallum) with his book last season, but her forensic background allowed her to help the team following Abby's exit. She was "hoping" for the series regular promotion, the actor said. "I was definitely trying to put my best scientific foot forward, so when I found out I actually got it, I pretty much just cried a bunch, called my mom."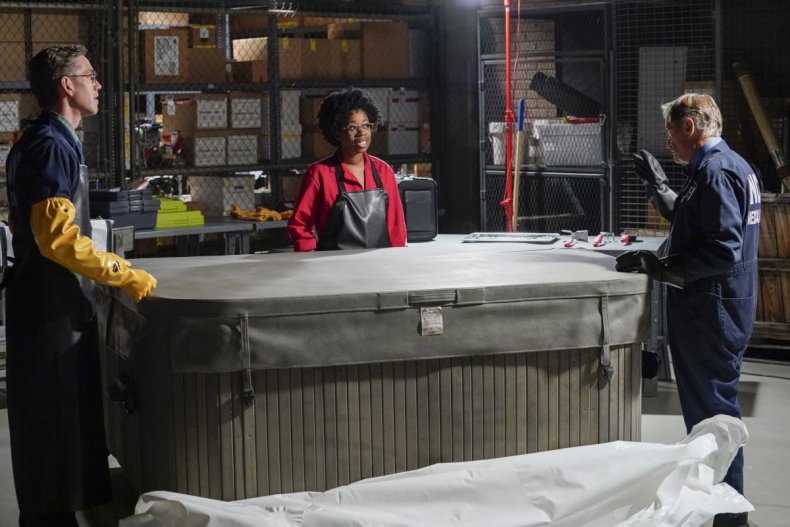 While Kasie is taking on more responsibilities now, fans will still see her and Ducky's relationship. "Kasie is never going to be too busy for Ducky. I think one of the coolest parts of the way Kasie was introduced was Ducky," she told Newsweek. "David is such a wonderful actor to work with. He's such a wealth of knowledge and talent. I don't think we're ever going to lose that relationship."
Kasie gets along well with Ducky's former assistant and the medical examiner for NCIS with Ducky on a sabbatical, Jimmy Palmer (Brian Dietzen). "I like to call us the Glasses Crew," Reasonover laughed. "Now that I think about it, Kasie gets along well with everybody who wears glasses, because she's also friends with Ducky."
That's not to say Kasie doesn't get along with the rest of the team, but there will be an adjustment period as they get used to someone else in the lab on a permanent basis. "We get a chance to see McGee [Sean Murray] accidentally call Kasie Abbs and it's not about warming up to her so much as it's a shift, it's a new person," she explained. "We're going to have to watch the team, just like we saw Sean have that really beautiful moment where he realized that his friend wasn't necessarily working there anymore."
This is also a new experience for Kasie. "I was surprised to learn how resilient Kasie is. She's going to be put to the test a little bit," she said. "This is a whole new situation for her, coming in as a grad student. Obviously, she's very knowledgeable, but I don't know she's really had the opportunity up until now to really get a chance to shine in these crunch time moments."
"We'll get to watch what it's like for a person joining a team for the first time, a team that's really working really well together, and a team that's pretty well established," she continued, adding it mirrors her own journey. "I'm getting a chance to come in with these seasoned actors and this seasoned crew who all know how the show works well, and you'll get to see a little bit of me in Kasie."
Reasonover uses her comedic abilities in another area in which she and her character are similar. "Kasie and I both have a little bit of awkwardness when you first meet us, which, because I have it in real life with people, I do love to play it on screen," she said. "I just think those are the real, true human interactions we have, when someone is just maybe a little bit nervous or a little bit out of their comfort zone in a new situation."
NCIS Season 16 premieres Tuesday, September 25, at 8 p.m. ET on CBS.