Ne-Yo Under Fire for Saying He Listens to R. Kelly's Music After Sentencing
Ne-Yo is facing criticism for saying he can "separate the art from the artist" as he still listens to music made by R. Kelly.
Robert Sylvester Kelly, whose hits include "I Believe I Can Fly" and "Ignition (Remix)" was recently found guilty of a number of crimes including sex trafficking and racketeering, resulting in him being sentenced to 30 years in jail.
Ne-Yo, who has just released his new album Self-Explanatory, has received backlash on social media for his stance on R. Kelly's music.
"From time to time, I still listen to R. Kelly music; you can't deny the quality," Ne-Yo told the British newspaper The Independent, "Anybody who tries to say R. Kelly isn't one of the best songwriters on the face of the planet because of what he did in his personal life, you're looking at the wrong thing."
Ne-Yo, real name Shaffer Chimere Smith, described how he'd been at parties where an R. Kelly song comes on and people boo but he disagrees with that stance. "I have always been a person that can separate the artist from the art," he said. "I don't give a damn about your personal life, I don't give a damn about what you've done wrong, or what you've done right – if I like the song, and it's attached to a memory that means something to me, it has nothing to do with [the artist] as a person any more. It's what this song means to me."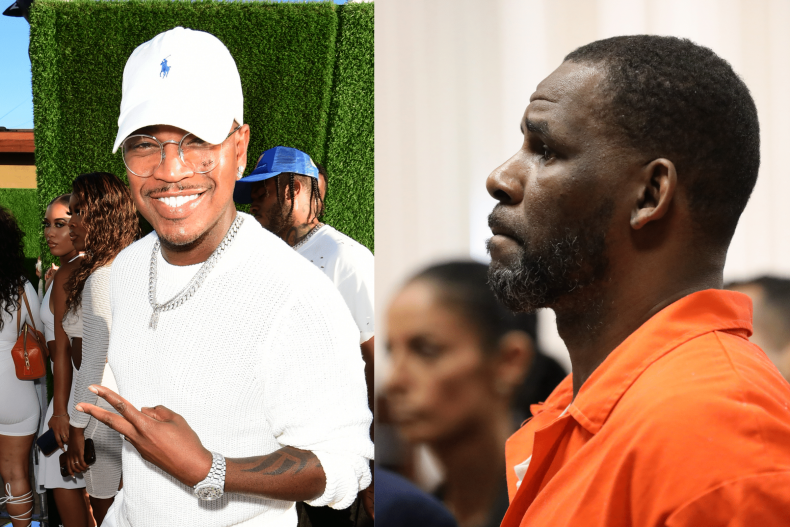 Ne-Yo has been clear in the past about his support for Kelly's victims and also said so in the interview. "I pray this gives everybody who feels they were victimized by him a little bit of closure, on whatever pain was caused," he said.
The fact that Ne-Yo still listens to R. Kelly's music didn't go down well with many who were quick to voice their displeasure on social media.
"'Separating the artist from the art' always means 'I don't think the crime is worth the art'" wrote @TheTitanBaddie on Twitter, as they also suggested Ne-Yo would have a different stance if the victim was someone he knew.
Michelle Taylor, also known as the writer Feminista Jones thought Ne-Yo was ruining his own reputation with his opinion. "R. Kelly is not a great songwriter and Ne-Yo, who is actually a solid songwriter, saying this is a self-drag," she wrote on Twitter, "R. Kelly isn't a musical "genius". He made standard R&B music after jacking Aaron Hall's style. I'll never understand the "genius" claim."
Twitter user @iwritecoolstuff expressed their confusion as to why Ne-Yo felt the need to broadcast his opinion. "Ne-Yo and the rest of y'all R. Kelly stans could simply listen to this man's music in silence, yet y'all choose to inform us and I do not understand it," they wrote.
British broadcaster Richie Brave told Ne-Yo that he's going to continue to "boo" if someone plays R. Kelly while he's out. "Do what you like in your own house. No one said R. Kelly wasn't talented, what he also is is a violent predator," said Brave.
Many pointed out R. Kelly's controversial song lyrics and the subject matter of a lot of his music.
"R. Kelly : show me some ID before I get real deep in," Kyla_Lacey wrote before adding from Ne-Yo' perspective, "[Ne-Yo]: I can separate the song from the artist."
@Audley304 bluntly stated, that in their opinion, "Ne-Yo is an idiot. R. Kelly is a rapist." They continued, "I'm siding with the rape victim all the time. Music will never supersede rape, especially rape with minors."
R. Kelly's legal team have expressed their intent to appeal his recent sentencing. He was also put on suicide watch following the sentencing which his legal team argued was "unnecessary, punitive and cruel." On July 13, 2022 Kelly was moved from New York to Chicago where he will face four counts of the production of child pornography, five counts of child sex trafficking, three counts of receipt of child pornography and one count of conspiracy to defraud the United States.