Near-Death Experience: Harry Reid Ekes Out Victory Over Angle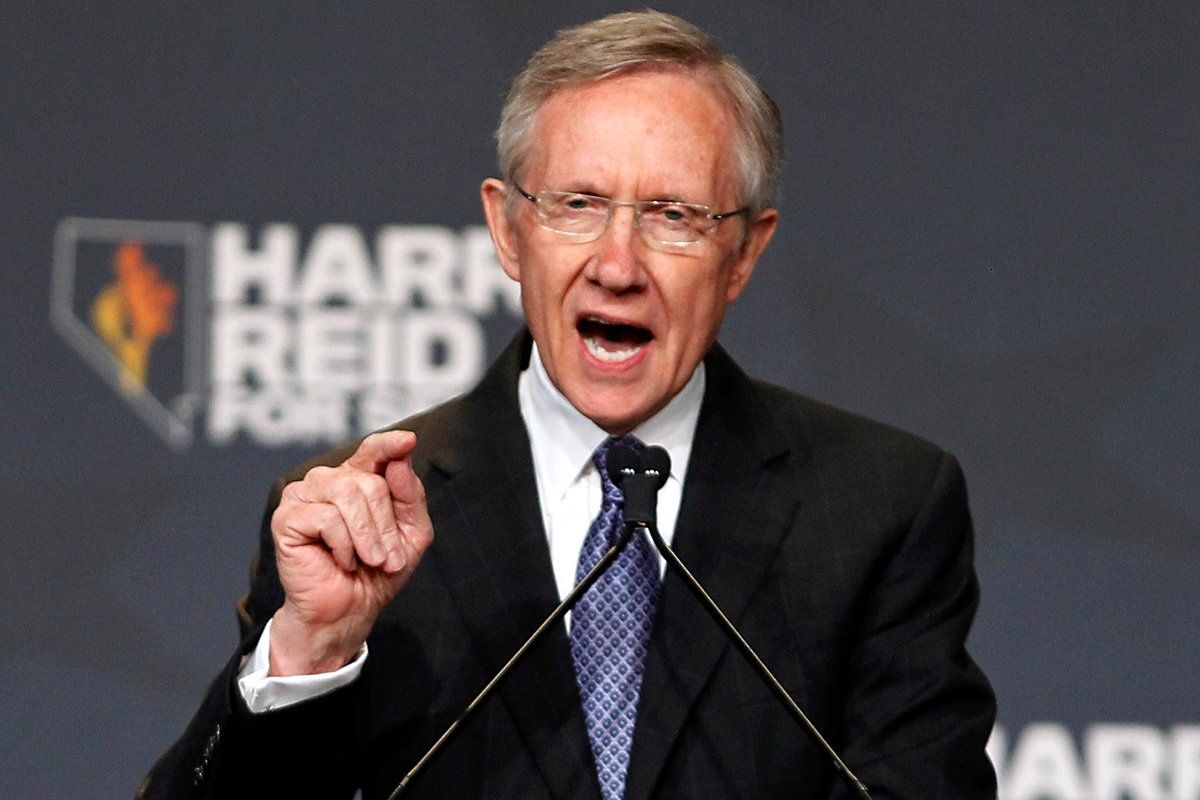 For Republicans, it's a single annoyance marring an otherwise terrific night. For Democrats, it's about the only thing worth celebrating.
Somehow, Senate Majority Leader Harry Reid has defeated Sharron Angle and managed to hold on to his Nevada seat. Reid seemed doomed long ago. He remains comically disliked in Nevada, and his status as the face of Democratic policies including health-care reform and the economic stimulus were major liabilities. Before the Republican primary, he looked like dead meat—sure to be the second consecutive Democratic Senate leader to lose a reelection contest.
But Reid lucked out when Sharron Angle, a former state legislator, surprised frontrunner Sue Lowden in the GOP primary, carrying the Tea Party standard. Angle proved a weak opponent: her track record was poor, her policies far to the right, and her barnstorming gaffe-laden. Reid's campaign set out to paint her as a wingnut, and Angle did little to help her own case, refusing to answer questions, calling for "Second Amendment remedies" to policy disputes, and more.
There was never a single gaffe that sank Angle; in fact, she seemed to be tightening the race or pulling ahead in the last two weeks. Over time, however, the accumulated weight of her statements seemed to convince a majority of Nevada voters that while Reid was an evil, he was the lesser of two of them. Angle also alienated the state's considerable Hispanic population with her hardline policies on immigration.
Angle's loss joins Christine O'Donnell's defeat in Delaware to show that while Tea Party–backed candidates did well tonight, there are limits to how extreme a candidate can be before voters will reject him or her. And it shows that even in victory, the Republican Party will need to figure out how to coexist with the movement. It's widely believed that more mainstream candidates in both the Nevada and Delaware races could have triumphed—which would have handed the GOP control over the Senate in addition to the House.
Few forecasters expected Reid to win, save the notable examples of Nevada politics guru Jon Ralston and Chris Cillizza of The Washington Post. The win cements Reid's reputation as a hardscrabble, if quiet, fighter. But it also sends him back to Washington in a far weaker position. While Democrats will retain their majority in the Senate, it will be razor-thin. The leading candidates to succeed Reid, Illinois's Dick Durbin and New York's Chuck Schumer, have publicly remained loyal and said they were hoping he would return. And the Reid family's fortunes were mixed Tuesday: while the father won, his son Rory, the Democratic nominee for governor, lost handily to Brian Sandoval.
It's just another sign of how bad the Democrats' night was that Reid—who managed to frustrate liberals in his party as well as moderates at home—is being hailed as the night's hero. As of this writing, Republicans are expected to pick up over 60 seats in the House of Representatives, slightly more than had been widely predicted. While Nevada Democrats were jubilant, those watching in D.C. were less sanguine. "We were absolutely crushed," said a Democratic staffer watching the GOP vote totals pile up. "I don't want to say tidal wave, but man, that's what it is."
With Daniel Stone