Nearly 1 in 3 California Workers Have Filed for Unemployment Since Pandemic Began
Nearly a third of California's workforce has filed for unemployment since March, according to an analysis of the state's unemployment numbers published Thursday by California Policy Lab.
Researchers at the University of California Los Angeles and the Labor Market Information Division of the California Employment Development Department (EDD) said in a news release their analysis was based on "close to real-time" claim information from the EDD. They said they reviewed unemployment claims filed in the state between February and July 25 for Thursday's report.
According to the report, an estimated 6.23 million workers filed for unemployment through the state since mid-March. That number is about 24 percent lower than the 8.18 million claims the EDD said it processed during the same time period, a discrepancy researchers said was due to some individuals refiling for unemployment after resuming work when the state reopened, and facing layoffs for a second time after case numbers spiked and some businesses closed again.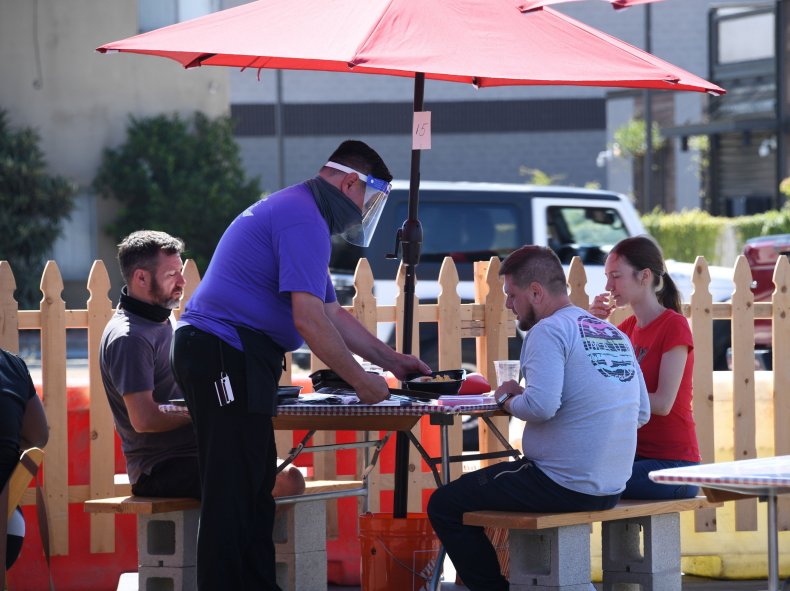 California Policy Lab Faculty Director Till von Wachter said in the release that while the total number of Americans who lost their jobs this year was better than initially projected, "it's become apparent that for the individuals who have been lucky enough to return to work, they're seeing that this new employment is especially unstable."
More than half of the workers who filed claims during the report's final week of analysis were reopening claims they filed earlier, the report said.
The state's unemployment program allows any worker who is eligible for benefits but stopped receiving them to reopen their claim—as long as they filed that initial claim within the last year. California Policy Lab researchers said that about 40 percent of the state's total claims before the pandemic were from workers who refiled, a number that jumped to 57 percent by the week of July 25.
Californians who work in retail, food, arts, entertainment and other recreational industries are more likely than others to refile for unemployment, the report said. Researchers said they found women, Hispanic, Asian and younger California workers were also among those likely to refile earlier claims.
The percentage of first-time claimants who believed they would be able to return to their positions declined from 90 percent in March to 65 percent during the researchers' final week of analysis in July, the report said.
California was the first state to shutter the bulk of its economy due to the pandemic in mid-March. When reopening efforts began in late May, business owners faced lower consumer demands than they were used to during pre-pandemic times, TJ Hedin, a data analyst with California Policy Lab, told Newsweek.
"When firms re-opened they were faced with significantly lower demand (again as a result of the virus), leading to another wave of shut-downs," Hedin said. Those struggles, combined with limited access to government loans created for businesses hit hard by the pandemic and local leaders' decisions to reimpose business closures as cases spiked in the summer, introduced additional barriers to workers hoping to step back into the jobs they held at the start of the year.
According to the EDD's July 30 report, the department processed a total of 9.3 million unemployment claims since the week of March 14 and distributed $55.1 billion in aid since then. As claims surged in California, so too did unemployment numbers across the U.S. as the country experienced its worst jobless rates since before World War II.
Many of those unemployed workers in California benefited from the weekly $600 unemployment bonus the federal government instituted earlier this year, the report said. About 50 percent of the workers in the state receiving unemployment benefits were able to stay above the Federal Poverty Line, which the federal government defines as an annual income of $12,760 in a one person household in the 48 contiguous states, due to that weekly check, researchers said.
The extra $600 in unemployment aid ended in late July. Though legislators in Washington have been negotiating another economic stimulus that could potentially provide unemployed Americans with aid in the future, congressional leaders have not yet agreed upon the details of that hypothetical aid package.
"These additional payments have been a lifeline for the millions of California workers out of work through no fault of their own," Hedin said. "Without them, one can expect the adverse effects associated with income shocks and poverty to increase."
Newsweek reached out to the EDD for comment but did not receive a response in time for publication.