Dozens of children were given an overdiluted dose of the COVID-19 vaccine at a Maryland elementary school and officials are urging parents to get their child revaccinated to ensure they're adequately protected.
Parents of 98 students at South Lake Elementary School in Montgomery Village, Maryland, were notified that their child received an incorrect amount of the Pfizer vaccine at a school-based vaccination clinic. News came about a week after the children had been vaccinated and the school plans to hold another clinic on Wednesday to revaccinate the affected children.
"We apologize for the error, and we are offering another opportunity for the children to be revaccinated," Dr. James Bridgers, acting Montgomery County health officer, said in a statement. "We are confident that this is an isolated situation and staff have already received additional training on reconstituting and administering pediatric doses."
The Food and Drug Administration (FDA) and Centers for Disease Control and Prevention (CDC) approved Pfizer's COVID-19 vaccine for children between the ages of 5 and 11 at the end of October. The vaccine is still administered in a two-shot series but is done at a lower dosage than the one administered to people who are over the age of 12.
Montgomery County officials said the county Department of Health and Human Services learned children received an overdiluted dosage on Saturday, three days after the vaccination clinic was held.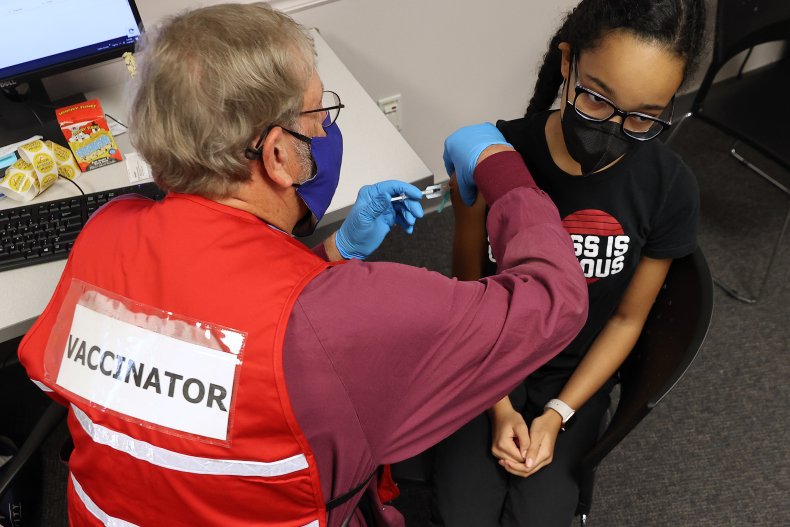 People who receive a vaccine dosage that's lower than the one recommended, the CDC advises they get a repeat dose "immediately." Pfizer and the Maryland Department of Health also recommended the impacted children receive an additional dose "as soon as possible," according to the county's statement.
Mary Anderson, a public information officer for the Montgomery County Health and Human Services Department, told Newsweek she was unsure how many parents made appointments to have their child revaccinated at tomorrow's clinic.
Children are at a lower risk for becoming seriously ill from COVID-19 than adults, but hundreds of children have died since the start of the pandemic and contracting COVID-19 can disrupt their education and extracurricular activities. Pfizer announced its vaccine was found to be about 90 percent effective in preventing COVID-19 in young children and "no serious side effects" were found in the 3,100 children who participated in the ongoing study.
Acting Commissioner of Food and Drugs for the FDA, Dr. Janet Woodcock, credited the vaccine with bringing the world "closer to returning to a sense of normalcy" and said that as a mother, it's a moment she'd been waiting for. However, not all parents feel that way.
A recent survey from the Kaiser Family Foundation found only about 30 percent of parents were eager to get their child vaccinated and would do so as soon as it was available. Another 30 percent were planning to wait a little bit of time before making the decision and another one-third of parents surveyed had no plans to vaccinate their child.
Parents' vaccine hesitancy is largely centered around the potential for immediate and long-term effects from the inoculation. However, officials have advised parents that vaccine side effects are rare and former Surgeon General Dr. Jerome Adams said the focus should be on the potential long-term side effects of COVID-19.
"We need to talk more about long COVID in kids. This scares me. It's not all about dying. It's about getting COVID and not knowing whether your child is going to have long-term negative impacts on their cognition, on their physical health, on their ability to be a kid because you thought they'd be just fine if they got COVID," Adams said on Monday.
Since children who receive an overdiluted dose of the COVID-19 vaccine might not have the same level of protection as those who received the appropriate amount, they're advised to get another dose of the vaccine as soon as possible.