Nearly 1,000 Funerals at Arlington Have Been Canceled Because of Coronavirus
The coronavirus pandemic has affected every aspect of life, including funerals, and Arlington National Cemetery has already had nearly 1,000 funerals for service members and veterans canceled.
Arlington told Newsweek the pandemic caused the cancellation of 987 funeral services, and of those, 658 were rescheduled to a later date. Rescheduling services was a decision made by the families of the deceased, and, as of May 20, the military cemetery had not canceled any services.
America has had the largest outbreak of coronavirus cases worldwide, with more than 1.5 million confirmed. To curb the spread of the outbreak, states nationwide limited gatherings in public spaces, and Arlington closed to visitors in March.
Arlington remains closed to non-family pass holders, but funerals, which the cemetery says are its "primary mission," have continued. However, the cemetery adjusted its policies for funerals to limit the risk of spreading the virus as much as possible.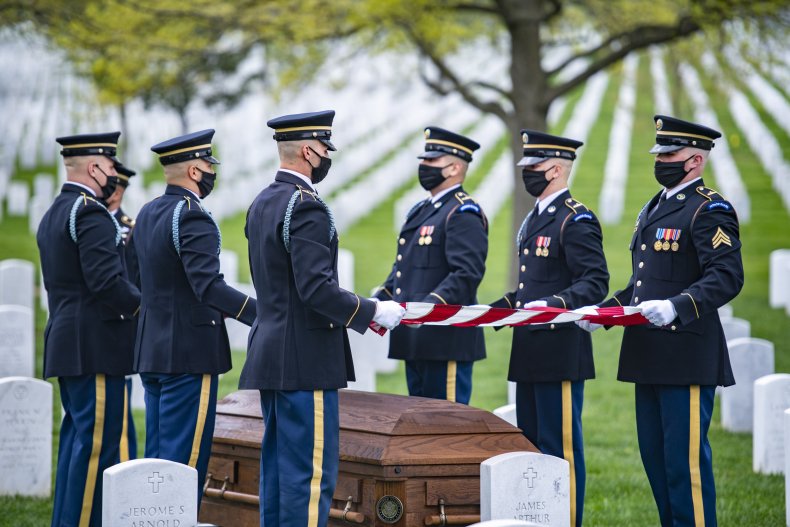 Eligible service members and veterans continue to receive full military honors, and the 16 personnel that are needed to carry out the funeral procedures, such as the folding and presentation of the U.S. flag, would apply appropriate social distancing. Military funeral honors with escort—a ceremony reserved for those who attained the grade of E-9, CW-4, CW-5 and O-4 and above, or service members who were killed in action—have been curtailed for the time being.
A military funeral with an escort has all the same elements as other military funerals, in addition to a marching element and a military band. Although some ceremonies could continue, families were asked to limit the number of people in attendance so they would be in compliance with the U.S. Centers for Disease Control and Prevention's guidelines for large gatherings.
"Arlington National Cemetery's mission of laying to rest our nation's veterans and their families continues," said Karen Durham-Aguilera, executive director of the Office of Army National Cemeteries and Arlington National Cemetery, in a statement. "We are taking these proactive steps to protect the public, families, our service members and staff."
The Department of Veterans Affairs has also continued to hold burials for veterans, but as of March 23, they aren't being conducted with military funeral honors. Only immediate family members, up to 10 people, are allowed to attend.
Memorial Day weekend is a popular time for people to visit Arlington to pay their respects to those who served their country. Charles Alexander Jr., Arlington's superintendent, said in a statement the cemetery is expecting thousands of family pass holders, who are restricted to visiting their loved ones' graves.
The cemetery will remain closed to visitors throughout the weekend, and Monday's Memorial Day observance will be limited to official ceremony participants. Defense Secretary Mark Esper will host the ceremony, and Arlington encourages people to participate virtually through a live stream, beginning at 9 a.m.