Nearly 100K Fish Die After Tank Leaks 4,000 Gallons of Chlorine in Arctic Norway
An extensive chlorine leak at a salmon farming company is believed to have killed about 96,000 salmon in Arctic Norway, according to local authorities.
The Associated Press reported a tank leak resulted in 4,000 gallons of chlorine being released into a fjord at the town of Alta in Arctic Norway. A spokesman for the salmon farming company Grieg Seafood told the Associated Press that the leak happened at one of its fish slaughterhouses.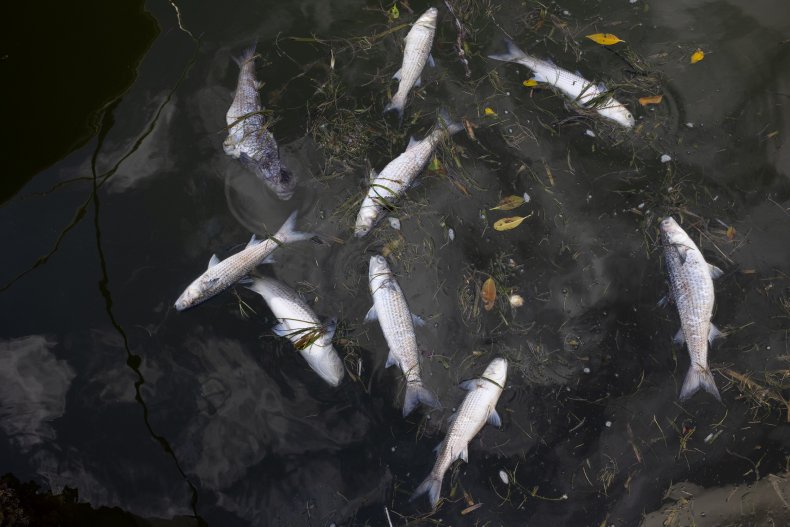 "We are connecting this to a chlorine leak," Roger Pedersen, the Grieg Seafood spokesperson, told the Associated Press. He said the company was dealing with the dead fish "in a responsible way and was investigating why the leak occurred."
On Twitter, the local police district posted that "significant quantities of salmon are dead" in Alta, and that the leaked chlorine was believed to have flowed into the Atlantic Ocean.
Grieg Seafood said approximately 96,000 salmon—weighing in at a collective 400 tons—were believed to have died in the accident.
The Norwegian government-owned media company NRK reported that police, members of the local fire department and the Norwegian Food Safety Authority were on the scene to help with the investigation.
Stein Hugo Jørgensen, operations manager for the Finnmark police district, told NRK that police have received confirmation that the leak was confined to the sea. He said that since no chlorine gas was released on land, the incident would not be considered a safety risk for people.
NRK also reported that Grieg Seafood's share price fell significantly on the Oslo Stock Exchange following the announcement of the leak.
The fish that died were out in the sea in holding cages, where they grow until they are big enough to be slaughtered. Fish farming companies use chlorine to disinfect the water after the slaughtering.
"We have had a slaughterhouse here for 35 years and never before experienced anything like this," Pedersen said to NRK.
Grieg Seafood also shared news of the chlorine leak on its Facebook page. The company statement said it would provide further updates and information when available.
"This is very sad," Stine Torheim, factory manager of the Alta slaughterhouse, said in the Facebook post. "Now we will focus primarily on the cleanup. We will turn over all stones and get all the facts on the table so that this doesn't happen again."