Nearly 1.2 Million Without Power Across U.S. After Ida Slams Northeast
After remnants of Hurricane Ida pummeled the northeastern states on Wednesday evening, bringing record-setting rainfall and flash flooding to the region, approximately 1.2 million across the U.S. were left without power Thursday morning.
The majority of power outages are still located in the south, where Hurricane Ida made landfall earlier this week.
According to the website PowerOutage.US, which records power outage data across the country, almost 911,000 customers are without power in Louisiana. In several counties in the southeastern portion of the state, outages are impacting nearly all customers. In Mississippi, just over 35,000 people are still without electricity.
In the Northeast, where heavy rains hit Wednesday evening, close to 200,000 customers are facing outages including about 182,000 in the Mid-Atlantic region, and just over 21,000 in New England.
By the time Ida slammed the Northeast, it had been downgraded to a tropical depression.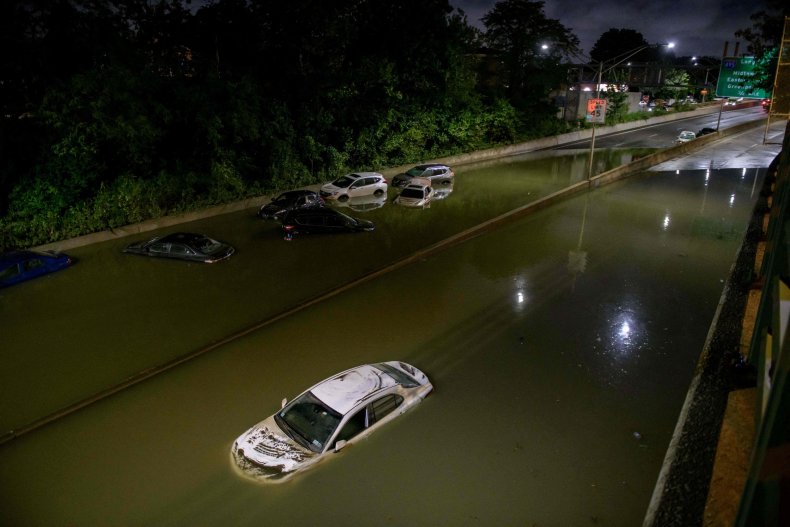 In New York City, flash flooding from the storm killed at least 9 people, including two people who were found dead in their basement in Queens Wednesday evening.
Videos posted on social media showed water surging through city subway stations and flooding streets.
On Thursday morning, the Metropolitan Transitportation Authority said service across the system is "extremely limited" as officials work to recover from last night's flooding.
Nearly 37,000 customers in the state were without power Thursday morning.
In New Jersey, a tornado struck, destroying nine homes in Mullica Hill, NBC 10 in Philadelphia reported.
"We didn't think anything was going to happen then all of a sudden you hear the rumbling," one resident, Glen Pickell, told the station. "You look outside and it's like everybody get your butts in the basement. It didn't last that long. Maybe five minutes. But once it was over, it's crazy. You could see the damage it did."
New Jersey Gov. Phil Murphy said in an interview Thursday morning that crews in the state were working to clear roads of trees, power lines and cars, NJ.com reported.
"It was a heck of a night and we're still not out of the woods," Murphy said.
"There is a lot of hurt in New Jersey," he added. "We're pulling all the levers. It's going to be a long road."
The state was facing more than 60,000 power outages on Thursday.
In Pennsylvania, almost 100,000 customers were without power. Several "large and extremely dangerous" tornadoes were seen in the Philadelphia area, the National Weather Service said.
In New England, more than 21,000 customers faced power outages on Thursday, including about 16,000 in Connecticut.