Nearly 140 children are currently hospitalized for COVID-19 in Florida, as the state now leads the country in pediatric hospitalizations, adult hospitalizations, and daily new case counts.
According to Tuesday data from Dr. Jason Salemi, a University of South Florida Epidemiologist, hospitals in the Sunshine State now have 138 pediatric patients being treated for COVID-19. That number is up from 118 just one day earlier, according to tweet from ABC Action News.
The Centers for Disease Control and Prevention reported that Florida had 32 pediatric COVID-19 hospitalizations per day between July 24 and 30. When adjusted for the population, that accounts for 0.76 kids hospitalized per 100,000 residents, marking the highest rate in the country.
According to the most recent report from The Florida Department of Health, there were 10,785 new COVID-19 infections among children under 12 between July 23 and 29, averaging about 1,540 new cases per day.
Dr. Claudia Espinosa, a pediatric infectious disease specialist at the University of South Florida, told the Times that she is "terrified" about the number of children in hospitals, and what's going to happen as kids begin returning to school next month.
Espinosa said the best way to protect children from contracting the virus would be to encourage the use of face masks during in-person instruction. But last week, Republican Florida Governor Ron DeSantis issued an executive order seeking to ban school mask mandates and cut funding for schools who plan to require facial coverings this fall.
In a statement to Newsweek, DeSantis' press secretary, Christina Pushaw, said "the fact is that government mandates do not keep people safe from COVID-19."
"People in Florida are free to take any precautions they wish, from getting vaccinated, to wearing as many masks as they want, to masking their children, to avoiding crowded places, to staying home indefinitely – or even doing all of the above. But no one is 'free' to dictate how other people live their lives," Pushaw said.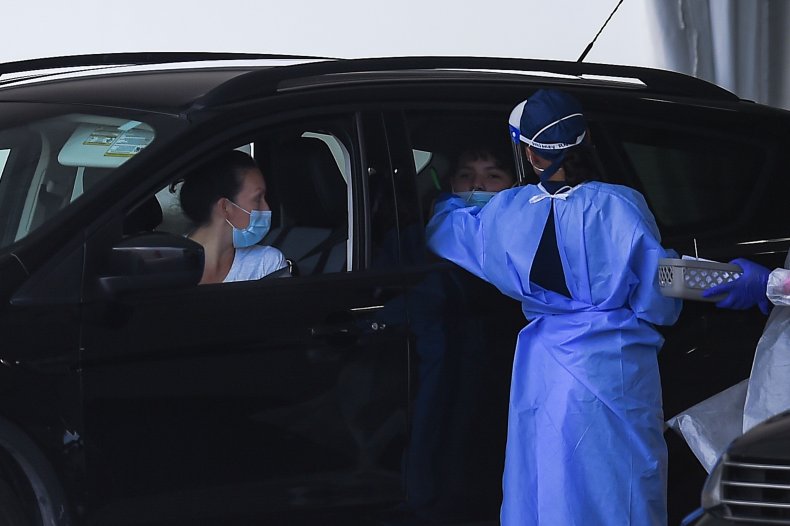 DeSantis' stance against masks in schools goes directly against new CDC guidance that encourages all students, whether vaccinated or not, to wear masks indoors as the highly contagious COVID-19 Delta variant continues to spread.
Florida has become the epicenter of the latest wave of the COVID-19 pandemic, and is now leading the nation in overall hospitalizations and daily new cases. According to the CDC, the state now accounts for roughly one-fifth of all new reported cases across the country.
On July 30, Florida recorded its highest ever single-day case number since the start of the pandemic, with 21,683 new cases. A day later, the state broke its previous record for coronavirus hospitalizations, with over 10,207 people being treated in hospitals. The state previously reported 10,170 COVID-19 hospitalizations on July 23, 2020.
Additionally, a recent report from the White House showed that Florida's Broward and Miami-Dade counties have accounted for the most COVID-19 hospitalizations in the U.S. over the past week, with each reporting more than 800 new COVID-19 patients hospitalized.
By Tuesday, data from the CDC shows that Florida less than 50 percent of Florida's population was fully vaccinated against the COVID, with 49.1 percent of residents considered fully vaccinated.