Nearly $2M Worth of Cocaine Washes Ashore on Florida Beach
Almost $2 million worth of cocaine was recently discovered by officials after it washed up ashore on a beach in Florida.
At least 126 pounds of the illicit narcotic were found over the weekend, but not all at once.
These recent finds come as data from Customs and Border Protection says officials seized over 60,000 pounds of illegal narcotics across the U.S. in June.
The first instance was reported by the Monroe County Sheriff's Office in the Florida Keys.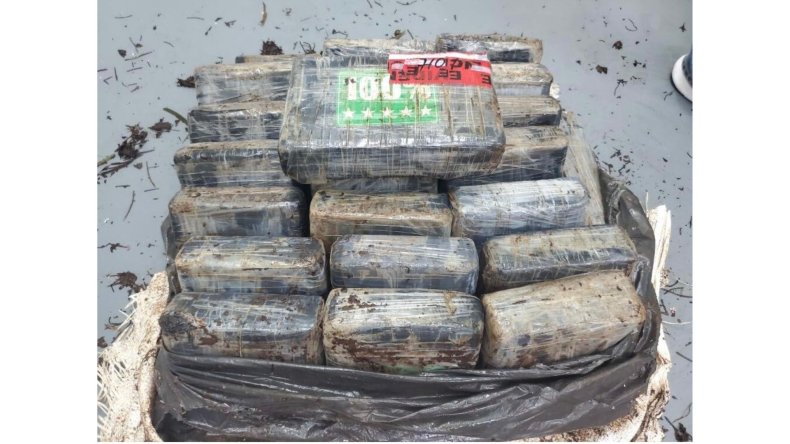 On Saturday, July 30, the Monroe County Sheriff's Office said that they were called to a residence near the beach in the Florida Keys for reports of cocaine washing ashore.
"The package was found near the Ocean Pointe Condominiums in the mangroves along the shoreline," the sheriff's office said in a Facebook post. "The large package contained multiple smaller packages tightly packed with black tape."
According to the Monroe County Sheriff's Office, deputies conducted a field test of the package found on the beach and it tested positive for cocaine.
"The entire package weighed 71.6 pounds," the Facebook post said.
A few days later, Border Patrol agents in Florida made a similar discovery after more packages washed up on a beach in the area.
In a tweet, Border Patrol's Miami Sector Chief Patrol Agent Walter N. Slosar said that a Good Samaritan discovered additional packages in the Florida Keys on August 1.
Slosar said that Border Patrol agents were assisted by the Monroe County Sheriff's Office and recovered the drugs.
Combined with the 71.6 pounds of cocaine found by the Monroe County Sheriff's Office, Slosar said that a total of 126 pounds of cocaine was recovered.
"The cocaine has an estimated street value of nearly two million dollars," the tweet added.
Newsweek was directed to Slosar's tweet after reaching out to Customs and Border Patrol for comment.
Officials did not provide any information on the origination of the packages or their destination.
In a similar incident last year, Slosar issued a similar tweet, announcing that another Good Samaritan alerted Border Patrol agents to a discovery of $1.3 million of cocaine that washed ashore.
"Over the weekend, a Good Samaritan discovered 1.3 million dollars worth of cocaine washed-up along the shoreline in the Florida Keys. The large black package contained 65 lbs. of cocaine & was turned over to #BorderPatrol custody," the tweet said.
However, it's not just washing up; authorities are finding illicit drugs in what some might find to be surprising locations.
Recently, a plot to smuggle more than $60 million of cocaine stashed in an RV disguised as an outward-bound mobile home was uncovered by police in Spain.
Another discovery of a shipment of drugs was made when it was supposedly mistakenly sent to a supermarket.
Newsweek reached out to the Monroe County Sheriff's Office for comment.