Nearly 20 ICE Workers Have Tested Positive for COVID-19 As Agency Sees First Case Among Detainees
The U.S. Immigration and Customs Enforcement agency says it has seen at least 19 confirmed cases of coronavirus among its employees, including one worker at a detention facility in New Jersey.
The agency also revealed on Tuesday that it had seen its first confirmed case of COVID-19 among detainees, a 31-year-old Mexican national being held in custody at the Bergen County Jail in Hackensack, New Jersey, who tested positive for the virus.
ICE said in a statement that the individual had been quarantined and was receiving medical care.
The agency said that those who had come into contact with the 31-year-old had also been "cohorted" and would be monitored for symptoms. In the meantime, ICE said it would be suspending intake at the facility until the situation becomes more clear.
Newsweek has contacted ICE for more information on that case, as well as for more information on the ICE employees who have also tested positive for coronavirus.
Of the 19 ICE employees and personnel who have tested positive for COVID-19, only one had been working at a detention facility, with the worker having been employed at the Elizabeth Contract Detention Facility in Elizabeth, New Jersey.
The Elizabeth detention center is 20 miles away from the Bergen County Jail where the other case was reported. However, ICE has made no suggestion that the two cases were related.
It is unclear when exactly ICE first received confirmation of positive cases of COVID-19 among workers and the detainee who tested positive, or whether other detainees or workers have shown symptoms.
The first confirmed cases of an immigration detainee and ICE workers having coronavirus come amid growing calls from immigration advocates for ICE to stop detaining immigrants amid the COVID-19 outbreak.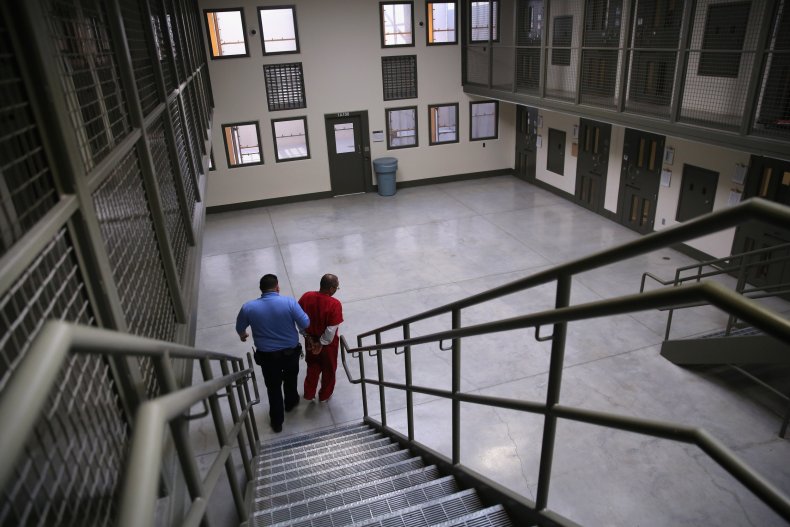 Immigration advocates have warned that ICE detention centers are not safe holding places, in particular for those who are considered more vulnerable to infection.
Earlier this month, the American Civil Liberties Union and other organizations sued ICE, demanding the agency release detainees at a facility in Tacoma, Washington, with the organization emphasizing the need to release those who could be vulnerable to coronavirus.
In an interview with Newsweek, ACLU senior staff attorney Eunice Cho said that with Washington being significantly impacted by the COVID-19 outbreak, the health of immigrant detainees held there could be at risk.
Cho said that while ICE has announced a number of measures aimed at preventing the spread of coronavirus at its facilities, ultimately, the facilities are not set up to promote safe social distancing and good hygiene practices.
Instead of holding immigrants in crowded facilities, she said, "people who are at risk of illness or death from COVID-19 should be released directly into a kind of contained environment, whether it's their home or their family members' home" or another location arranged with local public health officials.
"It's really important to note that our Constitution provides for these protections. When somebody's in government custody, they have the right to be safe from communicable disease," Cho said at the time. "In this situation, the risk is even more elevated because COVID-19 is a disease that we have never seen the likes of before. There's no vaccine, no treatment, no cure."