Nearly 200 Pastors Urge Nevada Governor Sisolak to End His 'Arbitrary' and 'Burdensome' Ban on In-Person Church Services
Pastors and religious leaders across the state of Nevada have called for Governor Steve Sisolak to rescind the state's ban on in-person church services in a Thursday letter. Over 190 individuals of all faiths signed the letter.
Sisolak banned large church gatherings in April before Easter Sunday, but asked religious leaders to find other ways to continue holding services, such as streaming. Church leaders, however, referred to Sisolak's ban as "arbitrary" in the letter while saying the lines between essential and non-essential businesses had been blurred.
"We respectfully submit that the restrictions on in-person church services are more burdensome than they need to be in order to accomplish our shared goal of preventing the spread of COVID-19," the letter read.
"Our churches are essential to preserving meaningful human community where people can receive care for their mind and soul, while at the same time receiving other services they provide," the letter continued. "Our churches have faithfully shepherded communities through countless plagues over two millenia. There is no reason to believe that our collective wisdom and experience does not have relevance during this pandemic."
Leaders cited the opening of businesses such as personal service providers, big box stores and bars that serve food within the state as examples of public gatherings where social distancing can be maintained. Assuming that churches can not do the same "does not make sense to any of us or the people we serve in our congregations and communities," the letter stated.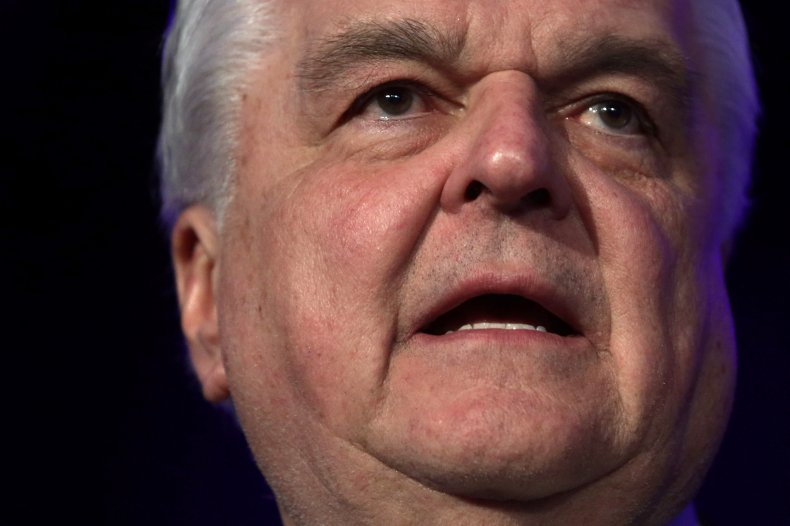 Sisolak claimed making the decision was not easy but that he had spoken to leaders in the religious community about the ban and had received their support.
"Science tells us that putting larger numbers of people together for any reason is an invitation for disease to do its work," Sisolak said during an April briefing.
Restrictions on drive-in services were relaxed by Sisolak in May. Those in attendance must remain in their vehicles and remain six feet away from individuals they do not live with. Face masks in public are not required in Nevada.
Nevada's stay-at-home orders are expected to expire Friday. Currently, the state has reported 6,499 positive cases of coronavirus with 331 deaths attributable to the virus.
When contacted by Newsweek, a spokesperson for Governor Sisolak's office was not immediately available for comment. This story will be updated with any response.
Church services have already resumed in other states like Kentucky, where a federal judge overturned Governor Andy Beshear's restriction on in-person services. Families should set six feet apart from each other and houses of worship have a 33 percent capacity limitation.
"Places of worship should strongly consider continuing to offer alternative services," Beshear said in a May press conference, adding that his family will attend online services.
Nearly 200 Pastors Urge Nevada Governor Sisolak to End His 'Arbitrary' and 'Burdensome' Ban on In-Person Church Services | U.S.