Nearly 230 Ohio State Students Suspended For Attending Large Parties
The Ohio State University has issued 228 interim suspensions for individuals and student organizations who have attended or hosted large parties and gatherings in the university district, which is defiant of the school's guidelines for preventing a possible COVID-19 outbreak.
In a letter to students issued on August 21, Melissa S. Shivers, Vice President for Student Life, wrote that the Student Conduct team was already in the process of "opening dozens of conduct cases" for not organizing gatherings that ignored protocols requiring mask-wearing, social distancing and groups no larger than 10 people.
"Organizations and individuals will be held accountable for their unsafe behaviors," Shivers wrote. "I recognize what we're asking you to do is difficult. I understand the importance of students finding a sense of belonging and connecting with others to aid in building community."
Nevertheless, she continued, a COVID-19 outbreak at the school could jeopardize the first or final year at the school for many students, threatening the existence of in-person university spaces, housing safety, food security as well as the health and safety of others.
Before returning to campus, the university required all students to sign the Buckeye Pledge, an agreement detailing the COVID-19 prevention protocols which include the aforementioned rules, keeping shared spaces clean and the seeking of medical attention for any symptoms.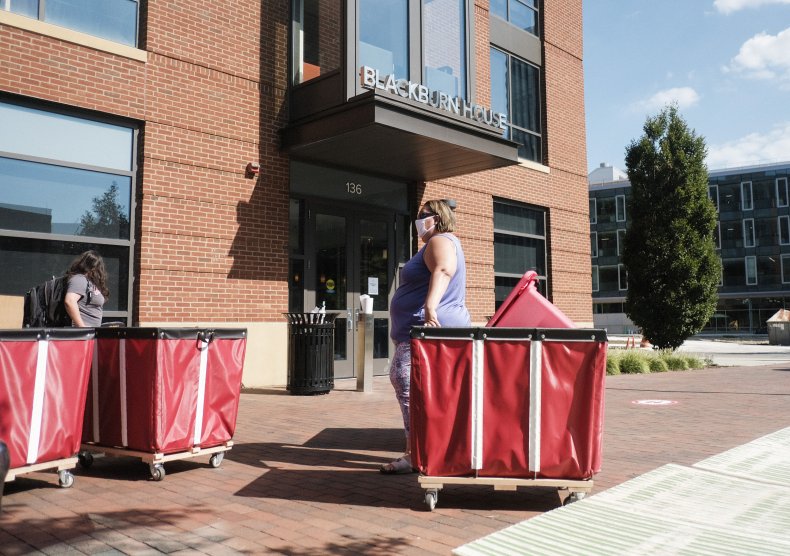 The interim suspensions—which have been issued before the school's official started of classes on Tuesday, August 25—mean that the suspensions remain in effect until investigatory, disciplinary and/or administrative proceedings have concluded. The proceedings will determine whether the suspensions are permanent or temporary.
According to The Columbus Dispatch, disciplinary actions can include revoking student or group access to campus spaces, housing, and in-person classes; possible disciplinary probation; or the loss of other privileges such as accessing athletic tickets.
Student organizations could also lose official recognition by the university or be placed on deferred revocation, meaning that the group would be disbanded after a certain span of time. Groups could also lose university funding, access to campus event spaces or to campus equipment or the ability to receive awards and honors from the Student Life office.
Newsweek contacted the Student Life office for comment.
Many schools and universities have opted for a combination of online and in-person classes as they try and minimize the potential for COVID-19 outbreaks.
As of August 24, Ohio has had over 116,000 confirmed cases of COVID-19 and 3,986 related deaths. The state ranks 15th among U.S. states with the highest overall number of coronavirus cases.