Nearly 250,000 in U.S. Without Power as Winter Storm Batters States
As a menacing winter storm pummels much of the U.S., roughly 250,000 people are without power, according to poweroutage.us.
The National Weather Service said, the "large-scale and massive winter storm" will impact the Central, Eastern and Southern U.S. Thursday and is expected to continue through Friday night.
The aforementioned website, which tracks outages throughout the U.S., reports that nearly 142,000 customers in Tennessee had lost power as of about 4:30 p.m. Thursday.
Responding to a tweet about power outages in Memphis and Shelby County, Tennessee, the National Weather Service in Memphis said Thursday morning that outages are "expected to worsen through the day as heavy freezing rain continues."
"Be prepared! #Memphis," the National Weather Service tweeted.
In Texas, about 40,000 customers are without power. On Thursday afternoon, Texas Governor Greg Abbott issued a disaster declaration in 17 counties, noting that the National Weather Service is predicting at least a quarter inch of ice in each of them.
"The State of Texas has deployed a plethora of resources to ensure our communities have the support they need to respond to this storm," Abbott said in a statement.
"Texas is experiencing one of the most significant ice events in decades, but we have taken unprecedented steps to ensure that our power grid continues to function reliably despite treacherous weather conditions."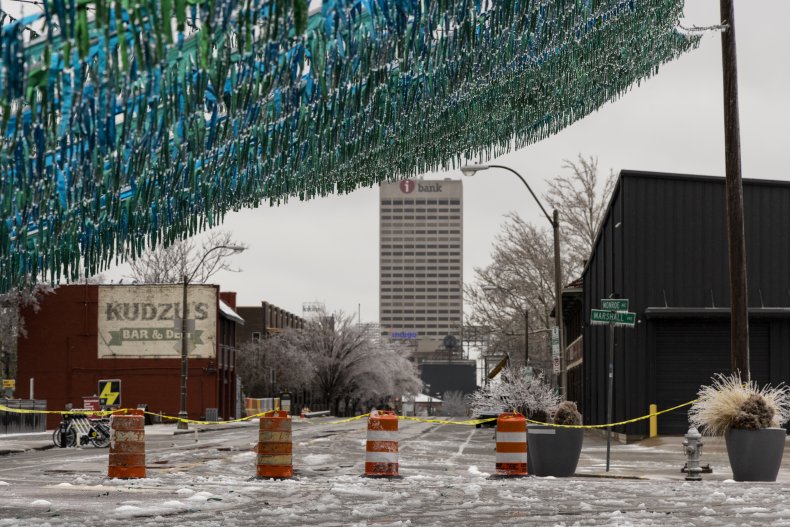 According to the Houston Chronicle, Abbott said Thursday that the state's power grid is expected to have 10,000 megawatts of excess supply on Friday, as the storm peaks.
In Ohio, about 55,000 customers lacked power late Thursday evening. At 4 p.m. Thursday, the Ohio Department of Transportation stated that nearly 1,300 crews were working to respond to the winter storm.
"From snow to ice to flooding, they're doing it all. Please help them out by avoiding any unnecessary travel through Friday," the department wrote on Twitter.
Several U.S. governors declared states of emergency ahead of the storm this week. Illinois Governor J.B. Pritzker, who issued an emergency declaration, said the storm will "impact a substantial majority of the counties in the State of Illinois." The storm was expected to drop 9 to 20 inches of snow to the state.
The National Weather Service said Thursday that the storm is expected to bring heavy snow between the southern Plains and northern New England, "while heavy ice accretion is likely from Arkansas to Pennsylvania."
"In the warm sector across the South, heavy rain, flash flooding and severe thunderstorms are possible with the latter producing damaging winds and a few tornadoes," the National Weather Service stated.