Nearly 30 Percent of Georgia Residents Have Voted in January's Senate Runoffs
Almost 30 percent of all registered voters in Georgia have cast their ballots in the state's Senate runoff elections.
According to data from the United States Elections Project, 27.5 percent of registered voters have submitted ballots during the two races' early-voting period. The project was created by Michael McDonald, a political science professor at the University of Florida.
Overall, 2,126,254 early votes have been cast in the runoffs, with 1,377,952 early votes cast in person and 748,302 mail-in ballots accepted.
Data from Georgia Votes shows that the number of ballots cast in the runoffs is 24 percent lower than the total turnout during the general election, while 94.2 percent of those who voted early in the runoff races voted early in the November contest. White and female residents accounted for the most votes cast, with 1,173,913 and 1,175,933, respectively.
Newsweek reached out to the Georgia Secretary of State Office's Elections Division for comment but did not receive a response in time for publication.
The number of early votes tabulated comes less than a week before the runoffs, which are set for January 5. In one of the races, Republican Senator David Perdue is being challenged by Democrat Jon Ossoff.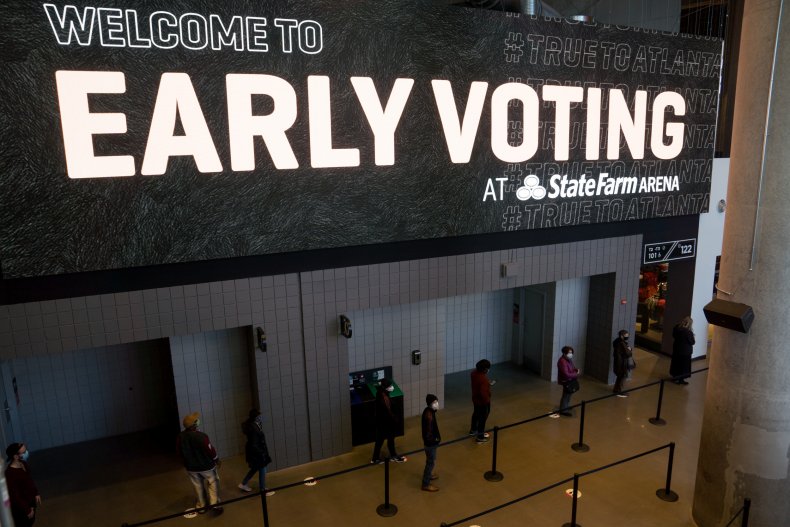 The second race is between GOP Senator Kelly Loeffler and Democrat Raphael Warnock. It is considered a special election because Loeffler was previously appointed by Georgia Governor Brian Kemp to replace Johnny Isakson, who resigned before the end of his term.
If Perdue and Loeffler are able to secure victories, the Republicans maintain majority control of the Senate. But if both Democrats win, the Senate will be evenly divided, with each party holding 50 seats, and Vice President-elect Kamala Harris would cast any tiebreaking votes.
In response to the number of early votes cast, Terrence Clark, communications director for Warnock's campaign, told Newsweek by email that "we're seeing real momentum as Georgians show up in unprecedented numbers to help elect Reverend Warnock and Jon Ossoff to move our state forward.
"Keeping that energy is critical in the remaining days of this campaign, and we plan to run strong through the finish line," the email said.
As the runoffs approach, polling shows both races to be tightly contested. A FiveThirtyEight analysis of several recent polls shows Perdue leading Ossoff by just .1 percent, while Warnock is ahead of Loeffler by .9 percent.
Newsweek reached out to Loeffler, Perdue and Ossoff for comment but did not receive a response in time for publication.