Nearly 30 Percent of U.S. Hospitals Seeing Critical Staffing Shortages Amid Omicron Surge
About 30 percent of U.S. hospitals are experiencing significant staff shortages as the Omicron variant continues to surge, according to data from the Department of Human and Health Services (HHS).
Of the 4,489 total reporting hospitals, 1,325 anticipate a critical staffing shortage within the week, one of the largest shortages by scale during the coronavirus pandemic.
The states with the worst figures for anticipated shortages are California, with 47 percent; New Mexico, with 53 percent; Missouri, with 43 percent; and Colorado, with 42 percent.
Hospitals in other states, namely Massachusetts, Ohio and Maine, have deployed National Guard troops to compensate for the staff crunches.
California is anticipating that the staffing crisis will affect 163 hospitals in the state. This past Saturday, it implemented a "Return to Work" order, which states that health care workers who test positive for the coronavirus—or were exposed to COVID-19 but are asymptomatic—are allowed to return to work without isolating or testing negative for an infection.
The California Nurses Association, a 100-000-member union affiliated with the National Nurses United, said this effort will only "put our nurses and healthcare workers at risk."
The shortages are a result of the rapidly spreading Omicron variant. The U.S. set a new record of 1,406,527 coronavirus cases on Monday, according to the Centers for Disease Control and Prevention. CDC Director Rochelle Walensky said Omicron is responsible for 98 percent of all new virus cases in the country.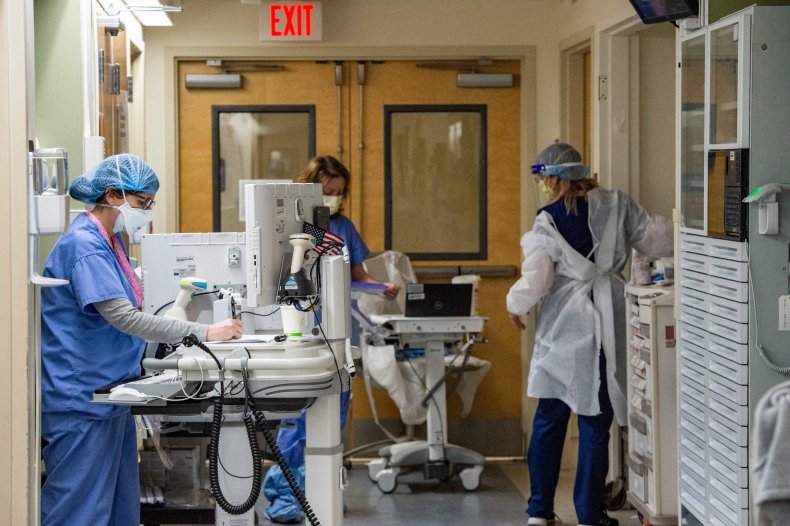 Staff at St. Joseph's Hospital in Tucson, Arizona, described a nightmarish situation. "You just feel defeated. Every day you have multiple people calling off because they are burnt out," one nurse told TV station KOLD. "Or they are calling out because they have worked an extra shift."
Employees said staff members are not being replaced after they leave. "We do this job to help people," a staffer said, according to KOLD. "We get into this profession because this is our calling, but we do not have the tools or the capacity to help people. It is a scary situation."
More than 138,000 COVID-19 patients were in U.S. hospitals as of this past Saturday, according to the Department of Health and Human Services.
While staff shortages are only continuing to grow, hospital capacity is being safeguarded at facilities that were forced to cancel elective, or nonemergency, surgeries. Several counties in California canceled up to 60 surgeries in the past week, according to TV station KXTV.
"At some point...we're too overwhelmed to do any of our normal daily work," Chief Medical Officer Steven Stites of the University of Kansas Health System told CNN.
Newsweek reached out to the University of Colorado Hospital and Cedars-Sinai Medical Center in Los Angeles for additional comment but did not hear back before publication.
—