Nearly 300 Schools Will Remain Closed After Winter Break Due to Omicron Concerns
Nearly 300 schools in the U.S. will remain closed for in-person classes after the winter break in an effort to address growing concerns over the latest COVID surge of the highly contagious Omicron variant.
At least four districts in Maryland, New Jersey, New Mexico and New York have opted to keep students at home in the first weeks back from the winter break in an effort to avoid a school outbreak once the holidays are over.
The closures mean hundreds of thousands of students who attend the 286 affected schools will move to virtual learning in January.
Prince George's County Public Schools (PGCPS) in Maryland, which is one of the nation's 20 largest school districts, transitioned more than 136,500 students to virtual learning on December 20 "in light of the stark rise in COVID-19 cases throughout our school system" and will continue virtual learning from January 4 through 14.
In-person learning at the district's 208 schools and centers is expected to resume on January 18, after the Dr. Martin Luther King Jr. holiday.
"Educators, administrators and support staff must be able to deliver in-person instruction and other activities in conditions that prioritize their own health, as well as the wellbeing of the school community," district CEO Monica Goldson told families in the school closure announcement.
"The increased positivity rates have significantly challenged the ability to do so, causing anxiety among many school communities and disruption to the school day," she said.
The rapid spread of the Omicron variant has sent schools nationwide scrambling to once again pivot their COVID strategies in an effort to stem a possible outbreak on campuses.
"This is the third school year affected by this pandemic," Dan Domenech, executive director of the School Superintendents Association, told Newsweek. "Just when we thought this past October—when we had about 98 percent of kids back in schools in person—that things were moving in the right direction, here we are right back where we were last year."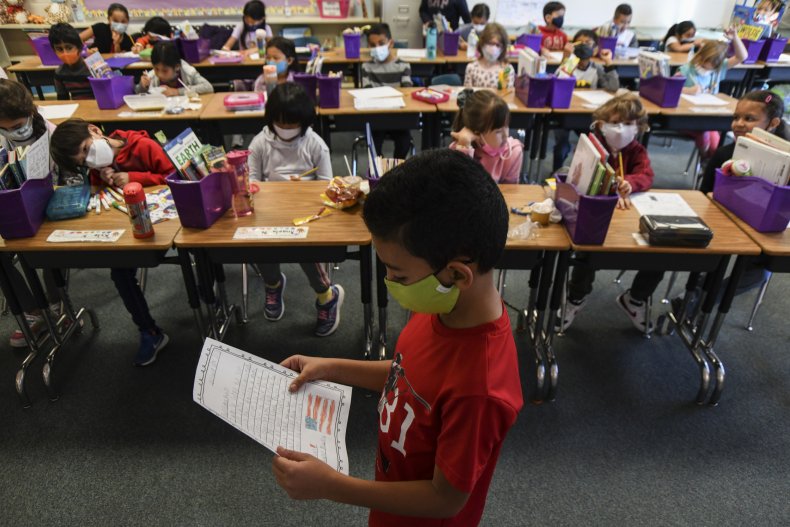 Paterson Public Schools, which is the fourth largest district in New Jersey, will also start 2022 with two weeks of remote learning. Superintendent Eileen Shafer cited the rising number of Omicron infections, which is now the dominant strain of the virus in the U.S., for her decision.
"The rising numbers of COVID-19 cases due to multiple variants are cause for concern for all of us," Shafer said in a Wednesday statement. "A surge of new cases has occurred in northeastern New Jersey, and it is expected that the trend will continue through the holiday break."
Mount Vernon City School District, which borders New York City, will shift to virtual learning until at least January 18—a move that could be further extended depending on the trajectory of COVID positivity rates.
"I have been very reluctant to close schools, but given the current trends in COVID cases, it would be risky not to do so," Superintendent Kenneth Hamilton wrote in a Monday letter to the community.
Students and teachers will be expected to be tested with free kits from the district before returning to in-person classes and weekly testing will be required going forward.
"This will be the most dangerous week for this school year for COVID... We want to be prepared," Taos Municipal Schools Superintendent Lillian Torrez told Taos News on Tuesday. Torrez's district in New Mexico will go remote for the first week back in January.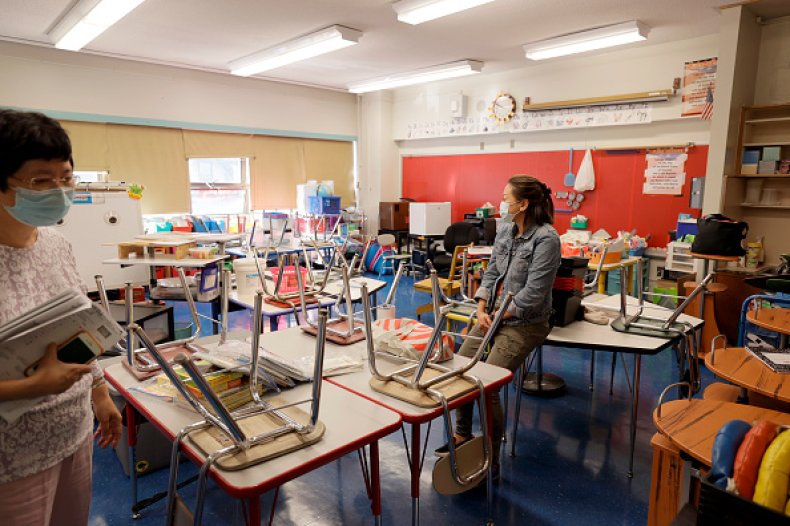 According to an analysis by Newsweek, there have been at least 92 schools across more than a dozen states that moved to remote learning for the remainder of 2021. At least a quarter of them has cited school outbreaks or high numbers of student and staff quarantines.
In Maine, Oxford Hills School District shut down one of their schools last week after its transmission rate reached 70 percent.
"This is a massive in-school transmission rate far exceeding anything we've seen thus far in any of our outbreak schools," the district wrote in a Facebook post.
"Parents, please get vaccinated and vaccinate your children who are old enough," the statement pleaded.
Many of the schools that shuttered ahead of the winter break are hopeful that students will be able to return to in-person learning in the new year but have not entirely written off virtual plans for 2022.
School officials will continue to monitor community transmission and the upward trend in COVID-19 cases over the next couple of weeks as the new semester begins.
"We're already seeing a lot of schools closing across the country," Domenech said. "They're already going back to remote learning, which is not a thing we wanted to see happening."
"What's going to happen after the holidays are over?" he asked. "We can only hope that we can get this thing back under control and get back to having kids in school in-person, where they belong."