Nearly 40 percent of people around the world are living in countries that have completely closed their borders to noncitizens and nonresidents amid the coronavirus outbreak, Pew Research Center analysis has found.
Looking at data on border closure announcements and UN population data, the Pew Research Center found that roughly 3 billion people, or 39 percent of the world's population, are living in countries with almost completely shutdown borders.
Meanwhile, another 7.2 billion people, or 93 percent of the world's population, are living in countries with restrictions on noncitizen and nonresident arrivals from other countries, including tourists, business travelers, new immigrants and asylum seekers.
The research center's findings come as the international community continues to combat the spread of coronavirus, with more than 938,000 cases confirmed globally and 47,273 cases resulting in death, according to an online tracker maintained by the Johns Hopkins University.
As Pew's analysis notes, travel and entry restrictions have varied between countries around the world, with the U.S., which now has the highest number of confirmed coronavirus cases in the world, closing its borders to noncitizens and nonresidents who have traveled to China, Iran and many countries in Europe, including Britain and Ireland.
The U.S. has also agreed with Mexico and Canada to restrict non-essential travel due to the outbreak, while trying to allow the flow of goods.
As of Thursday morning, the U.S., which has a population of roughly 330 million, had seen 216,722 confirmed cases of coronavirus, with 5,137 cases resulting in death.
China, which has a population of around 1.4 billion people, has also closed its borders to foreigners, with exceptions made only for some diplomatic and scientific personnel.
Earlier this week, an international team of researchers said that China's coronavirus lockdown and travel ban on Wuhan residents, which was implemented in January, may have helped to prevent as many as 700,000 deaths.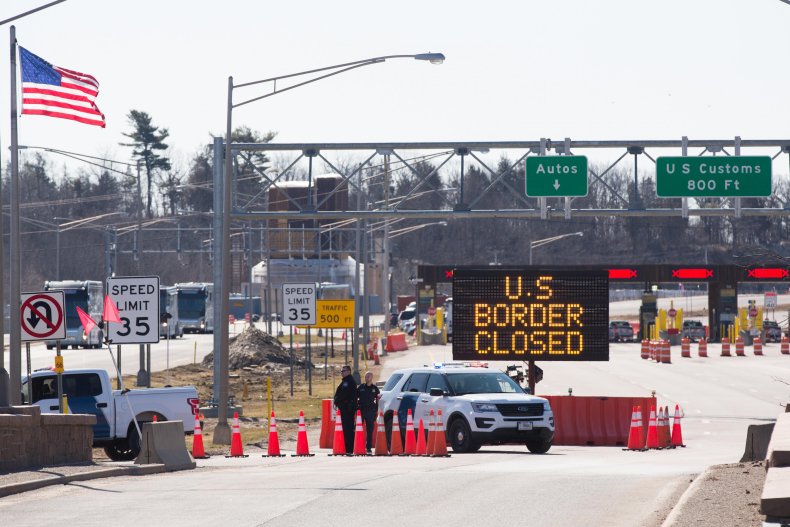 "The number of confirmed cases in China by day 50 (February 19) of the epidemic, was around 30,000," said Christopher Dye, visiting professor of zoology and visiting fellow at the Oxford Martin School, University of Oxford, in a press release. "Our analysis suggests that without the Wuhan travel ban and the national emergency response there would have been more than 700,000 confirmed COVID-19 cases outside of Wuhan by that date."
"China's control measures appear to have worked by successfully breaking the chain of transmission-preventing contact between infectious and susceptible people," Dye said.
While the country's efforts to control the virus appear to have made an impact, Huaiyu Tian, associate professor of epidemiology, Beijing Normal University, warned in the same press release that many people could still be at risk of contracting the virus.
"Given the small fraction of the Chinese population that has been infected, a much larger number of people remains at risk of COVID-19," said Tian. "We are acutely aware that resident or imported infections could lead to a resurgence of transmission."
To date, China has reported having 82,394 confirmed cases of coronavirus, with 3,322 cases resulting in death.