Nearly 40,000 Russian Occupiers Killed in Four Months of War: Zelensky
Ukrainian President Volodymyr Zelensky is seeking to sidestep the Kremlin's censorship by urging anyone with contacts in Russia to share what he says is the country's true death toll among its armed forces.
Zelensky said in a national speech on Tuesday that nearly 40,000 Russian service members have been killed since its invasion of Ukraine was launched in February. Precise figures on casualties have been nebulous throughout the conflict that's been marked by propaganda campaigns on either side. Zelensky's speech comes as Ukrainian forces press ahead with a counterattack that he hopes will change the tide of the war.
"For four months, the Russian state has not provided to its citizens any information—even censored—about the losses of the occupation contingent," Zelensky said in the speech, according to an official transcript. "Total silence. Nothing was published or said in numerous interviews and speeches at the political and military levels."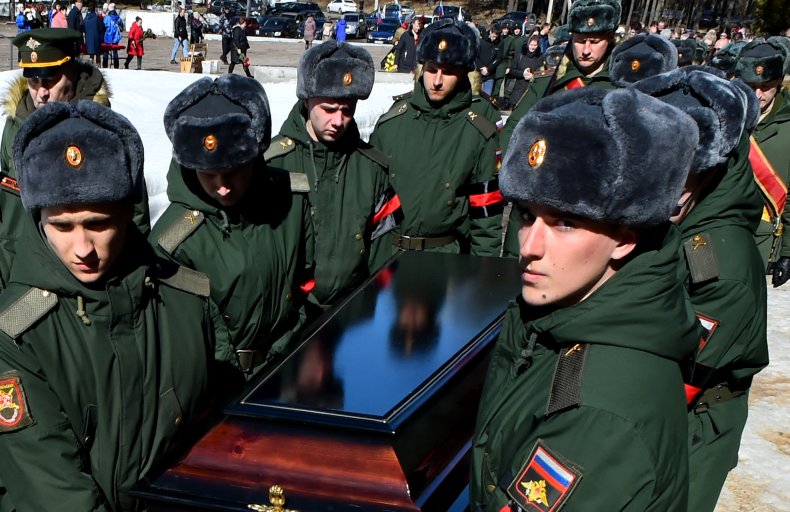 In addition to Russian troops killed, Zelensky said that "tens of thousands more were wounded and maimed." He added that if Russian officials won't disclose figures on military casualties, "everyone who still has any contacts in Russia or informational influence on their society should convey this simple fact to whomever possible."
Zelensky did not offer the basis for the figures. Others have estimated a lower number of Russian casualties in Ukraine.
Admiral Tony Radakin, a top British defense official, told the BBC last week that Russia has seen 50,000 of its soldiers killed or wounded, according to Radio Free Europe.
CIA Director William Burns said last week that an estimated 15,000 Russian military personnel have been killed in Ukraine and up to three times more than that have been wounded, according to Reuters.
"And, the Ukrainians have suffered as well—probably a little less than that. But, you know, significant casualties," said Burns, speaking at the Aspen Security Forum in Colorado.
Mediazona, an independent Russian media outlet, puts the most recent number of Russian military deaths confirmed by open sources at 4,760. Russia's Defense Ministry has only reported losses twice, offering the figures of 498 and 1,351 in March, according to the news outlet.
Andrei Kartapolov, who chairs a defense committee in Russia's legislature, told state-run media agency RIA Novosti in June that "we have practically stopped losing people."
Meanwhile, Ukrainian presidential aide Mykhaylo Podolyak told the BBC in June that between 100 and 200 of his country's troops were being killed daily.
Russian President Vladimir Putin earlier in the conflict signed legislation clamping down on media outlets, giving prosecutors more leverage to target publications that spread "fake news" or "blatant disrespect" against state officials.
But as the conflict has ground on, more than 100 families of Russian soldiers have sent a letter to Putin demanding more information on their family members' whereabouts and if they are alive or dead.
Newsweek reached out to the Ukrainian and Russian governments for comment.