Fighting in Israel and Gaza has displaced nearly 47,000 Palestinians from their homes, according to the U.N. humanitarian agency, which on Tuesday described escalating peril inside the Gaza Strip.
U.N. Office for the Coordination of Humanitarian Affairs spokesman Jens Laerke said electricity across Gaza is available for only six to eight hours a day in the latest chapter of the conflict, which shows no signs of resolution, the Associated Press reported.
Hamas and other militants have fired more than 3,400 rockets into Israel, whose response has destroyed 132 buildings and severely compromised an additional 316 housing units. Israel and Egypt have imposed a blockade on Gaza since Hamas' rise to power in 2007, a move Israel says is necessary to prevent the group from accessing arms.
Rights groups have called the blockade a collective punishment, and Laerke welcomed Israel's decision to open Gaza's main commercial crossing, which will allow supplies to enter Gaza for the first time since May 10.
A mortar attack, several hours after the crossing was opened to allow medical equipment in, prompted COGAT, Israel's military body that coordinates civilian affairs in Gaza, to close it again.
For more reporting from the Associated Press, see below.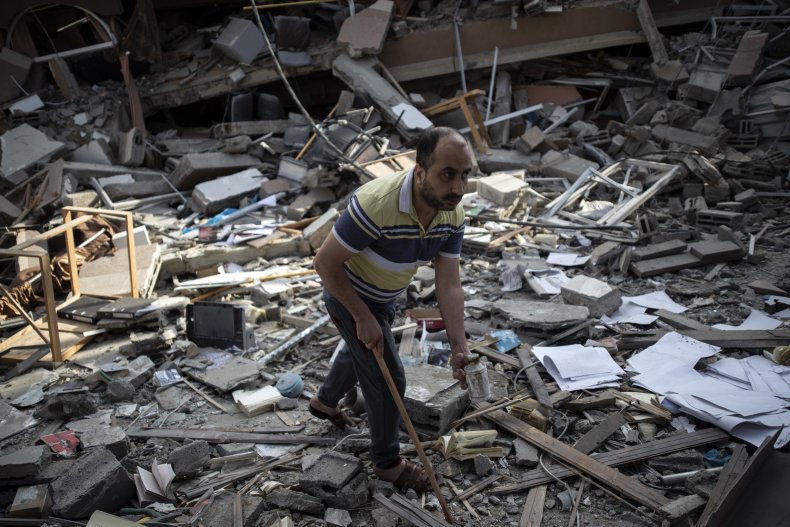 Egypt to aid Gaza reconstruction
CAIRO — Egypt's President Abdel Fattah el-Sissi has announced the allocation of $500 million for reconstruction efforts in the Gaza Strip.
El-Sissi's office said in a Facebook post Tuesday that Egyptian firms would contribute in the re-building efforts.
Egypt, which is leading mediation efforts to reach a cease-fire, has sent some two dozen trucks carrying humanitarian aid and medical supplies to Gaza through the Raffah crossing point.
It has also received wounded people from the latest round of violence to be treated in Egyptian hospitals.
Bombing information from Israel
REYKJAVIK, Iceland — U.S. Secretary of State Antony Blinken says Israel has given the United States information about its bombing of a Gaza building housing The Associated Press and other media outlets.
Israel had claimed that Hamas had a military intelligence office in the Gaza building which it leveled in a weekend airstrike. But Israel has not publicly provided any evidence backing up that claim. Prime Minister Benjamin Netanyahu said Israel would share any evidence of Hamas' presence in the targeted building through intelligence channels.
Blinken said from Iceland on Tuesday that "we have received some further information through intelligence channels." He declined to characterize the material, saying "that's not something I can comment on."
Press freedom groups condemned the attack, which leveled the building and marked a new chapter in the already rocky relationship between the Israeli military and the international media.
AP President Gary Pruitt has called for an independent investigation into the attack.
Thai workers killed in Israel
GAZA CITY, Gaza Strip — Israeli police say two Thai workers inside Israel have been killed in a strike launched from the Gaza Strip.
Another seven people were wounded in that attack Tuesday afternoon that hit a packaging plant in southern Israel, authorities said.
Militants from Gaza have launched thousands of rockets at civilian targets in Israel since last week. Israel has responded with airstrikes against what it says are militant targets in Gaza.
Austria summons Turkish ambassador
VIENNA — Austria has summoned the Turkish ambassador to complain about comments in which Turkish President Recep Tayyip Erdogan blasted Austrian officials' decision to fly the Israeli flag over government buildings as a signal of solidarity.
The Israeli flag was raised over the chancellery and foreign ministry in Vienna on Friday amid rocket attacks by the Hamas militant group on Israel. In a televised address to the nation on Monday, Erdogan said: "I curse the Austrian government which raised the Israeli flag over its (chancellery) building."
He added that "flying the flag of a terrorist nation over such an official (building) is akin to living a life with terror. Presumably the Austrian government is trying to make Muslims pay the price of their own genocide against the Jews." The latter is a reference to the fact that, after its annexation in 1938, Austria was part of Nazi Germany.
The Austria Press Agency reported that Foreign Minister Alexander Schallenberg said Turkey's ambassador was summoned Tuesday over "these absurd comments by President Erdogan."
Schallenberg added that "it won't be possible to solve the Middle East conflict while foaming at the mouth." He said that "instead of pouring oil on the fire, Turkey is urgently called on to contribute to de-escalation."