At least 48 people were shot in Chicago, including eight fatalities, between Friday and Sunday.
Ongoing reports logged by Chicago Police Department officers confirmed no one was arrested in connection with the crimes as of Sunday afternoon. Reports showed at least several victims were younger than 18.
Authorities said there were two fatal shootings reported early Sunday about 20 minutes apart from each other. Overall, about 40 people were injured.
The weekend's crime statistics trailed an ongoing uptick in shootings and murders reported throughout Chicago, as well as other U.S. cities, over the past few months. The police department's latest weekly report, which accounts for crimes committed in Chicago through July 12 of this year, shows a substantial increase in violent crimes compared to those reported through the same date in 2019.
While fewer robberies, thefts and sexual assaults took place in 2020, the number of shootings doubled and murders nearly tripled. The incidence of both crimes was particularly high during the week preceding July 12, when police confirmed 93 shootings and 31 murders. At the time, more than 380 people were killed in Chicago since the beginning of the year. The number was higher than year-to-date totals recorded the same week in 2019, 2018, 2017 and 2016.
One day after Chicago police released its weekly report, the Chicago Tribune published data collected through an independent initiative that tracked shooting incidents in the city. The Tribune's data found that upwards of 1,901 people were shot in Chicago since January, about 400 more than the police department's report indicated. According to the newspaper, most of the shootings took place since Illinois' stay-at-home order became effective on March 21.
Other major metropolitan areas, like New York City, have reported significant spikes in shootings and murders since the beginning of the summer. The cause of recent upturns in violent crime is debated, with some suggesting a correlation to the pandemic and anti-racism protests that surfaced in the aftermath of George Floyd's death on May 25. New York City Police Department (NYPD) officials have noted that the incidence of violent crimes generally increases during summer months.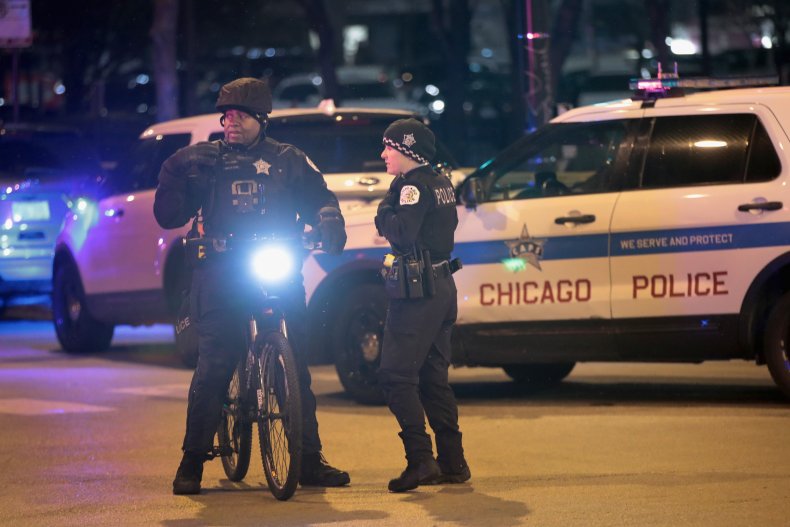 Rising tension between police and community members gave way to violent altercations in both Chicago and New York throughout June and the first half of July, although it is not clear how much that impacted elevated crime rates reported during those months.
Chicago Mayor Lori Lightfoot addressed conflicts between police and protesters in a statement released on Saturday.
"This is a difficult moment in our history. I know Chicagoans are frustrated and impatient for change. It is my sincere hope that we can strike the right balance to ensure people can rightfully express themselves and their First Amendment rights, but to do so in a way that does not put anyone's physical safety at risk," Lightfoot's statement read, according to NBC 5 Chicago, which obtained a copy of the remarks. The mayor also addressed excessive use of force by police during protests, calling it "unacceptable."
Newsweek reached out to the Chicago Police Department and Lightfoot for comments regarding the weekend's shootings, but did not receive replies in time for publication.