Nearly 50 Percent of Americans Say They Oppose McConnell's Decision to Vote on Trump's SCOTUS Nominee
Almost 50 percent of Americans say that they oppose Senate Majority Leader Mitch McConnell's decision to vote on President Donald Trump's Supreme Court justice nomination, following the vacancy left by Justice Ruth Bader Ginsburg's death, according to a new poll.
The poll, which was conducted by Global Strategy Group/Navigator, found 49 percent of Americans saying they oppose McConnell's decision, while 40 percent said they support it.
This poll surveyed 1,000 registered voters from September 19 to September 21. The poll did not report a margin of sampling error.
Among different political party affiliations, the poll found 82 percent of Democrats saying they opposed the vote, while 76 percent of Republicans the opposite.
The poll's findings come as Republicans and Democrats have argued over who should be responsible for nominating a new justice.
In a statement issued on Monday, McConnell said that "President Trump's nominee for this vacancy will receive a vote on the floor of the Senate."
Lindsey Graham, chairman of the Senate Judiciary Committee, also confirmed his support for Trump's effort to move forward and nominate a replacement.
On the other hand, Democrats have urged that Ginsburg's replacement should be held off until after the election, citing both McConnell and Graham's comments from 2016, where they opposed then-President Barack Obama's Supreme Court nomination, following the death of Justice Antonin Scalia, insisting that the Senate should not vote during an election year.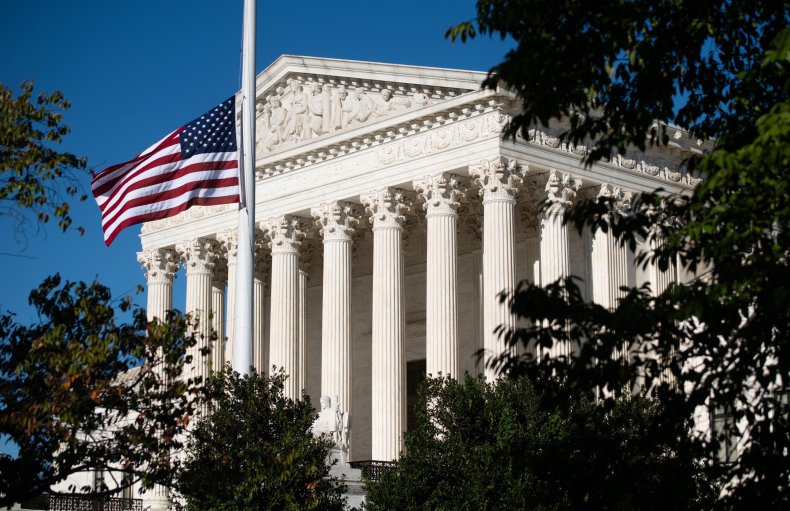 "The American people should have a voice in the selection of their next Supreme Court justice," McConnell said four years ago. "Therefore, this vacancy should not be filled until we have a new president."
Graham made similar comments in 2016, saying, "I want you to use my words against me. If there's a Republican president in 2016 and a vacancy occurs in the last year of the first term, you can say Lindsey Graham said let's let the next president, whoever it might be, make that nomination."
While speaking to reporters at the airport in New Castle, Delaware, Democratic presidential candidate Joe Biden suggested that the winner of the election should nominate the Supreme Court justice.
"There is no doubt, let me be clear that the voters should pick the president and the president should pick the justice for the Senate to consider," Biden said.
The poll also found 56 percent of Americans saying that the winner of the presidential election should nominate a Supreme Court justice. According to the poll, 36 percent disagreed and said Trump should nominate a replacement immediately, prior to the election.
Newsweek reached out to the White House and McConnell for comment but did not receive a response in time for publication.