Nearly 50 Percent of Americans Think Trump Is Too Sensitive About Cable News Criticism, Poll Finds
President Donald Trump might claim not to watch much television, but Americans largely think he's is too sensitive about coverage on cable news, a new poll from YouGov found.
Reports have suggested that dedicated TV time has been built into the president's schedule—The New York Times noted in December that he watches at least four hours per day—and his tweets often seem to be in direct response to things he has seen on screen. Trump is often railing against someone, or some outlet, or just the news—at least the news that isn't Fox— in general. Media criticism is a near-constant part of Trump's Twitter timeline.
"The Fake News is going crazy making up false stories and using only unnamed sources (who don't exist)," Trump tweeted Monday, for instance. "They are totally unhinged, and the great success of this Administration is making them do and say things that even they can't believe they are saying. Truly bad people!"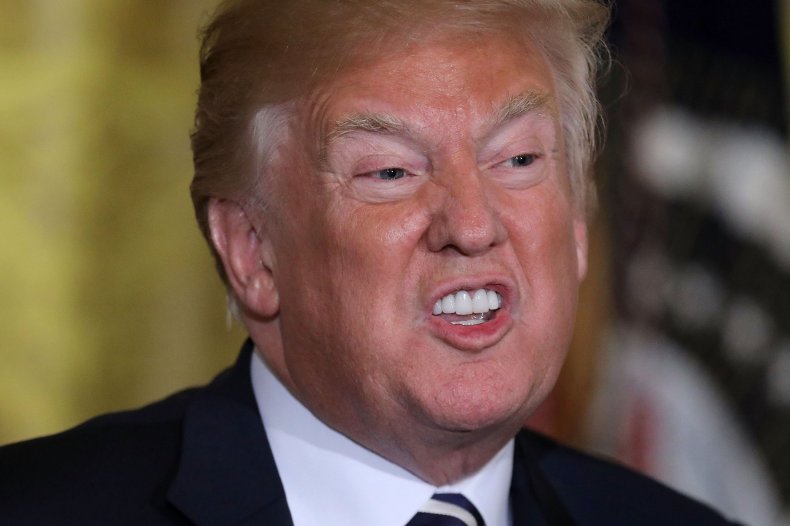 The following day he added, "So disgraceful that the questions concerning the Russian Witch Hunt were 'leaked' to the media. No questions on Collusion. Oh, I see...you have a made up, phony crime, Collusion, that never existed, and an investigation begun with illegally leaked classified information. Nice!"
Americans apparently think Trump gets too bothered by the programs he frequently watches. YouGov asked, "Do you think President Trump is too sensitive to what is said about him on cable news or do you think he doesn't care what is said about him?" Forty-six percent of all respondents said he was too sensitive, 33 percent said the president doesn't care about what people said and 20 percent of respondents weren't sure.
Perhaps predictably, there was a divide among party lines, according to YouGov's figures. Sixty-nine percent of Democrats thought Trump was too sensitive, compared with about one-quarter—24 percent—of Republicans.
The YouGov poll surveyed 1,500 U.S. adults from April 29 through May 1. It had a margin of error of plus or minus 3.1 percentage points.