Nearly 50 Percent of North Carolina Voters Have Already Cast Their Ballot With 1 Week Until Election Day
Nearly half of North Carolina's registered voters have already cast their ballots, with just one week until Election Day.
According to data released by the North Carolina State Board of Elections, as of 9:30 a.m. local time on Tuesday, there have been at least 3,429,459 ballots casted, which accounts for 46.91 percent of registered voters in the state.
Of those ballots, at least 805,956 were cast by mail and 2,623,503 in-person, the data shows.
North Carolina voters can register to vote and cast their ballots on the same day during the state's early-voting period, which runs through Saturday.
"We're glad to see so many North Carolinians exercising their right to vote, and voting in the manner that works best for them," wrote Noah Grant, an election communications specialist at the North Carolina Board of Elections, in an email sent to Newsweek.
"Early voting is consistently the most popular way to vote, and that has been no different so far this year," Grant noted, adding that he believes the state will reach 50 percent in the coming days.
Tim Wigginton, press secretary for the North Carolina Republican Party, told Newsweek that the GOP is "excited to see North Carolinians turn out in record numbers and cannot wait to see President Trump re-elected to another term."
Austin Cook, communications director for North Carolina's Democratic Party, told Newsweek via email that, "The historic turnout we've seen shows just how enthusiastic North Carolinians are to make their voice heard and change the direction of our country."
"t's no wonder that Donald Trump and his family are visiting North Carolina on a nearly daily basis – they see the same numbers we do, they know they can't afford to lose this state and they're scared," Cook's email to Newsweek said.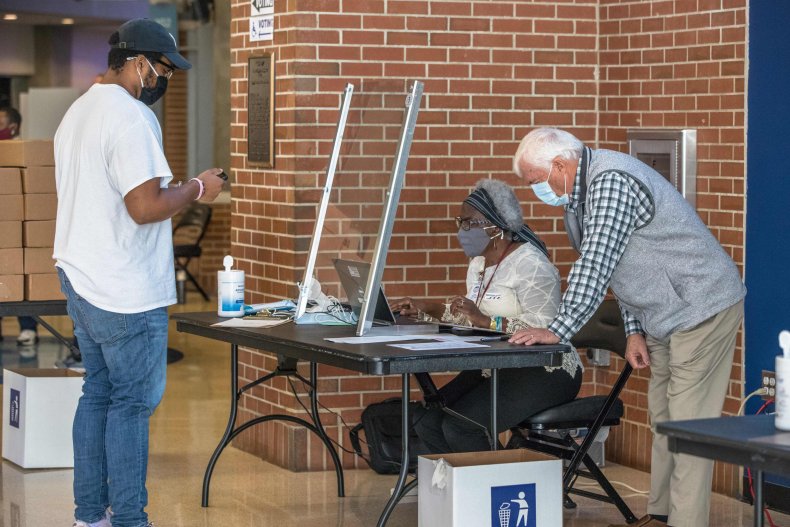 The early-voting data from North Carolina comes just one week before Election Day, with voters deciding between President Donald Trump and Democratic candidate Joe Biden. Also to be decided is a key U.S. Senate race between GOP lawmaker Thom Tillis and Democratic challenger Cal Cunningham.
Several recently conducted polls show Biden ahead of Trump in North Carolina. In an October 20-23 poll by CBS News/YouGov, which surveyed 1,037 likely voters in the state, Biden led Trump by 5 percentage points (51 to 46 percent), just outside the margin of error.
Several other states have also seen a high number of voters already cast their ballots.
Nationwide at least 66,754,673 early votes have been cast, with over 44 million being cast by mail and more than 22 million being cast in person, according to the U.S. Elections Project, created by Michael McDonald, a political science professor at the University of Florida.
The Election Project shows Texas and California seeing the highest number of early votes cast, with over 7 million in each state, while Florida has seen over 6.4 million.
Updated October 27, 2020, 1:29 p.m. ET, to include a statement from a spokesperson for the North Carolina Democratic Party.